SDG Digital showcases DHIS2 as a digital solution supporting good health
HISP joined ITU, UNDP and global partners for a live event at UN Headquarters that presented examples of game-changing digital tools and launched the SDG Digital Acceleration Agenda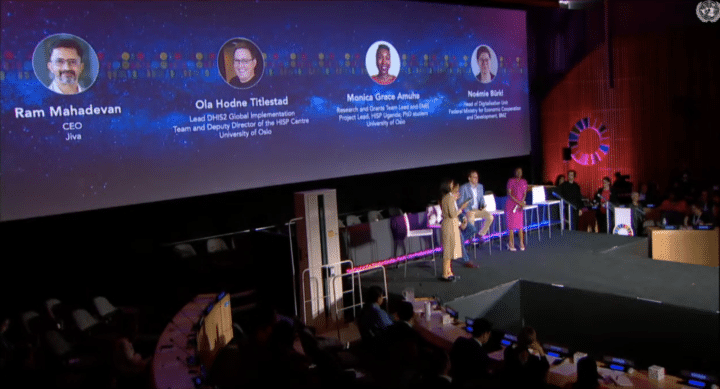 On 17 September 2023, Deputy Director of the HISP Centre at the University of Oslo (UiO), Ola Hodne Titlestad, and Monica Amuha of HISP Uganda (and UiO PhD student) presented DHIS2 at the United Nations headquarters in New York as an example of a game-changing digital tool supporting countries in achieving good health and wellbeing for all.
Their presentation was part of SDG Digital, an event hosted by the International Telecommunication Union (ITU) and United Nations Development Programme (UNDP) as part of the UN's SDG Action Weekend, to highlight how digital solutions can help get the world back on track toward the Sustainable Development Goals (SDGs), which are now at the halfway point toward 2030. As part of the event, one impactful digital solution was chosen for each of 16 SDGs, with DHIS2 selected to represent SDG3: health.
National and international leaders, such as President Paul Kagame of Rwanda and UN Deputy Secretary-General Amina J. Mohammed, also took part in the event to speak about the potential of digital solutions to meet real needs and the challenges that need to be overcome.
"All over the world we are witnessing the power of technology to transform lives… We are taking positive steps in the right direction to build digital capacity where it can have the greatest impact."
Paul Kagame — President, Republic of Rwanda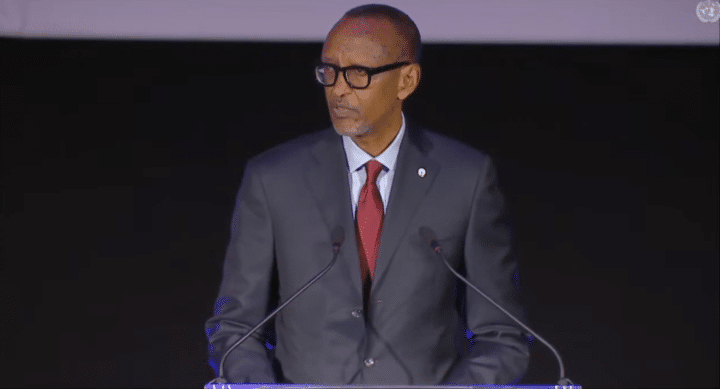 The event also marked the launch of a new ITU-UNDP publication, the SDG Digital Acceleration Agenda, which aims to help drive "new efforts to ensure that everyone can benefit from the ongoing digital transformation" and show "how game-changing digital solutions can accelerate progress in climate action, education, hunger, poverty and at least 70 per cent of the 169 SDG targets." DHIS2 is one of 34 digital solutions featured in this report.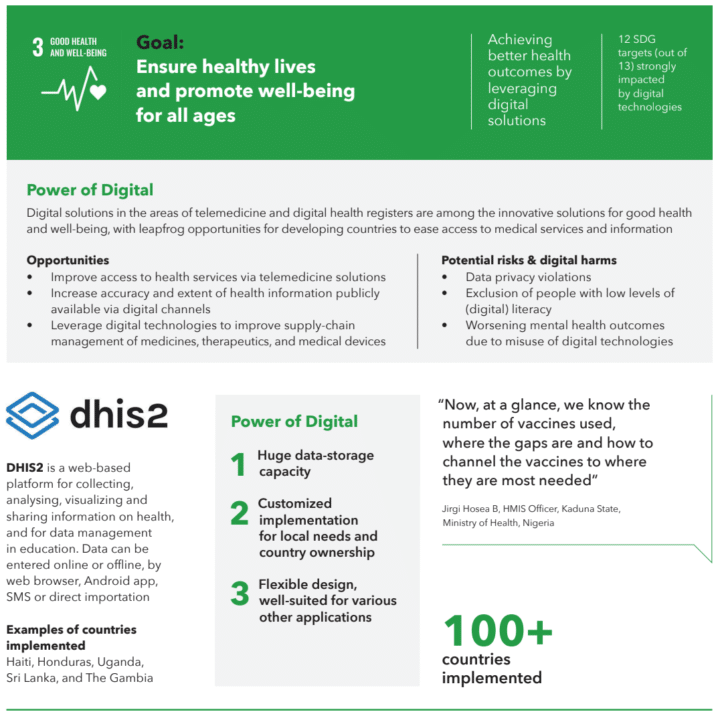 In advance of SDG Digital, the ITU published a short interview with Ola about what DHIS2 is, how the HISP Centre works, and the potential DHIS2 has to support countries in health and beyond. During the event itself, Monica shared Uganda's experience with DHIS2 in a short video. A recording of the entire event is available on the ITU's YouTube channel.
We are proud that DHIS2 was selected for this event and the accompanying report, and hope that it leads to new connections and partnerships as we continue to work together with low- and middle-income countries to achieve the SDGs.