DHIS2 News: DHIS2 highlighted by Norway's Prime Minister at United Nations General Assembly
Speaking at a UN event on The Future of Digital Cooperation, Jonas Gahr Støre praised DHIS2 as a free and open tool that revolutionizes how countries can collect and use health data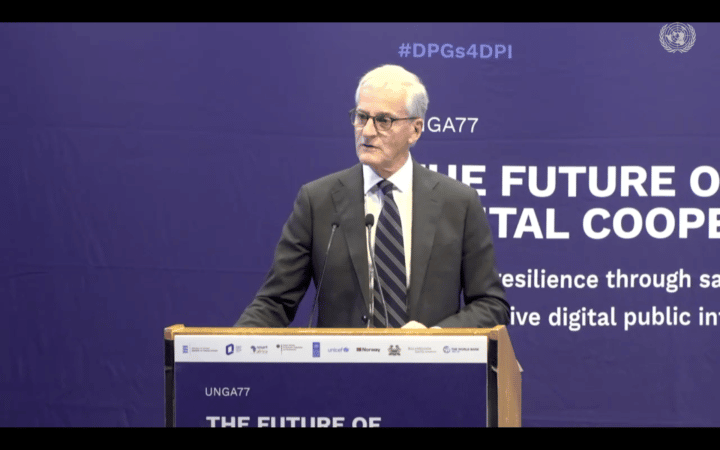 As part of the 77th Session of the United Nations General Assembly (UNGA77), partners including the Digital Public Goods Alliance (DPGA), UNDP, Unicef, the World Bank, SMART Africa, the Gates Foundation and several national governments convened a joint event on The Future of Digital Cooperation: Building resilience through safe, trusted, and inclusive digital public infrastructure. The theme of UNGA77 was «A watershed moment: transformative solutions to interlocking challenges,» and this event was designed to support that theme by highlighting «pioneering initiatives and leaders that are ushering in a new era of country-led digital cooperation to build safe, trusted, and inclusive digital public infrastructure (DPI).»
Norwegian Prime Minister, Jonas Gahr Støre, helped open the event. During his short remarks, he highlighted two Norwegian contributions to the field of Digital Public Goods: the weather app Yr and DHIS2.
«We have more than 70 countries now using the health information system developed by the University of Oslo together with international partners. This is revolutionizing how you can collect and use health data.»

Jonas Gahr Støre, Prime Minister of Norway
Norway is a founding member of the Digital Public Goods Alliance, and Prime Minister Støre took advantage of this event to reaffirm Norway's commitment to supporting the development and sharing of free and open-source global goods. He noted the important role these open solutions had played during the COVID-19 pandemic, and the importance of the DPGA in helping to create «a strong incentive to spread … and create even more solutions.»
We are honored to see DHIS2 featured once again as a leading example of Digital Public Goods, and hope that this event inspires additional support for funding, sharing and using free and open-source solutions for Digital Public Infrastructure.
Learn more and watch a recording from this even on the UN website.