Using DHIS2 to power PEPFAR HIV and SRH programs in Central America & the Caribbean
How PSI combines DHIS2 Tracker with vouchers, chatbots, and custom apps to help promote access to HIV and sexual & reproductive health services
Imagine a young woman seeking the means to protect herself from the risk of HIV — as well as access to birth control. Where does she go for care? What follow-up products and services might she seek? How can the national healthcare system — both the public and private sectors — track her evolving needs, and help her capture her health data all in one place for efficient, effective delivery of care?
In Central America and the Caribbean, PSI (Population Services International) has used DHIS2 since 2012 to support both PEPFAR's HIV prevention programs, as well as sexual and reproductive health (SRH) programs supported by private donors. PSI's first deployment of DHIS2 at national scale in the region started in El Salvador. From there, similar systems were deployed in Guatemala, Nicaragua, Honduras, Panama and the Dominican Republic. These systems are managed by a national level office in each country and coordinated across the region by a regional office in Guatemala. Core PSI activities in the region include facilitating access to and delivery of HIV testing and SRH services, as well as referrals to HIV treatment programs.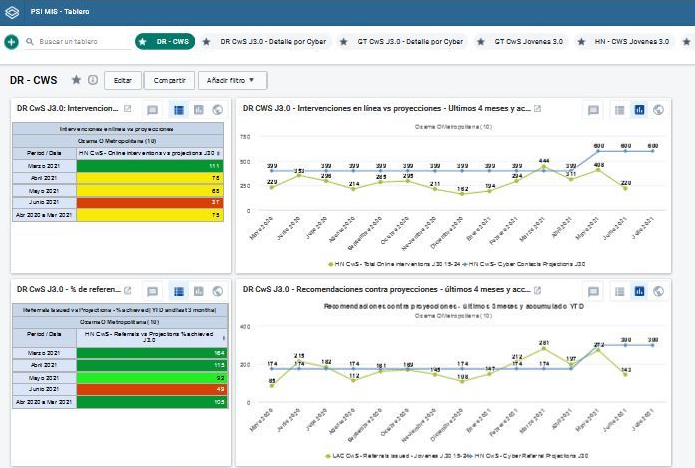 Linking a network of independent providers through a tracker-based voucher system
In Central America, many SRH services are offered by independent clinics and providers, which can pose a challenge for national-level program management of consistency and quality of service delivery. To help address this, PSI created a social franchise network known as the "Alianza de Profesionales por la Salud" that providers can join to receive information on services provided, trainings, and quality assurance—and to be able to participate in PSI's voucher program for service delivery.
The voucher system began in 2011 with the Womens Health Project (WHP), funded by a private donor. Initially, paper vouchers were issued by clinics to clients, and referred those clients to follow-up treatments, post-diagnosis, within the social franchise network. In 2013, DHIS2 was introduced to capture program health data, including that from the voucher system. This was an early implementation of the new DHIS2 Tracker application for case-based data, and the fixes and code changes made to support its deployment in El Salvador led to improvements to the core Tracker application code, so that other countries around the world could also benefit from its improved functionality and stability.
While the WHP ceased service provision and DHIS2 use by December 2019 (choosing to focus on product distribution), they inspired another privately-funded, youth-focused SRH program that currently works to promote healthy behaviors online through social networks, among youth between 15-24 years old. In 2019, this youth program adopted DHIS2 as its data aggregator, and launched an electronic voucher system that provided a powerful example for other health programs on how to capture, analyze, and improve the client experience.
This system uses DHIS2 Tracker to generate an electronic voucher, which clients receive as a code on their mobile phone. Clients can then redeem that voucher at health providers which are members of the network for specific services covered by the youth program — such as IUDs, condoms, HIV testing, etc. These electronic vouchers are registered as entities and assigned unique IDs in the national-level DHIS2 system and can be updated by providers based on the details of the services delivered.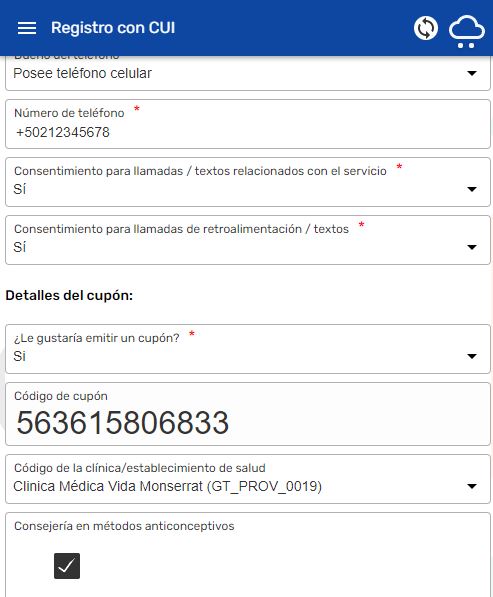 Vouchers are also used for HIV programs. In 2016, PSI scaled the paper voucher system to help power a PEPFAR-funded HIV program focused on diagnosis and linkage to care. In this instance, the programs used the DHIS2 Tracker to provide follow-up activities to all individuals diagnosed as HIV-positive. The paper vouchers helped to ensure that the client was successfully linked to antiretroviral therapy (ART) services for follow-up HIV treatment through the national health system. Without an electronic voucher, DHIS2 was unable to push information directly to the client, so often, the PSI-trained HIV counselors who issued the paper vouchers escorted clients to comprehensive clinics where they could receive treatment. There, PSI-trained staff provided HIV testing services and all post-test support and follow-up services, such a SMS reminders, and phone calls. PSI continues to support PEPFAR's HIV work in the region, and is hard at work developing an electronic voucher system based on the youth family planning program. Meanwhile, the use of vouchers in either form helps promote available HIV services, and maintains the privacy of service and testing data.
Community workers and integrated chatbots support outreach and service delivery
Today, in order to get vouchers for SRH and HIV services to the people who need them, PSI in Latin America leverages a combination of personal and technological approaches. The personal approach relies on a network of Interpersonal Communicators (IPCs). IPCs are people active in the local community who work to raise awareness of available health programs, and who can issue DHIS2 paper vouchers for HIV and ART services, as well as electronic vouchers for youth SRH services through a custom Android mobile app. IPCs can then use the app to follow-up with SRH youth clients to see if they redeem their vouchers. Meanwhile program supervisors can monitor individual IPCs, who are registered as organization units in DHIS2, to track their voucher issuance and redemption rates, and other performance indicators.
Additionally, in 2020 PSI developed a Facebook chatbot: the "Ubibot," that provides clients with information about FP and youth SRH services available to them. This chatbot system is integrated with DHIS2, which has access to a list of available SRH service providers that the client can select from, and the vouchers issued by the chatbot are directly registered in DHIS2 as tracked entities within the Tracker program. Furthermore, it can connect youth with IPCs who act as cyber educators. These educators provide counseling and information on contraception to young men and women, and can issue electronic vouchers to them directly for services as needed. So far, this chatbot integration has been successfully deployed in Guatemala, El Salvador, Honduras, Nicaragua and the Dominican Republic.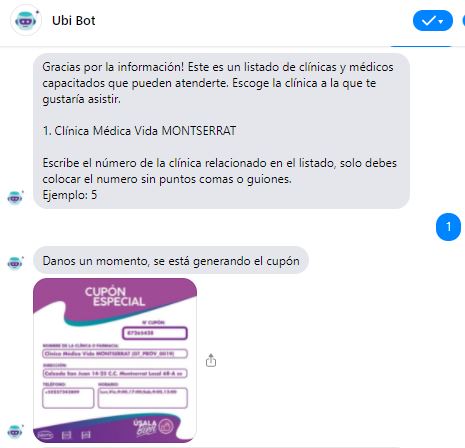 Connecting systems for improved reporting and results
PSI's DHIS2 systems allow for case-based supervision and follow-up via voucher tracking through the service delivery cycle. They also facilitate national, regional and global program monitoring and evaluation. The DHIS2 systems used by the programs discussed here are connected to DATIM, PEPFAR's DHIS2-based information system, and all PSI offices also submit monthly aggregate reports on linkage to care, PrEP, HIV testing services, SRH services, and other metrics through PSI's Health Services Report. This helps stakeholders at various levels review programs' status and make data-driven decisions. In addition, PSI's systems are configured to send clients who redeem vouchers an electronic satisfaction survey, provided to clients that has supplied contact details and consent. This helps program managers to monitor program quality from the client perspective.
Through these programs from 2013 to 2021, PSI has reached more than 46,400 youth with SRH messages through IPCs and more than 21,300 through the chat bot, with a total of 105,271 social behavioral change communications (SBCC) interventions, issuing a total of 18,547 electronic vouchers of which 4,242 have been already redeemed. PSI also issued more than 181,000 paper vouchers to "Alianza de Profesionales por la Salud," resulting in over 88,000 IUD insertions, and 13,000 implants inserted, in addition to short-term methods and other services.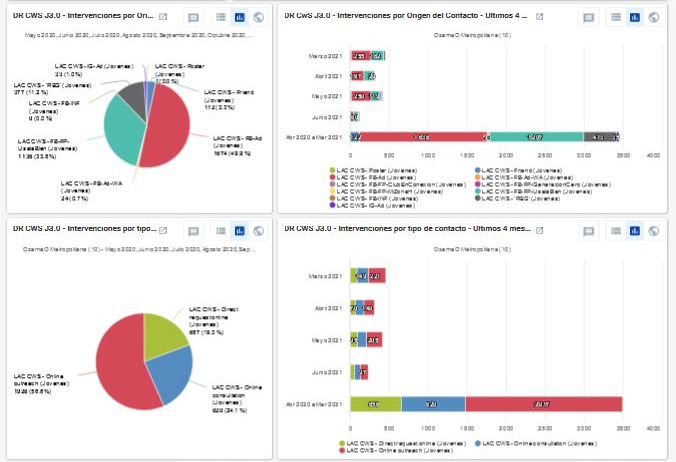 Through the PEPFAR-funded HIV Combination Prevention Program more than 3,300 individuals were diagnosed HIV positive, and received support and follow up. From this group, more than 2,360 were successfully linked to care. In addition, more than 6,500 individuals from comprehensive care clinics received follow-up and counseling for ART adherence, including emotional support, referrals to psychological counseling and other social services.
What's next for PSI with DHIS2?
PSI continues to leverage DHIS2 to refine their HIV and SRH programs, and welcomes future opportunities to scale the electronic voucher system further. Their current plans are to improve follow-up services by allowing team members to automate processes, and by including other partners, such as private labs and clinics, to allow them to redeem vouchers in real-time for HIV testing services, PrEP medical evaluation and provision, and any other service that might be added to these programs in the future.
PEPFAR (The President's Emergency Plan For AIDS Relief) is a global initiative led by the U.S. government to address the global HIV/AIDS epidemic. PEPFAR funds and organizes HIV prevention and treatment programs in Africa, Asia, Europe and the Americas, with supporting activities and projects carried out by partner organizations.