DHIS 2.27 Overview
Explore DHIS2 version 2.27, which includes many new features, apps, improvements, and bug fixes. On this page you can find information on this software version, including feature descriptions, links to technical documentation, and more
Enlaces directos al contenido de la página
Tracker Features
Program rule improvements
A completely new user interface for managing program rules has been introduced in the Maintenance app. A range of new program rule actions is now supported in the new user interface:
Assign value. Enables client side calculations.
Display text. Enables the web client to display text in the indicator or feedback widgets.
Display key/value pair. Enables the web client to display a information box with a title and value in either the indicator or feedback widgets.
Make field mandatory. Enables program rules to turn a field mandatory based on rule expression.
Other improvements include the ability to delete and change program rule variables (source fields), and the ability to include one data element in several program rule variables. For all warning and error messages it will now be possible to include a dynamic/calculated part at the end of the static error message.
[ Demo ][ Screenshot setup | Rule expression | Rule action
| Tracker capture] [Docs]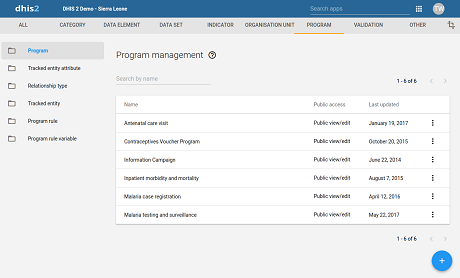 Event programs in Maintenance app
The Maintenance app now supports management of event programs. This includes new UI for creating event programs, organisation unit assignment, sections, custom forms and notifications. The create program screen is designed as wizard where the program can be configured across several steps. Tracker type programs is still located in the old Programs/Attributes app.
[ Demo ][ Screenshot ] [Docs]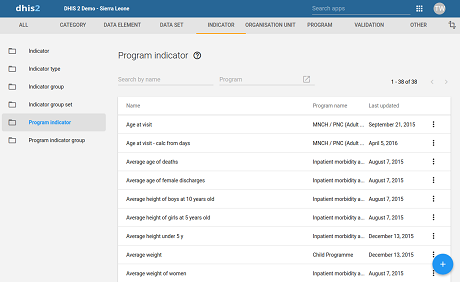 Program indicators in Maintenance app
Program indicators can now be managed in the Maintenance app. The new UI lets you create indicators across three steps and provides a simpler way of creating expressions and filters.
[ Demo ][ Screenshot ] [Docs]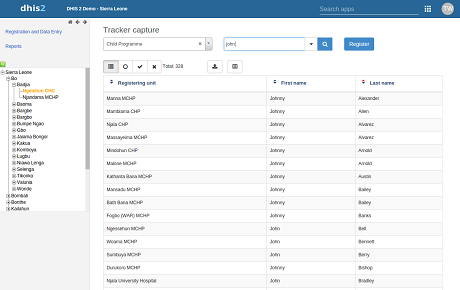 Person search order
In the Tracker Capture app, you can now sort the list of tracked entity instances by each column in the search.
[ Demo ][ Screenshot ]
Server Admin Features
Memcached support
You can now use memcached as an application cache provider. This allows for greater scalability as memcached can be hosted on a separate server off-heap.
[ Docs]
Release Information
Click on the links in the table below for more information about this software release.