Integrated end-user logistics and stock management with DHIS2
DHIS2 provides a simple and user-friendly application for managing medical stocks at the facility or community level that can be seamlessly integrated with full-scale, upstream national logistics management information systems
Enlaces directos al contenido de la página
DHIS2 as end-user electronic Logistics Management Information System
Availability of medication, vaccines, and medical supplies for your population is only part of the solution — for effective health outcomes, you need a logistics plan for delivering your supplies to the right place in the requested quantities and on time. Supply chain inefficiencies are a major contributing factor to poor drug availability, especially in hard-to-reach areas of Low- and Middle-Income Countries (LMICs). An electronic Logistics Management Information System (eLMIS) which is driven by and connected to all end-users is essential for any functioning supply chain at national scale.
DHIS2 is already in use in more than 20 countries in Africa and Asia, as a "last-mile" solution for facility-level vaccine logistics or as cold chain registry and other eLMIS uses. To support this use, the HISP Centre at UiO is working with national and global partners to develop an open-source end-user eLMIS for LMICs that is integrated with the national DHIS2 health management information system (HMIS) as well as the national eLMIS.
Bringing monthly or real-time logistics data from health care facilities or even from the point of care together with epidemiological and programmatic data can greatly improve the ability to plan demand for health care products, improve the effectiveness and efficiency of supply chain management, monitor performance and identify logistical shortcomings and inefficiencies. DHIS2 is able to provide end-to-end visibility of the entire national supply network when used together with a full-scale, national eLMIS for managing procurement, demand planning, forecasting, warehousing, transportation and distribution.
On this page you can find more information about how DHIS2 can be deployed for logistics management, including key use cases, real-world examples, and links to useful resources. If you are interested in deploying DHIS2 for eLMIS or creating a custom logistics app for DHIS2, please contact us at lmis@dhis2.org
Core DHIS2 functionalities that support logistics use cases
The DHIS2 platform provides a number of applications, features, and tools that can enable and support logistics and stock management information systems:
System integration: linking DHIS2 with other eLMIS applications
In addition to its own eLMIS features, DHIS2 is designed to allow integration with other software applications. This makes it possible to combine the flexibility and simplicity of DHIS2 for end-users with the sophisticated functionality of purpose-built, full-scale eLMISs or even Enterprise Resource Planning (ERP) systems that cover the entire scope of logistics and supply chain management. Combining such systems with DHIS2 can provide a seamless end-to-end eLMIS, where information is shared electronically between various software platforms in real time, facilitating better forecasting, planning, warehouse and stock management functionality, as well as order fulfillment and likewise sharing data with DHIS2 at health facilities. DHIS2 has been successfully integrated with several of the most commonly used logistics software applications, including OpenLMIS, mSupply and MEDEXIS.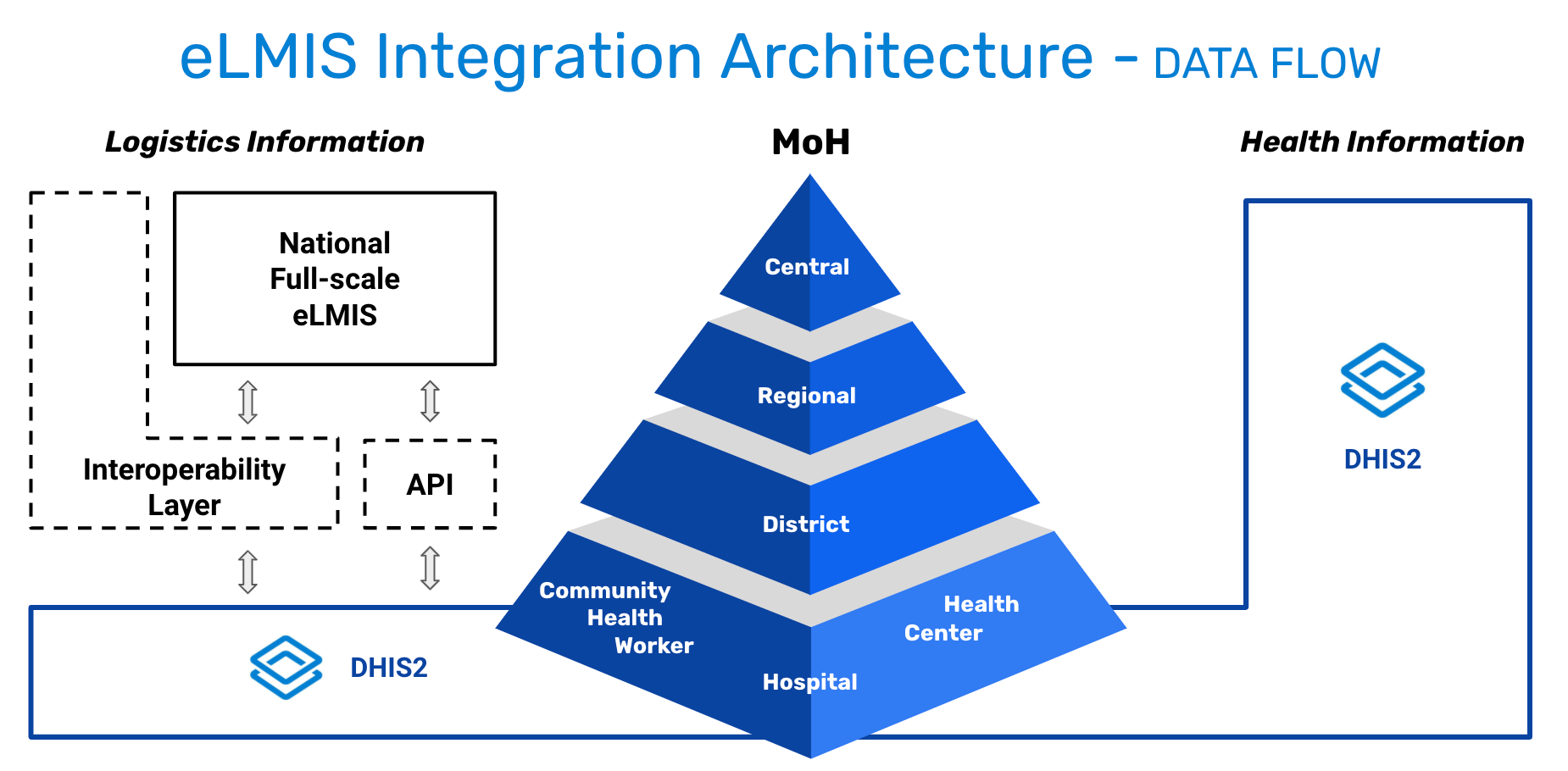 How can DHIS2 be used for logistics management?
The DHIS2 team is developing metadata packages and applications for the following eLMIS use cases. These packages are based on the WHO metadata packages for specific health programs and include management of logistics data which can be modified and adapted to each country's specific needs and workflows.
End-user stock management (Aggregate)
Monthly reporting of stock on hand, stock receipts, stock issues and discarded stocks as well as stockout days and stock losses as performance management indicators and providing full visibility of logistics data to upstream logistics services.
Monitoring stock levels & sharing stocks
Identify facilities which are understocked, stocked out or overstocked and, based on stock levels and average demand, use DHIS2 to analyze, plan and coordinate redistribution and sharing of excess stocks.
Health care product catalogue (Tracker)
Providing health facilities with basic information, including images, of commonly used health care products which can be updated from upstream national eLMIS systems.
Temperature monitoring
Twice-daily digital recording of temperatures for cold chain equipment as well as environmental monitoring of medical stocks and exploring the possibility of connecting temperature data loggers to DHIS2 for automatic recording.
Real-time stock management system (Tracker)
A paperless stock management system where storekeepers only scan the barcodes of healthcare products and record quantities when issuing stock and where DHIS2 provides updated stock information in real-time.
Integration with national eLMIS
The University of Oslo is seeking collaboration with professional eLMISs used in LMICs in order to integrate DHIS2 for end-user logistics management.
eLMIS Sandbox
Explore functional prototypes of DHIS2 for logistics in our eLMIS sandbox environment. Read the user guide for more information.
Impact Stories: Improving logistics and stock management with DHIS2
Read the stories below for examples from a selection of countries using DHIS2 to improve their supply chain management and logistics systems.
Share innovations, ask questions and discuss logistics topics on the DHIS2 Community of Practice
The Community of Practice (CoP) is the primary forum for DHIS2 discussion and support. The use of DHIS2 for logistics has been driven in large part by innovations and custom applications developed in the field, and the CoP offers a platform for experts from around the world to share innovative approaches and apps, best practices, and user stories. You can also use the CoP to ask questions, get support for technical issues, participate in webinars and other informational events, and connect with other members of the global DHIS2 implementer community working on logistics projects.
Learn to deploy and use DHIS2 for logistics with the DHIS2 Academy
You can learn more about using and implementing DHIS2 for logistics through our series of training courses, the DHIS2 Academy. This includes the free, online courses in the DHIS2 Fundamentals series that cover the basics of data capture, analysis and customization, Level 1 courses to help you build your general DHIS2 skills and a Level 2 course on Logistics Data Integration that focuses on designing and deploying DHIS2 as an end-user LMIS.
Developed in collaboration with global partners
The DHIS2 Logistics team works together with global partners in public health. This has included a collaboration with the STELLA Center of Excellence from 2020-2022. Founded jointly by the University of Basel, the Swiss Tropical and Public Health Institute and Novartis in collaboration with the University of Oslo, STELLA aimed to address health systems challenges in LMICs by leveraging a critical mass of competencies and applying innovative solutions, while supporting local entrepreneurship and ownership.