DHIS 2.34 Overview
DHIS2 version 2.34 is out with many new features, apps, improvements, and bug fixes. On this page you can find information on this software version, including feature descriptions, links to technical documentation, and more
Enlaces directos al contenido de la página
Feature Spotlight Videos
Discover some highlights of new features in this DHIS2 release with our Feature Spotlight video series.
Map Enhancements and WebGL
The mapping engine in version 2.34 is brand new and based on the WebGL technology which is much more performant compared to the previous solution. The following key features are now available in Maps:
Performance: We are now capable of showing thousands of features on a map simultaneously, and the maps are much more responsive.
Map rotation and tilting: You can now rotate and tilt the map to enhance the view of your data.
Continuous zoom: The zoom is now continuous, allowing you to fit the map perfectly to your content. We have added a fullscreen button, especially useful for maps on the Dashboard where space is limited.
Full-screen view Maps can now be viewed in full-screen mode. This is especially useful for dashboard maps where space is limited. You can click the full-screen button on the right side of the map to enable it.
Bing Maps: Google Maps is no longer supported due to technical and legal issues, but we have included four new base maps from Bing, which should be a good replacement.
Donut clusters: We have added support for "donut clusters" which will show you the event cluster distribution if you style by a data element.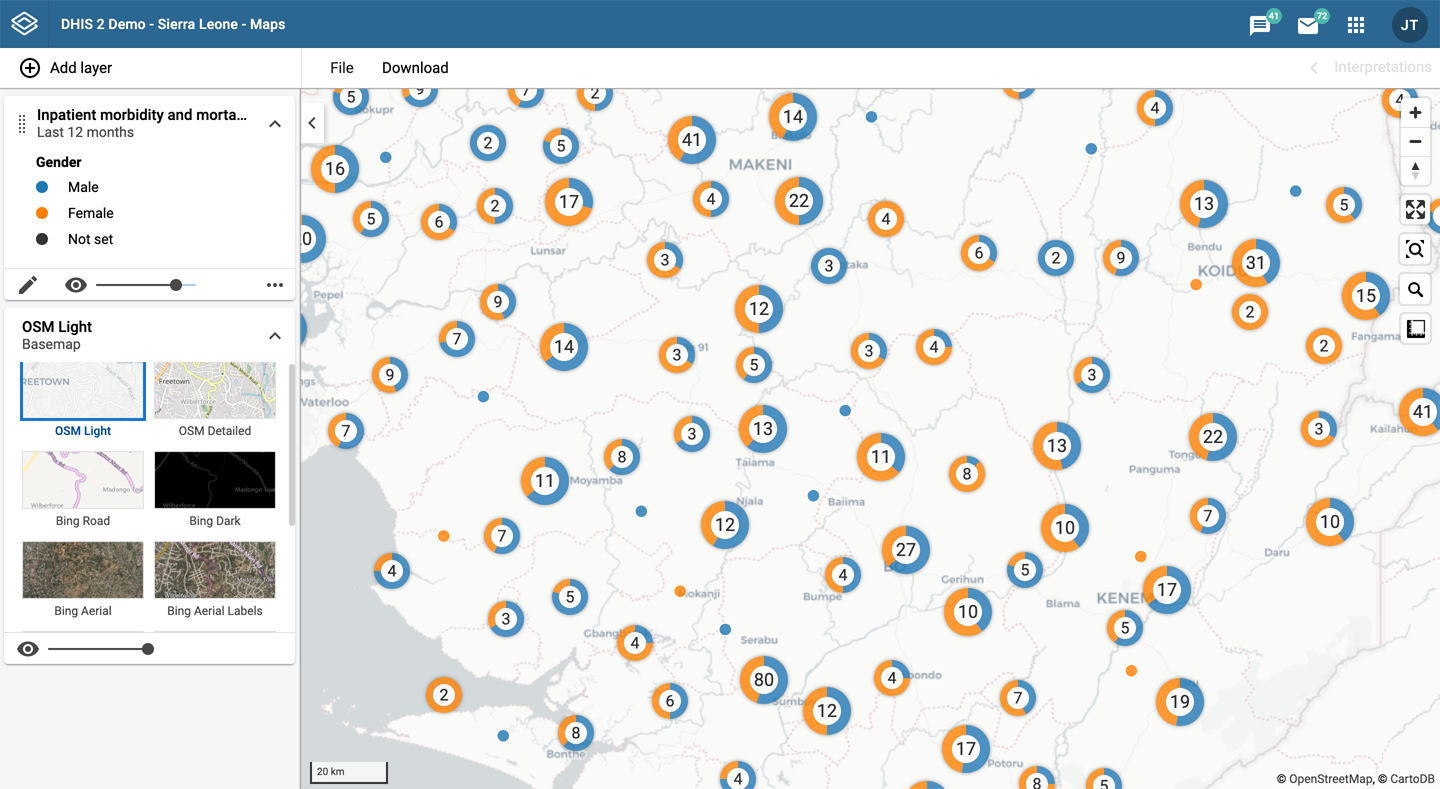 Tracker and Event Features
Data approval
The data approval functionality is re-introduced as a separate app called Data approval. It offers the same functionality which was previously accessible through the Reports app. It allows for approving data by data set and time period. We are working on a new approval app using our new technology stack which will support the data approval workflow model.
[ Screenshot 1 ]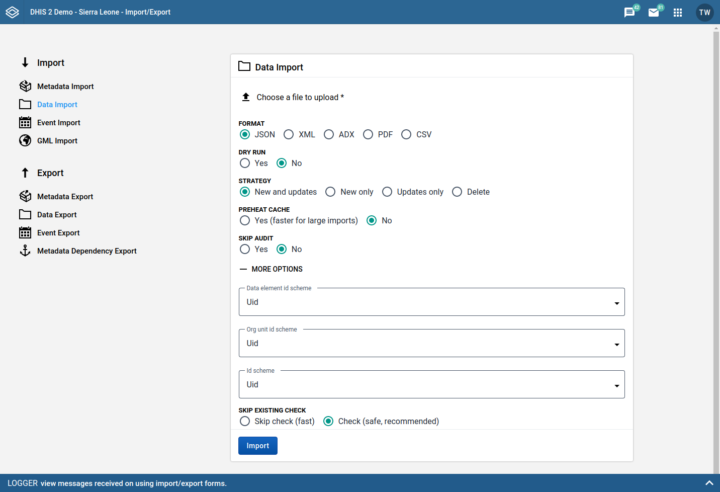 Attribute ID schemes in data import-export
The import-export app now allows for selecting attribute-based identifier schemes for data import and export.
[ Screenshot 1 ][ Jira 1 ]
App Hub
The App Store has been rebranded as the App Hub. The App Hub has been rewritten to support improved management of apps. DHIS2 2.34 uses the new App Hub (https://apps.dhis2.org) by default. Apps from the old App Store have been migrated to the new App Hub where possible. The old App Store link, used by previous versions of DHIS2, will continue to work, but will be seamlessly redirected to the new App Hub in the near future. App developers should now use the new App Hub for sharing your apps.
[ App Hub ]
New combined endpoint for analytics visualizations
The reportsTables and charts endpoints have been deprecated in favour of a new and consolidated visualizations endpoint.
[ Docs 1 ]
Release Information
Click on the links in the table below for more information about this software release and to access an interactive demo.