Integrating DHIS2 data with VigiFlow for reporting AEFI cases in Mauritius
Mauritius has deployed DHIS2 to strengthen their national HMIS and manage COVID-19 vaccine delivery, including tracking AEFI cases and reporting them to the global WHO medical safety database, VigiBase
To strengthen their management of health data collection, collation, analysis, interpretation and dissemination, the government of Mauritius, through the Ministry of Health and Wellness (MoHW), has begun implementation of DHIS2 as their national Health Management Information System (HMIS). This work is being carried out under the Mauritius Health Sector Strategic Plan 2020-2024 by the MoHW team and the Ministry of Information Technology, Communication and Innovation, with support from the World Health Organization (WHO), GAVI, Global Fund, HISP UiO and HISP Uganda. The goal of this work is to establish a strong, unified and integrated web-based system that will help improve health sector policy formulation and program implementation based on evidence-based decision making, ultimately making a positive impact on health outcomes in Mauritius.
Following the successful implementation of DHIS2 for aggregate data collection for the Integrated Disease Surveillance and Response (IDSR) and the Expanded Programme of Immunization (EPI) programs, the MoHW Mauritius decided to implement the DHIS2 COVID-19 Vaccine Delivery Toolkit to support the country's national COVID-19 vaccination campaign. This includes both the Electronic Immunization Registry (EIR) Tracker and the AEFI Tracker module for monitoring adverse events following immunization. The AEFI package was customized with a dashboard and event report that met stakeholder requirements, and deployed in April 2021, following training of users and administrators at regional and national levels.
Integrating DHIS2 AEFI data with VigiFlow for timely and accurate reporting to the WHO's global ICSR database
As a member of the WHO Programme for International Drug Monitoring (PIDM), Mauritius is committed to sharing Individual Case Safety Reports (ICSRs) – including those related to COVID-19 vaccination – with the WHO's global ICSR database, VigiBase. VigiFlow is a web-based tool for reporting data into VigiBase. Because DHIS2 and VigiFlow are independent systems, AEFI data entered into DHIS2 by regional health facilities in Mauritius must be reported separately to VigiBase using VigiFlow by the National Pharmacovigilance Committee. This results in duplication of effort, and can contribute to delays in reporting to Vigibase and potential misalignment between the data reported in both systems.
To help ensure timely and accurate submission of reports to VigiBase, HISP UiO collaborated with the WHO and the VigiFlow team at the Uppsala Monitoring Centre on an integration between these two systems. Mauritius agreed to be the first country in the world to pilot a working prototype of this integration.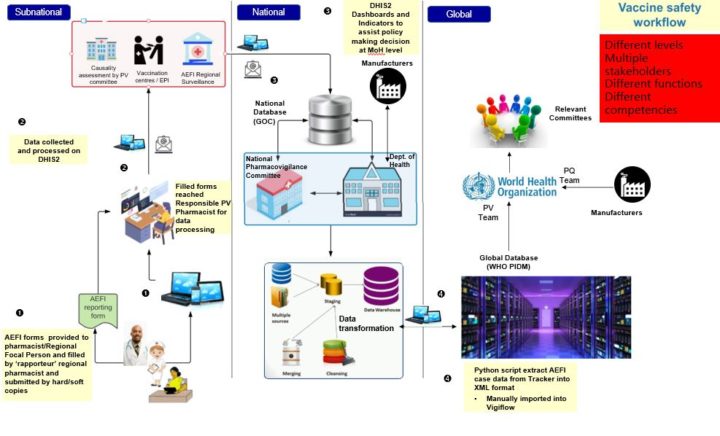 The pilot integration streamlines the AEFI reporting process. First, paper AEFI forms from regional health facilities are collected by regional pharmacovigilance pharmacists and entered into DHIS2 Tracker, where data is stored on a national database. A causality assessment of each case is then conducted by a panel of health experts both at national and sub-national level, and a DHIS2 dashboard is updated in real time, providing indicators to support analysis and decision making at the national level. AEFI reports are extracted from DHIS2 into VigiFlow, where they are reviewed and approved by the National Pharmacovigilance Committee before being submitted to VigiBase.
Prior to the implementation of the DHIS2 AEFI module, the National Pharmacovigilance centre was experiencing difficulties and delays in reporting and investigation of AEFI cases, as the whole process was paper-based. Following the deployment of the DHIS2 package, reporting of AEFI cases is done in real-time on DHIS2 by the Regional "Rapporteur" Pharmacovigilance pharmacists as soon as the paper-based forms are received, supporting timely investigation and assessment of potential AEFI cases. Additionally, since the data collected in these forms contains very sensitive information, the implementation of DHIS2 Tracker has helped Mauritius to protect the privacy and confidentiality of individuals in accordance with the country's Data Protection Act of 2017.
Next steps: Enhancing DHIS2-VigiFlow integration and decentralizing the DHIS2 system in Mauritius
HISP UiO confirmed the successful transfer of AEFI data from DHIS2 to VigiFlow in December 2021, and since the implementation of the AEFI module, the reporting rate for AEFI cases has increased significantly. However, in its prototype form, the DHIS2-VigiFlow integration remains a partially manual process. A python script developed by HISP UiO is used to extract AEFI reports from DHIS2 into XML format, which are then manually imported into VigiFlow. This method saves time and increases accuracy compared to re-entering data from DHIS2 into VigiFlow by hand, and has functioned successfully as a proof of concept. HISP UiO is working with stakeholders in Mauritius and the VigiFlow team to determine what parts of the extraction and import process can (or should) be automated, decisions which depend both on technical factors and workflow considerations related to data review and approval.
Looking beyond their achievements implementing DHIS2 for AEFI surveillance at the regional level, health authorities in Mauritius also plan to further decentralize the system to the district and primary health care levels – as well as to the remote Rodrigues and Agalega islands – which will require additional training, human resources and IT infrastructure.
Mauritius also continues to work toward their goal of a strong, unified health information system. As of the beginning of 2022, DHIS2 has been implemented for aggregate and Tracker data collection for EPI, AEFI, COVID-19 vaccination, Hepatitis, HIV/AIDS and TB case surveillance within the Mauritius HMIS. The HISP UiO team and HISP network continue to support Mauritius and other countries in the region in implementation and use of DHIS2 for these and other health programs.
Learn more about this work by reading the full report from the Mauritius team on the DHIS2 Community of Practice.