Individual Data Records with Tracker
Tracker is the DHIS2 app for individual-level (or case-based) transactional data. It supports data collection, case monitoring and follow-up, analysis and reporting — all within your DHIS2 system
Enlaces directos al contenido de la página
What is Tracker?
Tracker is an an application within the DHIS2 platform for the collection of individual-level (or case-based) transactional data, such as medical records for individual patients, confirmed and suspected cases during a disease outbreak, logistical information on specific commodities, or school records for students, to list just a few examples. Tracker supports direct monitoring and follow-up on those cases as well as data analysis and reporting within an HMIS, health program, or other large-scale project that requires information management down to a granular level.
Tracker shares the same design concepts as DHIS2 as a whole: a combination of a generic data model and flexible metadata configuration for rapid customization to meet a wide range of use cases. In addition to longitudinal data, the Tracker also supports the Event data model for individual-level data that is anonymous or not tracked over time. Tracker functions natively within DHIS2 core software and with the DHIS2 Android Capture App for mobile data collection. Tracker data is automatically aggregated within DHIS2 to support national and international reporting requirements, and allows you to take full advantage of the built-in suite of DHIS2 tools for data analysis and visualization, such as tables, charts, maps, and dashboards. Tracker also includes tools to support enhanced workflows at the facility or community level, such as SMS reminders and appointment schedules, and can be linked with other Electronic Medical Record (EMR) systems.
On this page you can find an overview of some of the key features of DHIS2 Tracker. To learn more about where and how Tracker is currently being used, visit our Tracker In Action page. For updates to Tracker features included in the latest DHIS2 software release, see the DHIS2 Overview page. To read more about implementing a Tracker project, review the Tracker Implementation Guide.
Go granular: Collect, track, and analyze individual data over time
Capture data at the lowest level: Tracker allows you to define the individual entity you want to collect data on through user-configured attributes — including image files — and also to establish the program rules (skip logic, constraints, decision support, etc.) to guide the data entry process. A search for existing / duplicate records is integrated into the registration process to prevent double entry. Individual records can be registered for longitudinal tracking, or entered as non-tracked records (Events).
Faster and more complete data: Using Tracker allows for data capture at lower levels of the health system (or other organization), closer to the individual/patient level. This reduces data entry bottlenecks, minimizes potential aggregation errors, and allows for more granular disaggregation.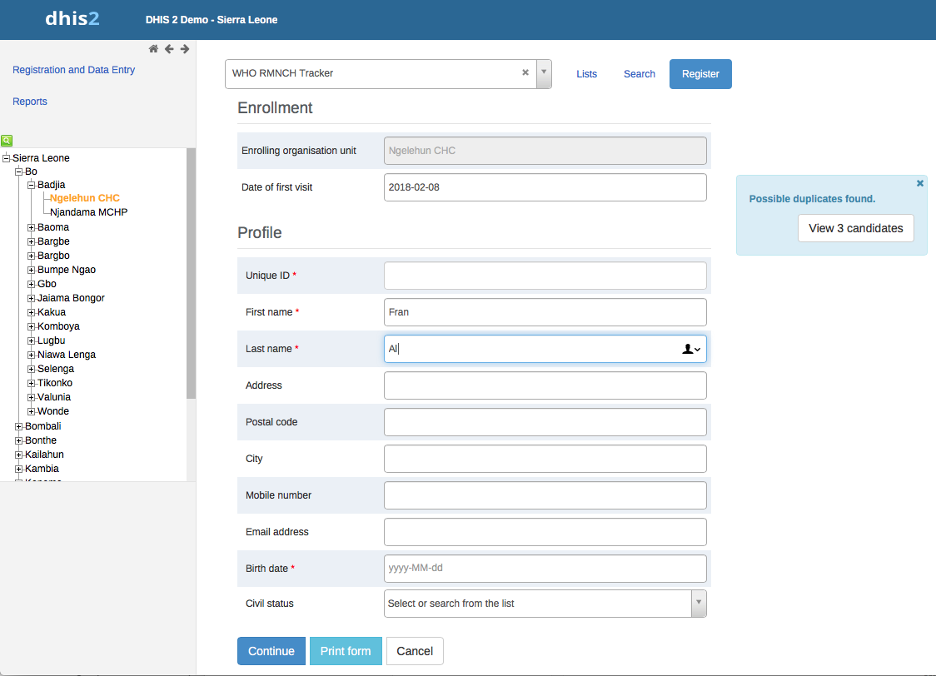 Customizable programs and standard WHO configurations
Aligned with WHO standards: DHIS2 has partnered with WHO to produce WHO DHIS2 digital data packages that make it easy to align national implementations of key health programs — such as HIV, TB, Malaria, COVID-19 surveillance, maternal and child health, and more — with global WHO standards, while remaining fully customizable to meet local demands.
Fully adaptable and customizable: Choose to adapt an existing WHO DHIS2 digital data package to align with national or project requirements, or create a program from scratch using a configurable interface that does not require programming skills. Define your own case-based programs — including for non-health domains like Education — and decide what data to collect at each stage, and use program rules to simplify data entry forms.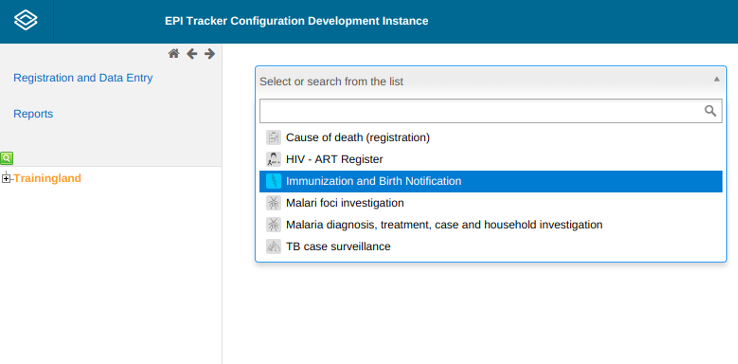 Full mobile support on Android, online and offline
Data entry on mobile devices: The DHIS2 Android Capture App fully implements the DHIS2 Tracker data model on the small screen, including relationships, indicators, program rules and notes, allowing for user-friendly mobile capture of case-based data, wherever you are. The app works in both online and offline modes, and automatically syncs when internet is available.
Integrated search: Before adding a new tracked entity, the app automatically conducts a search for existing matches to reduce potential duplication — in both online and offline modes.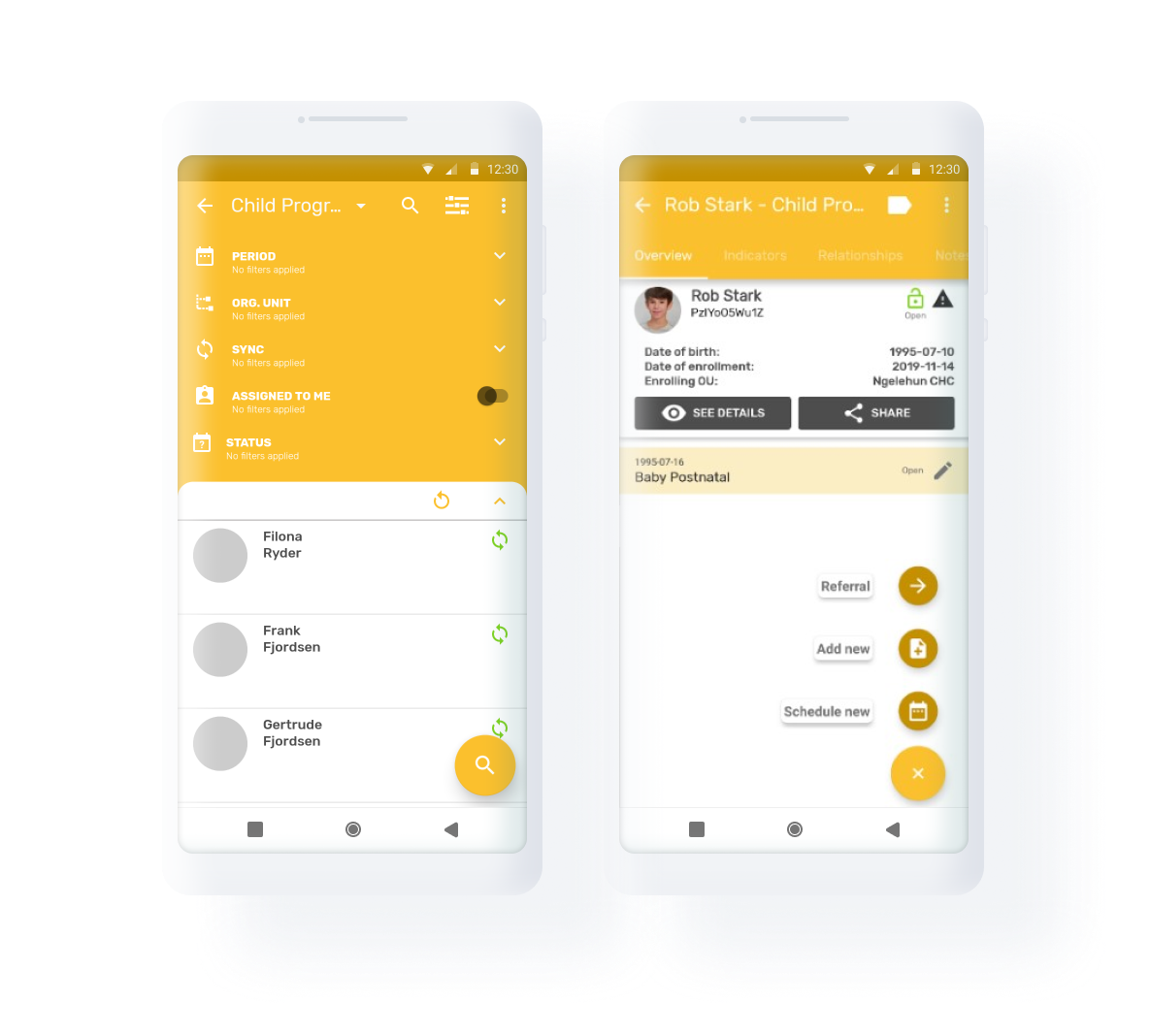 Map cases and analyze relationships
View Tracked entities and events on a map: Using the DHIS2 Maps app, one of DHIS2's built-in analytics tools, allows you to view cases by Tracker program on a map to help monitors trends and targets — such as disease outbreaks or immunization rates — based on geographical area. You can zoom in on the map to view cases at the individual level, and use contact-tracing analytics to visualize connections between tracked entities.
GPS coordinates and polygons: DHIS2 allows users to capture not only GPS coordinates but also polygons by drawing directly on their map, which is useful for defining specific geographical areas related to a given program or intervention, such as focus areas for disease elimination programs.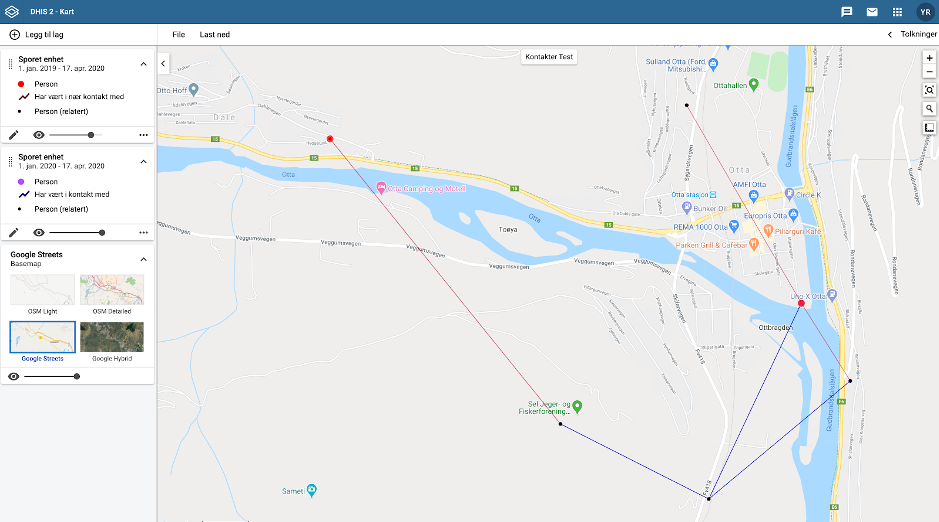 Automatic aggregation to HMIS for dashboards and reporting
Eliminate duplicate data entry: When using Tracker, all data collected at the individual level is automatically aggregated based on pre-defined parameters. This allows programs to fulfill aggregate reporting requirements without collecting and entering data a second time in aggregate format.
Visualize and analyze: Aggregated Tracker data can be easily views and analyzed within DHIS2 using built-in tools such as dashboards, tables, charts, graphs, and maps. You can also export your data to an analytics platform of your choice.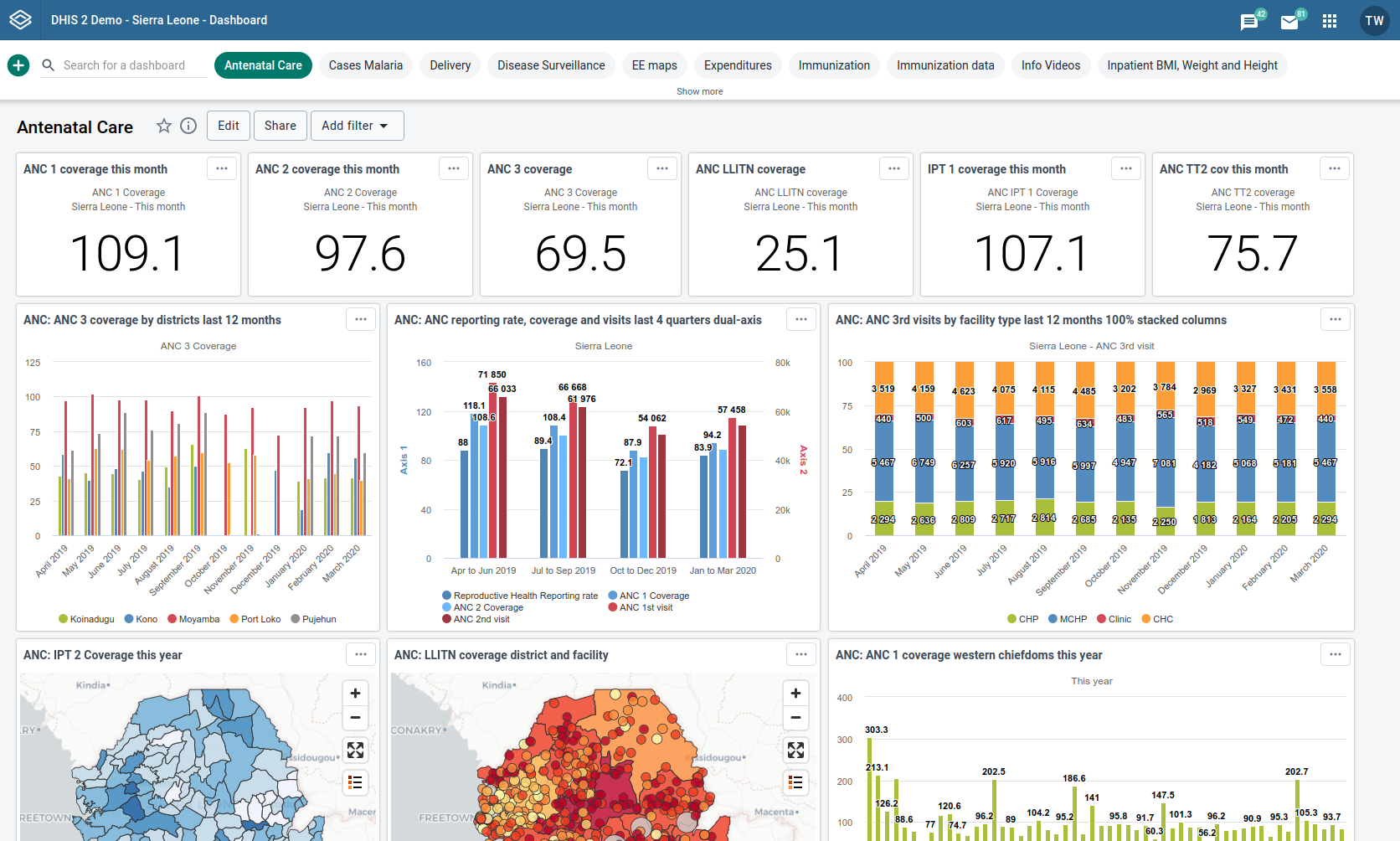 Enhance your clinical workflows
Easy appointment scheduling: Create longitudinal programs with multiple stages, which can correspond to patient appointments or other kinds of follow-up, which can be easily scheduled within DHIS2 Tracker. These stages can follow a defined order, and some may be repeated indefinitely until a given outcome is reached.
Better patient outcomes: Improve retention by using Tracker to schedule visits, ​track missed appointments, and more. Tracker can be configured to send automated SMS messages to patients for appointment reminders, notification of test results, and other kinds of program-related information that can increase their engagment and participation.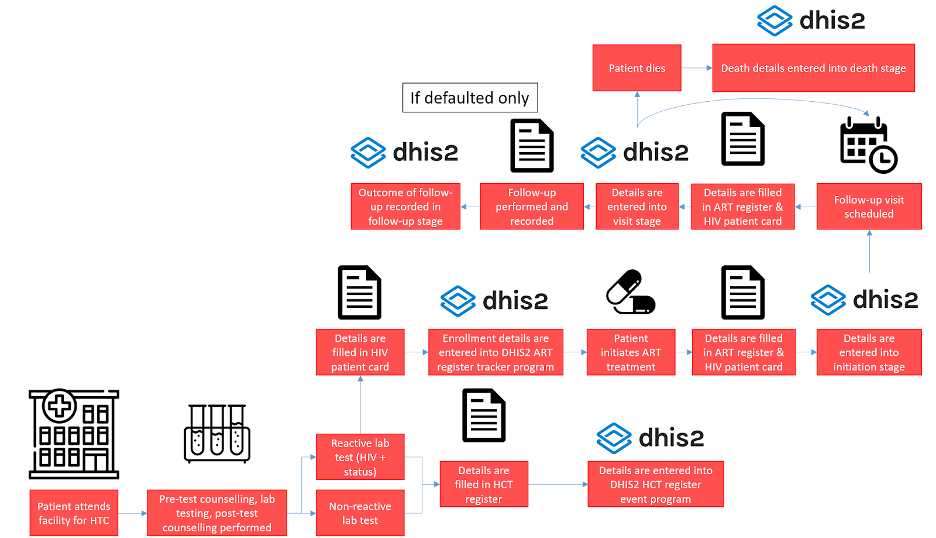 Secure solution for personal data
Control access with sharing settings: DHIS2 Tracker contains granular sharing settings that allow system administrators to define which organizational levels, groups, and individual users can access specific kinds of data stored within a Tracker program.
Full local ownership of data: Hosting for each DHIS2 instance is handled by the owner organization — for example, a national Ministry of Health — who can define their own parameters for data storage in accordance with local laws and privacy concerns. Whether hosted locally or in the cloud, no outside entity — including DHIS2 software developers — can access patient data unless that access is specifically granted by the owner of the database.
Tested and proven at scale
National-level platform: Tracker is currently in use in more than 75 countries and Indian states, including in national-level health programs for combating diseases like COVID-19 and Malaria and providing maternal and child health services. This amounts to hundreds of millions of individual data records around the world.
Rapidly deployable and expandable: In countries and organizations that already use DHIS2 for aggregate data, Tracker programs can be implemented rapidly to add individual-level data without the need for an additional software platform. For those new to DHIS2, our Tracker documentation provides guidance on how to plan and implement Tracker, including how to optimize Tracker for large-scale programs.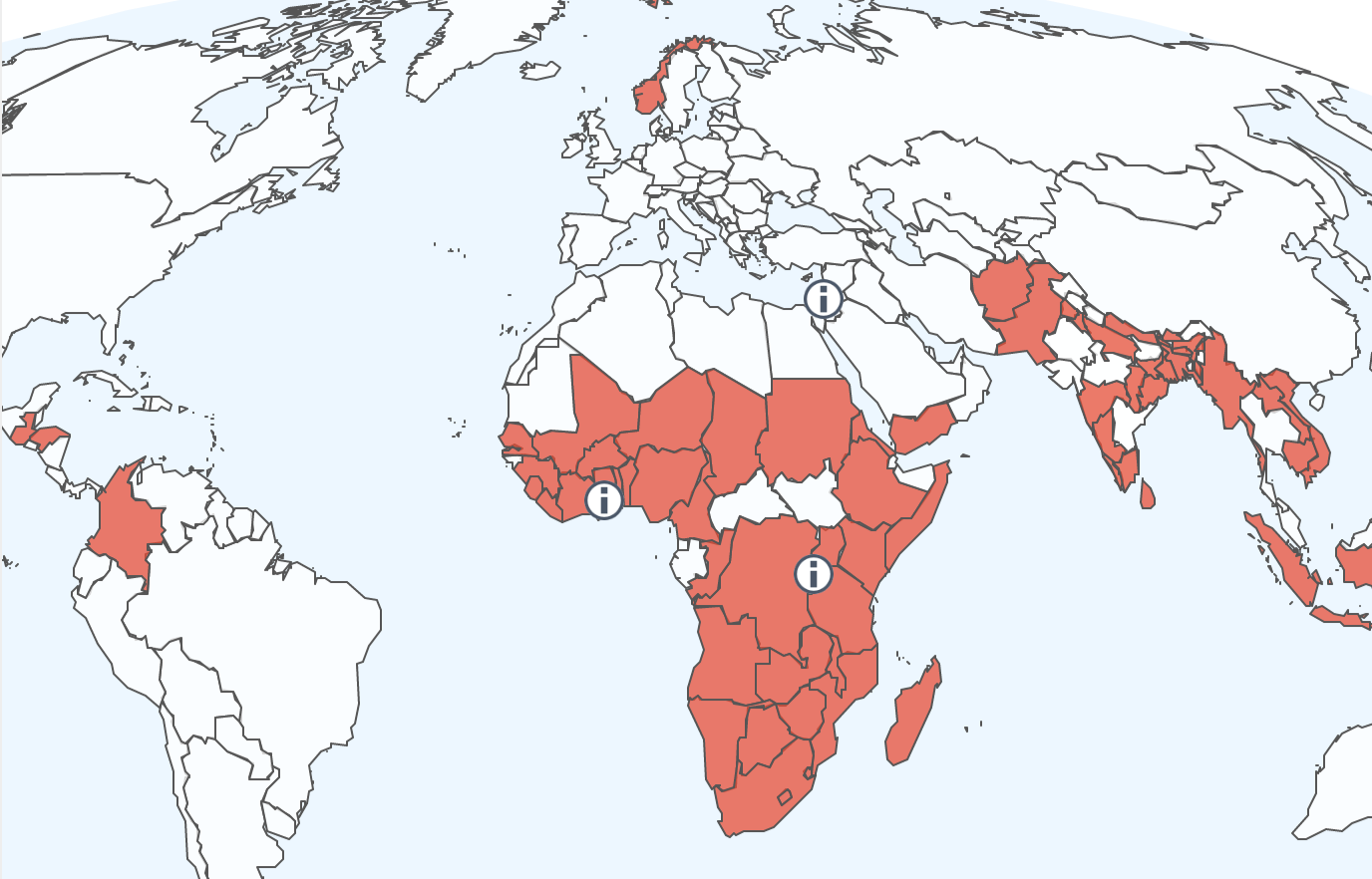 Open-source software for a global community
Open Source: As with DHIS2 as a whole, Tracker is a truly open-source software application. The code is available on Github, and the development roadmap and list of known bugs can be accessed on Jira. Our international community of administrators, developers, and implementers contributes to the development process by sharing bug reports and feature requests. Read more about DHIS2 development.
Localization: DHIS2 Tracker software and documentation is already available in multiple languages, and additional languages can be added upon request through our open translation portal. National teams can complete new translations themselves, or request support from the DHIS2 community.
Implementation guidance & community support
Documentation: The DHIS2 Tracker team has prepared comprehensive guidance for deploying Tracker as part of a DHIS2 implementation, including best practices and lessons learned from real-world use cases. Read the Tracker Implementation Guide or browse all guidance on the DHIS2 documentation site.
DHIS2 Community: A global network of DHIS2 experts are take part in the development and deployment of the Tracker by posting and answering technical questions, sharing user stories, and providing valuable feedback from the field. You can join the discussion on the DHIS2 Community of Practice.
Learn to use Tracker with the DHIS2 Academy
Proper planning, configuration and use of Tracker is essential for effective management of case-based programs using DHIS2. You can learn more about Tracker through our series of training courses, the DHIS2 Academy.
For program managers and others who need to make planning decisions about program design, scope, and resources, our Level 2 Academy on Tracker Implementation Management offers a comprehensive overview of planning considerations for designing and scaling a Tracker project.
For implementers, system administrators, and others who work with Tracker on a more technical level, we offer a series of courses to help you build your skills. This includes the free, online courses in the DHIS2 Fundamentals series that cover the basics of data entry, analytics tools, and system customization, and our Events Fundamentals course which provides a more detailed introduction to the Tracker and Event data models. Once you have completed the DHIS2 Fundamentals, you can continue with our Level 1 Academy on Tracker Configuration, and then move on to more advanced topics with our Level 2 Academies.