DHIS 2.33 Overview
Explore DHIS2 version 2.33, which includes many new features, apps, improvements, and bug fixes. On this page you can find information on this software version, including feature descriptions, links to technical documentation, and more
Enlaces directos al contenido de la página
Feature Spotlight Videos
Watch our Feature Spotlight videos for DHIS version 2.33 here, or on our YouTube channel.
Tracker and Event Features
Performance and stability improvements
This version offers significant performance and stability improvements, in particular in the area of transaction handling and queries optimization:
The system has been reviewed to minimize the number of expensive read-write transactions, which has an impact on overall performance and might lead to database deadlocks.
Tracker attribute uniqueness check performance has been optimized.
Tracker notifications are asynchronous to avoid blocking.
Tracked entity instance auditing is asynchronous to avoid blocking.
Removed expensive circular checks for tracked entity instances, enrollments and events.
Removed expensive loops checking access permission on data elements during import.
Database indexes reviewed to make sure the relevant indexes are used for data-intensive queries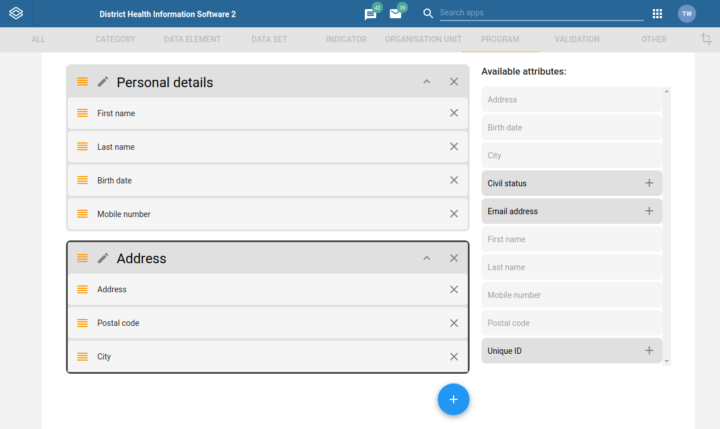 Enrollment section forms
You can now create section-based forms for enrollments in tracker. The configuration can be done in the maintenance app under the "attributes" section > "Create registration form" in the tracker program configuration wizard. This allows for creation a section-based tracker enrollment form without creating custom HTML-based forms.
[ Demo ][ Screenshot 1 ][ Docs ][ Jira ]
Release Information
Click on the links in the table below for more information about this software release and to access an interactive demo.