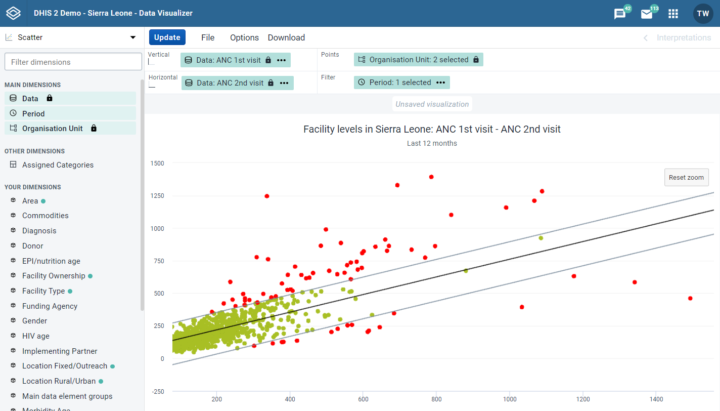 Scatter plots
The data visualizer app now features scatter plots. This enables users to chart organisation units as points against two variables for a single period with scatter plots.
Zoom in by clicking and dragging the cursor over an area you would like to zoom in on. This is often necessary to see more detail in areas where many organisation units are clustered together.
Outlier detection can be done using either a standard z-score, modified z-score, or an interquartile range via the options menu. An extreme vertical (y-axis) and horizontal (x-axis) threshold line can also be applied. Endorsed by the WHO, this is a very clear and powerful way to identify outliers that often represent data quality issues. You can identify the outliers that are most likely to throw off national statistics by using the outlier detection in combination with the extreme X and Y threshold lines.
Video | Screenshot 1 | Screenshot 2 | Screenshot 3 | Docs