DHIS2 News: Report details achievements and opportunities of DHIS2 for Education in Eswatini
Read an in-depth assessment of Eswatini's DHIS2 EMIS pilot, including detailed sections on implementation, stakeholder engagement, capacity building and data use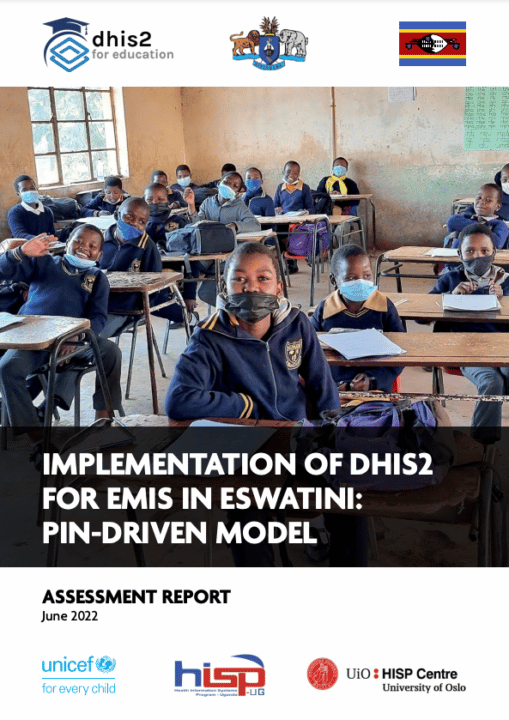 In June 2020, the Ministry of Education and Training in the Kingdom of Eswatini, with funding from UNICEF Eswatini, contracted the University of Oslo in partnership with HISP Uganda to support the review and upgrade of the current Education Management Information System (EMIS) using DHIS2. The objective of the pilot was to redevelop and update EMIS into a personal identification number (PIN) driven system, which supports real-time response to enable efficient and effective budgeting, planning, implementing, monitoring and evaluation of MoET sector programs.
This assessment report details the data management process, assesses the upgrade and development of the system and the capacity and skills transfer process of the pilot in the region of Manzini with the aim to inform expansion of the system to national scale.
DHIS2 for Education takes advantage of decades of experience using DHIS2 for public-sector information management in more than 70 countries across the world. 6 Ministries of Education are involved in the global research project: Eswatini, Mozambique,The Gambia, Sri Lanka, Togo and Uganda. Action research topics from dedicated PhDs, Masters Students and implementers include districts as centres of excellence for data use and management, the EMIS shift from aggregate to individual level data, integration with existing EMIS systems and cross-sectoral collaboration through data exchange and harmonization of tools.