Why use DHIS2 for eLMIS?
There are many full-featured eLMIS tools available today that may be suited for many contexts. What is the benefit of using DHIS2 for eLMIS? On this page, we explain how DHIS2-LMIS can help reduce demand distortion, facilitate triangulation of logistics and health data for improved program outcomes, and be a cost-effective and efficient solution in the LMIC context
Jump to a section on this page
Reduced demand distortion
Consumption level data is the key input for reducing demand distortion and improving availability of products. This is based on system dynamics research and commonly referred to as the "bullwhip effect" in supply chain management.
Reducing the bullwhip effect will ensure availability of items in the correct quantities, when and where they are needed. This will reduce instances of stock-outs and over-stock and ensure that more patients can receive the treatment they need.
DHIS2 can be used to digitally collect consumption-level data at the point of service in real time. This data is automatically aggregated and immediately available to managers at higher levels of the supply chain, facilitating timely analysis and resupply and more accurate demand forecasting. When used together with a full-scale, national eLMIS for managing procurement, demand planning, forecasting, warehousing, transportation and distribution, DHIS2 supports end-to-end visibility of the entire national supply network.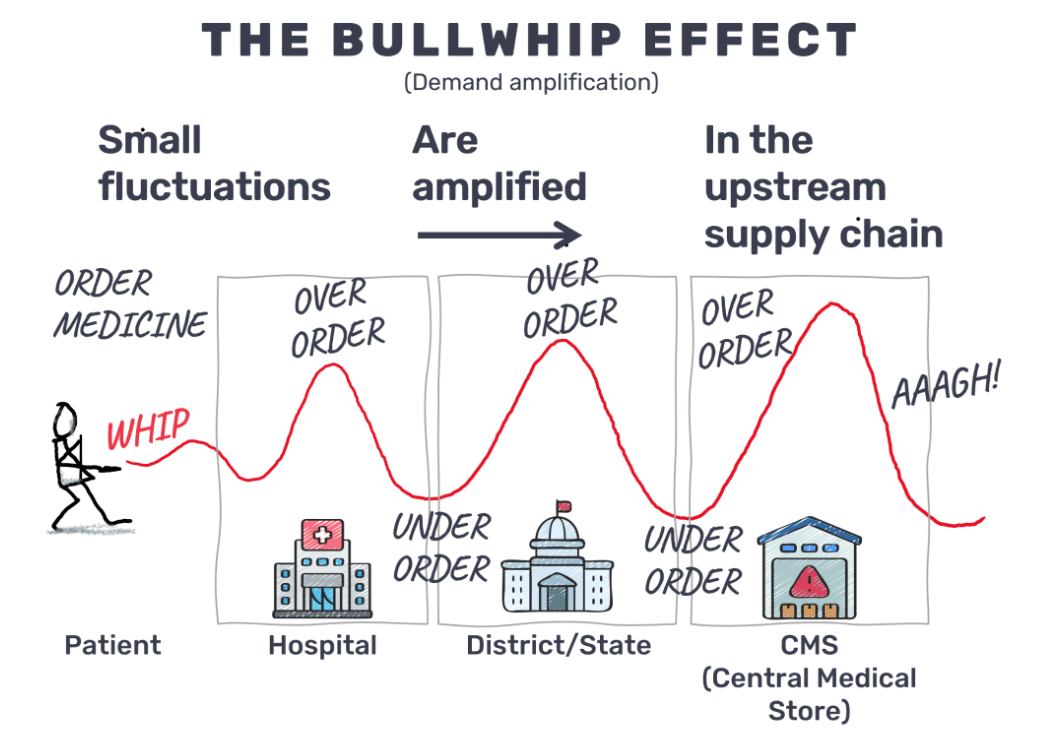 Analytics and triangulation
The DHIS2 built-in analytics tools allow users at all levels of the health structure to view the data in interactive dashboards. Data can be shown from national level down to facilities. Stock availability data can be easily accessible by all users.
In addition, stock data can be triangulated with health service data to provide insights into service delivery. For example, the quantities of stocks issued can be compared to the number of patients treated to identify any discrepancies, investigate the cause and perform corrective action.
Countries that use DHIS2 for both HMIS and LMIS data can seamlessly triangulate health and supply chain data without the need for costly system integrations or external tools.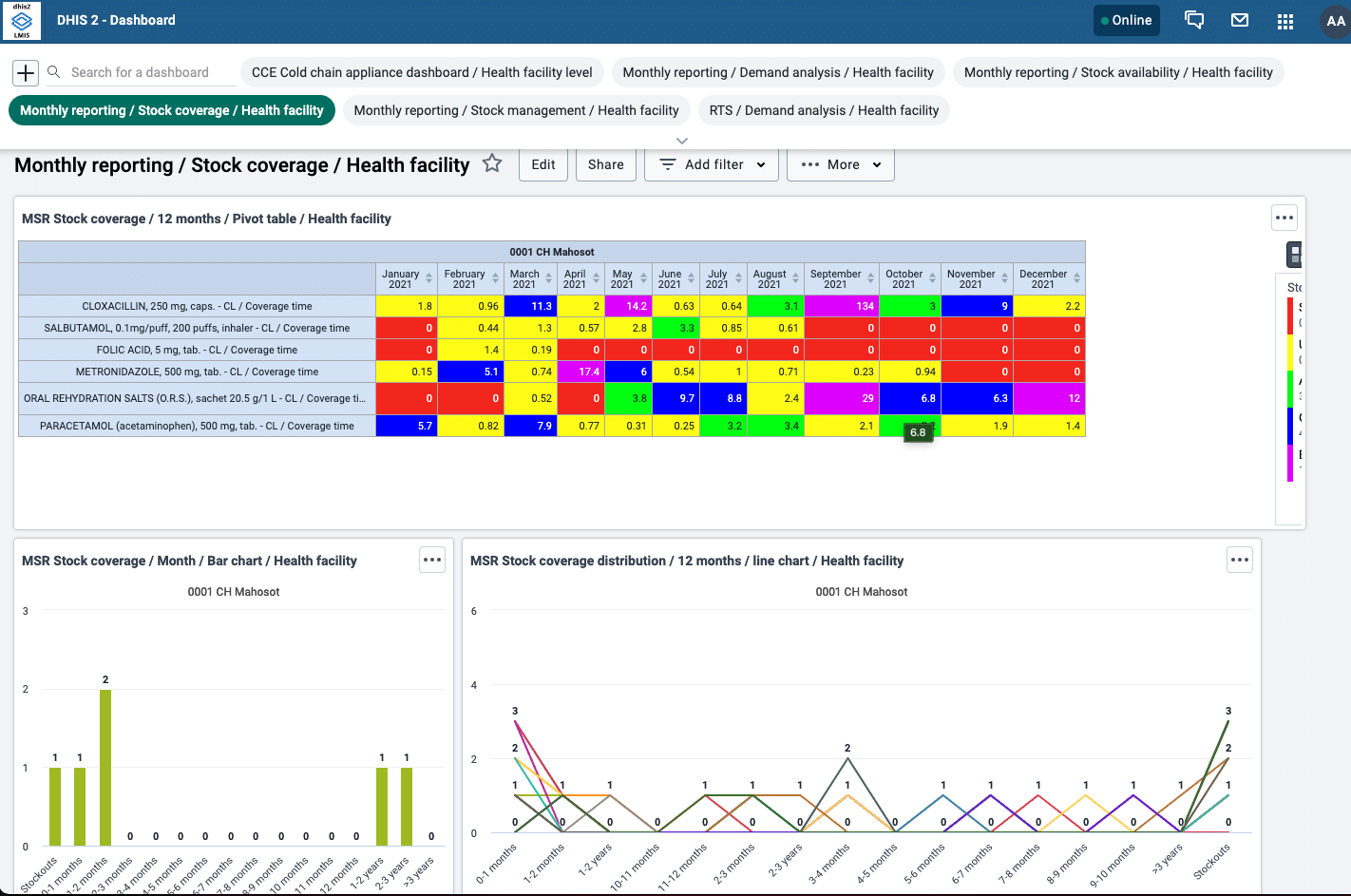 Cost-effectiveness and efficiency
For last-mile logistics management, DHIS2 provides several advantages that make it particularly suitable for implementation in LMICs and lower resource settings:
Use of existing infrastructure and competence: The implementation of DHIS2-LMIS features is integrated in the existing DHIS2 infrastructure. Though it may require additional resources, the implementation builds on existing competence and resources in country.
Simple workflow adapted to the context: Last-mile health facilities rarely have a dedicated store manager, which means health workers are reporting or managing stocks in addition to treating patients and other tasks.
LMIS features integrated in the standard DHIS2 system: The DHIS2 software is already used by health workers in more than 80 countries, reducing the need for additional devices, training or support for a new LMIS software system.
Analytics with health service data included: As DHIS2 is often the de facto HMIS, the ability to analyze and triangulate health service and stock data can be done without the need for integration.
Robust support for offline data capture: Using the DHIS2 Android Capture app on mobile devices allows for online/offline usage, to support digital data collection at lower resource sites and challenging environments.
Cost-effectiveness (implementation): The cost of implementing a dedicate eLMIS tool (devices, subscription, training, support) to many last-mile sites (hospitals, health facilities and community health workers) is much greater than that of implementing a LMIS feature on an existing facility-level DHIS2 implementation and integrating it with a central eLMIS. Read an example from Mali
Cost-effectiveness (maintenance): The country-owned DHIS2 system will incur fewer costs than subscription based eLMIS software. Software upgrades and maintenance to the DHIS2-based HMIS will also automatically benefit the eLMIS implementation at no additional cost. Read an example from Botswana