DHIS2 Software Overview
DHIS2 is a free, open-source software platform for collecting, analyzing, visualizing and sharing data. On this page you can find an overview of some of the key features of DHIS2
Jump to a section on this page
What is DHIS2?
DHIS2 is a free, open-source software platform for collecting, analyzing, visualizing and sharing data. The DHIS2 data model supports both aggregate and individual-level data — including features for monitoring and following up with individual people or entities over time — and online and offline data entry via the DHIS2 web portal, mobile Android app, SMS, or direct import.
DHIS2 is the world's leading Health Management Information System (HMIS), and it has also been deployed in a variety of other contexts, including for the management of education, logistics, and agriculture projects, among others. See the DHIS2 in Action page for examples of where and how DHIS2 is currently used.
Features in the current DHIS2 version
While the information on this page covers general features of DHIS2, you can find out more about specific features and improvements in each version at the links below. We release a new version every six months, and provide support and maintenance updates for the three most recent versions. For details on earlier versions, visit our Overview Archive page.
Android Compatibility
The DHIS2 Android Capture App for mobile data entry is developed in parallel with the core DHIS2 platform to maintain compatibility. To learn more about the latest versions, visit the Android Overview page.
Analytics & Data Management
DHIS2 lets you manage and analyze aggregate and individual-level data with a flexible data model which has been field-tested for more than 20 years. The platform is fully customizable to meet a variety of use cases, and can be configured as a data warehouse for data from a variety of sources. DHIS2 includes advanced features for dynamic data visualization, like maps, charts, pivot tables and dashboards, as well as social analytics features to help you and your colleagues bring meaning to your data.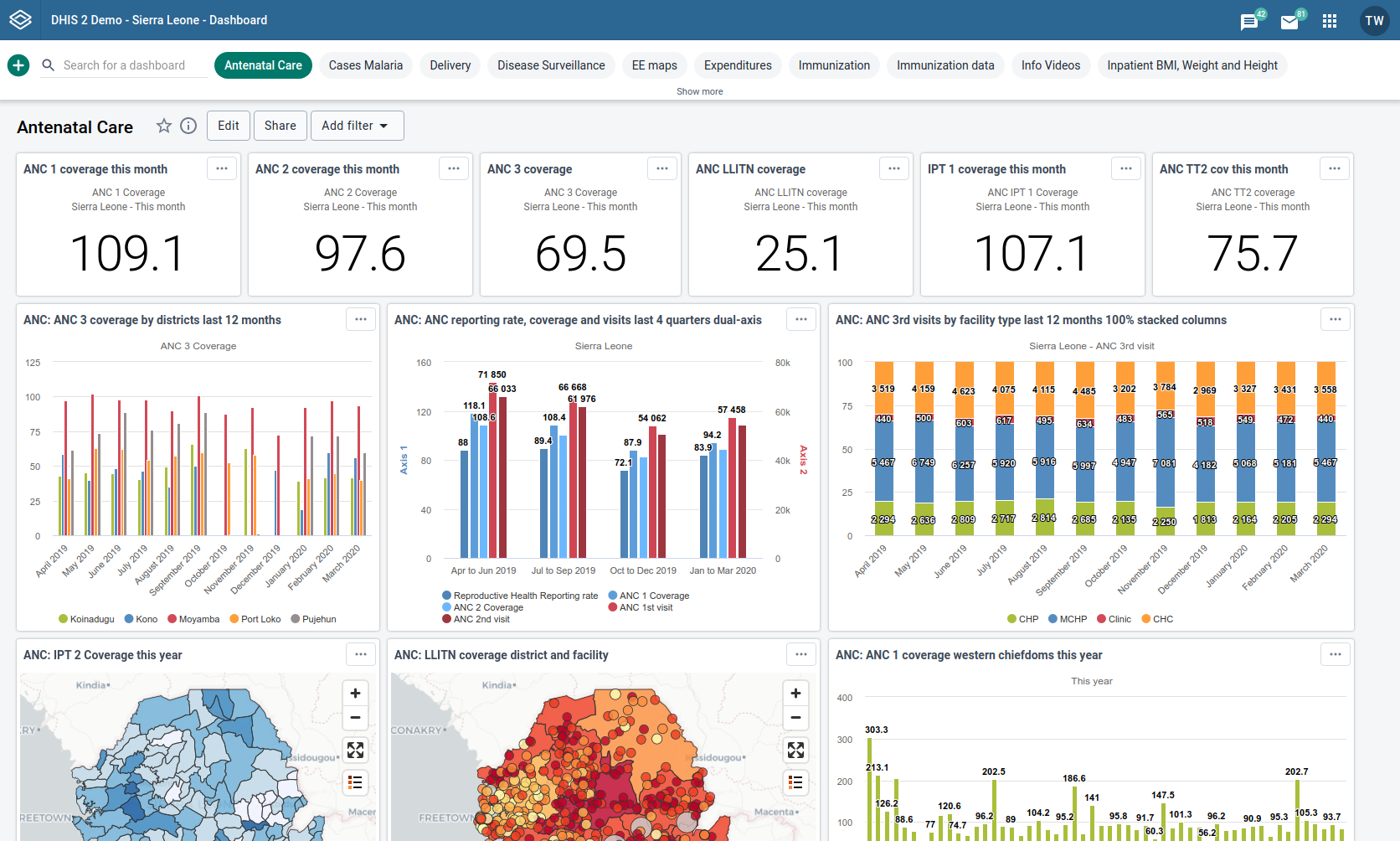 Tracker: Individual Data Records
Through the Tracker application, DHIS2 enables you to collect, manage and analyze transactional, case-based data records. It lets you store information about individuals and track these persons over time using a flexible set of identifiers. As an example, you can use DHIS2 to collect and share essential clinical health data records across multiple health facilities. Individuals can be enrolled for longitudinal programs with several stages. You can configure SMS reminders, track missed appointments, generate visit schedules and much more.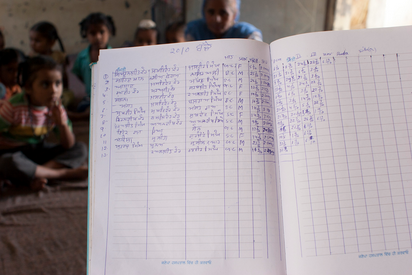 Android: Mobile Data Entry
You can expand the reach of DHIS2 through the DHIS2 Android App, which lets you register cases, events and personal information, track individuals, conduct surveys and capture aggregate data, all through a mobile phone. It tailors the DHIS2 user experience for the front-line workers collecting data at community level with mobile devices.
The app allows you to reach the last mile, collecting data even in locations where you do not have access to Internet connection. It also integrates SMS reporting for those cases where relying on Internet access is not a viable option.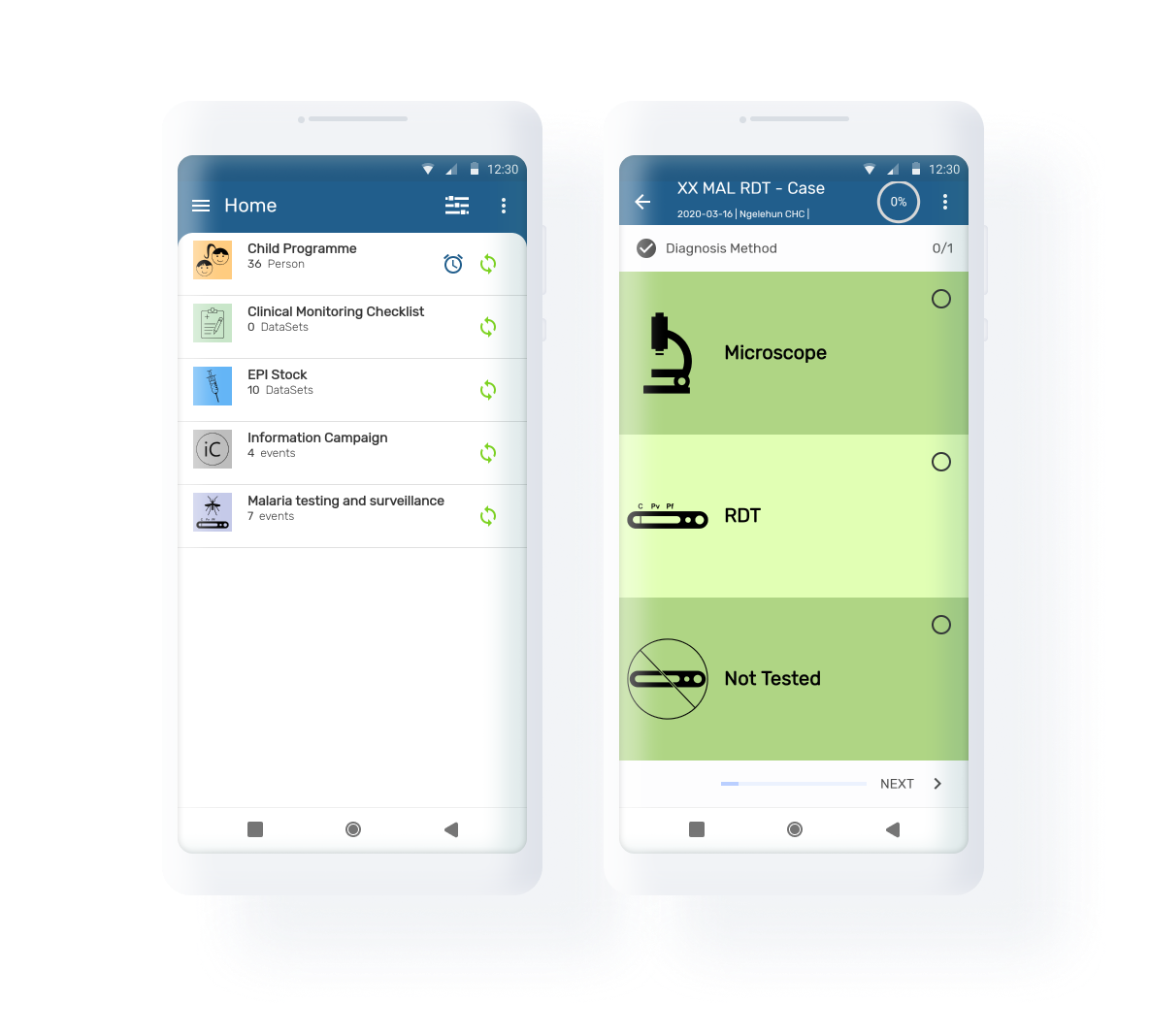 Hosting: local or in the cloud
DHIS2 is open source software and can be installed at your servers and used for free. The installation process is documented here. You can also go for a professionally managed DHIS2 instance in the cloud. A managed DHIS2 instance takes care of the backup, security, monitoring and high-speed connectivity aspects of the deployment and allows you to focus on the information system itself.
Open Source
DHIS2 is free and open source software released under the liberal BSD 3-Clause license. It is developed in Java and runs on any platform with a JRE 8 installed. DHIS2 is web-based and follows HTML 5 standards. You can download the WAR file and drop it into a Web container like Tomcat. Or download the Live package and simply click the executable file.
Internationalized
The DHIS2 user interface comes fully translated into 8 languages. In addition DHIS2 lets you translate your database content into as many languages as you like. Each user can easily switch between languages on the fly. If you need to translate the user interface into a new language that's easy, too.
Highly scalable
With DHIS2 you can have thousands of concurrent users and hundreds of millions of data records using only a single, standard web server. It lets you analyze and explore your data and get answers within tenths of a second. DHIS2 is being used as a national health information system in a large number of countries and has thousands of days in production leading up to a high-performing and mature system.
Integration & Interoperability
DHIS2 comes with great capabilities for system integration and interoperability and features its own format for meta-data and data exchange called DXF 2 as well as the ADX standard. Most parts of the system can be accessed through the extensive REST-based Web API, making interoperability with third-party clients like Android apps, Web portals and other information systems easy. You can even set up scheduled integration jobs in order to periodically synchronize with or import data from other sources.
Documentation & community support
Documentation: The DHIS2 team has prepared comprehensive guidance for implementing, configuring, maintaining, and using DHIS2 systems, as well as for developing custom applications within the DHIS2 platform. Read it on the DHIS2 documentation website.
DHIS2 Community: A global network of DHIS2 experts are take part in the development and deployment of the DHIS2 by posting and answering technical questions, sharing user stories, and providing valuable feedback from the field. You can join the discussion on the DHIS2 Community of Practice.
Learn to use DHIS2 software with the DHIS2 Academy
DHIS2 is a very powerful and customizable system, but in order to use, implement, or maintain a DHIS2 system effectively you need to learn the basics. You can learn more about many aspects of DHIS2 through our series of training courses, the DHIS2 Academy. This includes the free, online courses in the DHIS2 Fundamentals series that cover the basics of data entry, analytics tools, and system customization. Once you have completed the DHIS2 Fundamentals, you can build your skills with our Level 1 Academy courses and then continue to move advanced topics with our Level 2 Academies.