DHIS 2.24 Overview
Explore DHIS2 version 2.24, which includes many new features, apps, improvements, and bug fixes. On this page you can find information on this software version, including feature descriptions, links to technical documentation, and more
Jump to a section on this page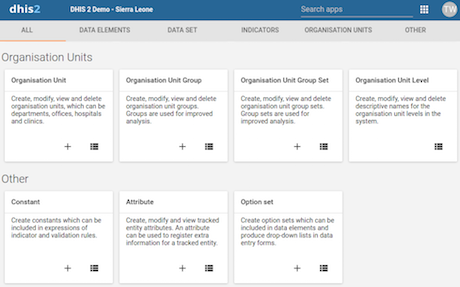 Improved maintenance app
Data sets, metadata attributes, constants and option sets are now supported in the Maintenance app.
[ Screenshot ] [ Demo ] [ Documentation ]
Apps and object search from menu
You can now navigate directly to an object type from the App menu. For example, search for "group set" in the top menu, and navigate directly to the list of organisation unit group sets or indicator group sets, without navigating first to the maintenance app.
[ Screenshot ]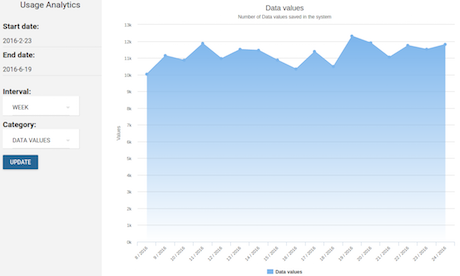 Improved data usage statistics
The Usage Analytics app now provides reports for the most viewed favorites by type (or example pivot table and chart) and number of data values stored per day.
[ Screenshot 1 | 2 ] [ Demo ] [ Documentation ]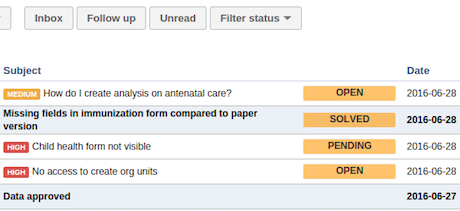 Ticket system
You can now set priority and status for feedback messages. This allows you to use the DHIS 2 messaging as a basic ticket system useful for managing user support. Each message can be treated as a ticket and go through a workflow (similar to e.g. Zendesk). You can also send internal messages, visible only to other ticket administrators. This requires membership to the "Feedback recipient" user group.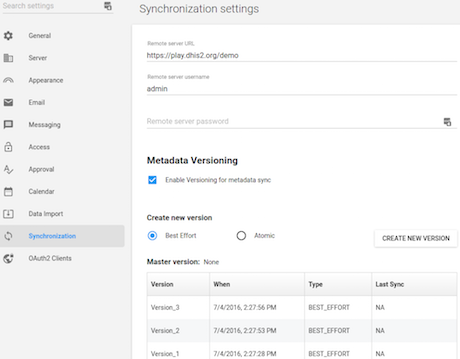 Metadata synchronization
Metadata synchronization enables DHIS 2 instances to synchronize metadata with each other. Given a central and multiple remote instances, metadata created at central can sync with the remote instances. The remote instances will check the central instance for new, available metadata packages/versions. This allows the implementor to roll out metadata updates in a controlled and staged manner.
[ Screenshot ] [ Documentation 1 | 2 ]
Improved translations solution
The database translations solution has been completely rewritten and nows works while "traversing the object graph". This means that you can navigate e.g. JSON documents from dataElement to groups and still get translated a displayName. This will also fix a range of issues where un-translated content appeared in the user interface of apps.
[ Documentation ]
Data predictors
A new solution for generating predicted values have been introduced in the Web API. This component will be useful for generating thresholds for disease surveillance, population growth and more. We will provide a UI for this and more info in version 2.25.
[ Documentation ]
Program messages
The Web API now features a new concept for program messages, which allows you to send messages to tracked entity instances, emails and SMS. This can be useful e.g. in order to send reminders about upcoming visits and notifications for awareness programs to people.
[ Docs ]
Release Information
Click on the links in the table below for more information about this software release.