Innovating DHIS2 Tracker and Apps for COVID-19 Surveillance in Sri Lanka
With the help of HISP Sri Lanka, this island nation became the first country in the world to use DHIS2 for COVID-19 surveillance. They shared this work–as well as further innovations–with the global DHIS2 community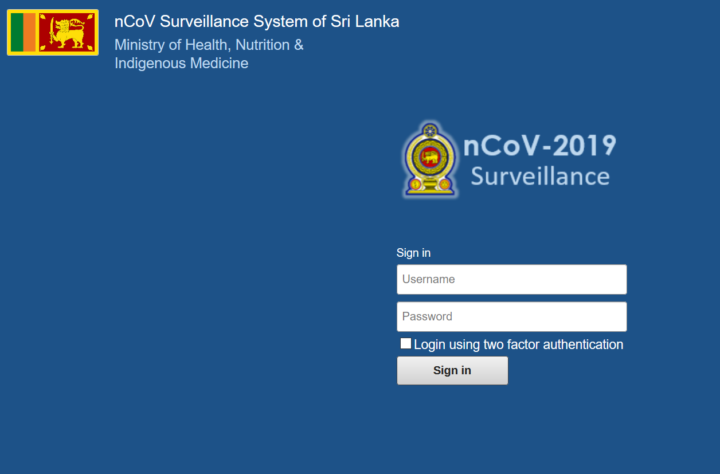 Sri Lanka's first suspected case of the novel coronavirus / COVID-19 was registered on 27 January 2020. Within just two days, HISP Sri Lanka had already created a new DHIS2 Tracker instance specifically for COVID-19 surveillance in Sri Lanka. At the request of Sri Lanka's Ministry of Health, this system was focused on the registration and tracking of incoming travelers from areas with high risk of COVID-19 infection. Within days, the system was operational at the country's airports and HISP Sri Lanka was providing training and support.
This incredibly rapid action was possible thanks to several factors. These include the presence of an experienced team that was ready to find creative solutions to address a sudden crisis, as well as the existence of a robust Health Management Information System that was up to date (Sri Lanka's Ministry of Health had updated to DHIS version 2.33 shortly after release) and that public health staff were already familiar with. Finally, the connection between HISP Sri Lanka and the DHIS2 core team and global community of DHIS2 experts helped them get valuable feedback on their work, and made it possible for other countries to benefit from their pioneering innovations.
A local system for COVID-19 surveillance that laid the groundwork for global DHIS2 response
With the COVID-19 outbreak spreading rapidly through Asia at the beginning of 2020, Sri Lanka's health authorities identified a need to implement adequate precautions to prevent the disease from entering the country, due to the significant number of tourists from at-risk countries who regularly travel to Sri Lanka. A key component of this prevention plan was screening travelers at ports of entry, and then carrying out active surveillance until the incubation period had ended.
In order for this system to work, Sri Lanka needed a proper information system for surveillance of COVID-19, one that would allow for the registration of individual data for these travelers and facilitate follow-up with them using the country's existing health infrastructure. To meet this requirement, the Ministry of Health of Sri Lanka, in collaboration with HISP Sri Lanka, developed a DHIS2-based solution for active COVID-19 surveillance.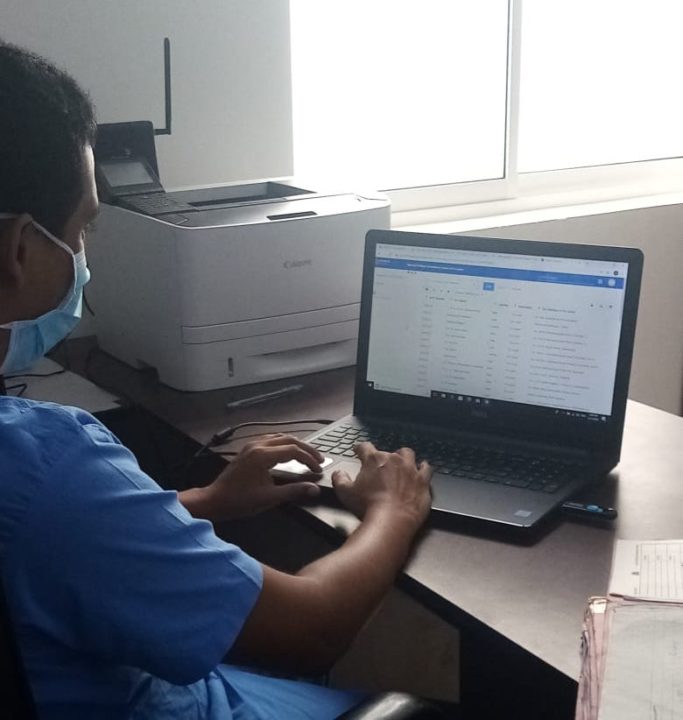 Sri Lanka's COVID-19 Surveillance system was developed using DHIS2's Tracker application, which allows for secure entry and analysis of individual-level data for both longitudinal and one-time (Event) data, as well as customizable program stages that facilitate follow up on individual cases by health personnel. Tracker data can be aggregated for the purposes of national-level reporting and dashboards, while still protecting the privacy and security of individuals whose data are stored in the system.
Implementation of the system commenced at national, province, district and medical health officer levels–covering the entire country–with separate access controls and dashboards for each level. HISP Sri Lanka also provided capacity building support through training and the creation of standard operating procedures and simple user guides. Once their COVID-19 Surveillance system was operational, HISP Sri Lanka shared the technical details of their implementation on the DHIS2 Community of Practice, and they shared their user guides with the global DHIS2 COVID-19 response team, which was used as a model for some of the generic training material is now available for worldwide use.
Sri Lankan innovations in relationship analytics for contact tracing, and rapid adaptation for global use with the DHIS2 core team
In the process of customizing DHIS2 for COVID-19 case-based surveillance in Sri Lanka, contact tracing was highlighted as a main requirement. The standard DHIS2 Tracker data model already includes significant capacity to cater to case-based surveillance and contact tracing needs. However, Sri Lanka's Ministry of Health wanted to have a visualization for public health interventions as well as epidemiological investigations which could demonstrate the possible spread of disease across a cohort of cases and their contacts. Since the native DHIS2 platform did not include the functionality to produce this visualization, HISP Sri Lanka developed a DHIS2 custom web app within their DHIS2 instance to meet this demand.
The creation of this app was facilitated by the DHIS2 App Platform, which was launched in 2019 and provides a unified framework for app development within the DHIS2 framework. While HISP Sri Lanka was working on this application, contact tracing was fast emerging as a key requirement in many other countries for their effective response to COVID-19. Recognizing the potential for worldwide deployment, DHIS2 core developers worked with HISP Sri Lanka to produce a version of their app that could be released for global adoption. They shared the details and source code of their application on the Community of Practice, where any country using DHIS2 for COVID-19 surveillance could benefit from their work.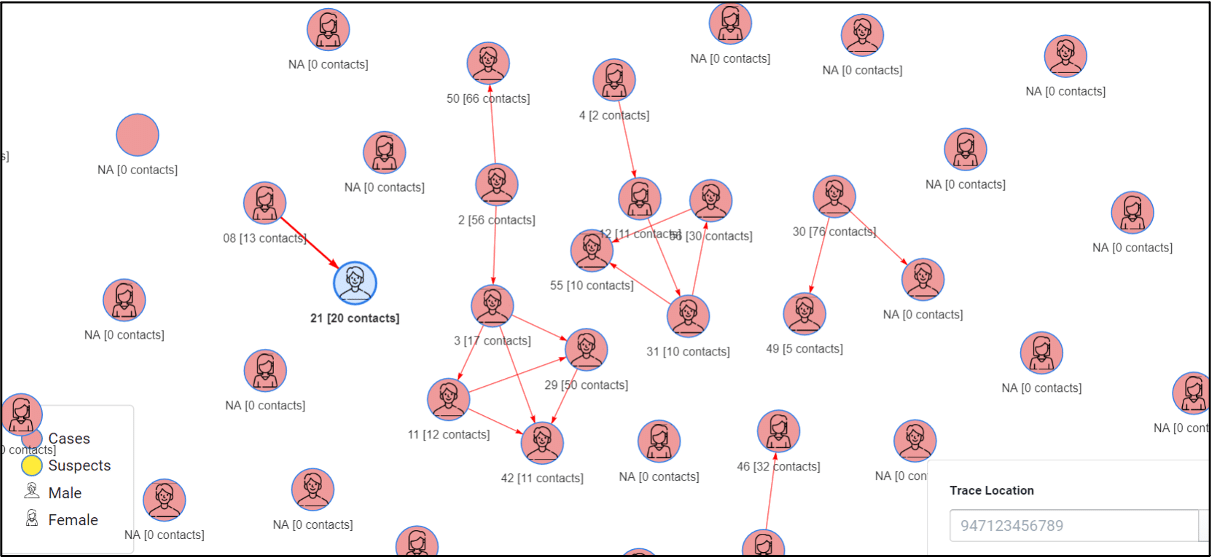 And this is only part of the story. In addition to their Port of Entry Tracker and Contact Tracing App, HISP Sri Lanka has worked in integration DHIS2 data with Sri Lanka's immigration system, location data from cell towers, and additional local health apps, and they have developed systems to track and manage other critical health system components, such as ICU bed availability. This has been made possible by Sri Lanka's multi-sector collaboration, local innovations, and integration of information across multiple sources and sectors.
The secrets to fast and effective pandemic response: robust systems, skilled teams, local innovation, government support, global collaboration
In order to make the DHIS2 enhancements that they had identified as essential to their COVID-19  Ministry of Health and HISP Sri Lanka partnered with the government's ICT Agency and the volunteer development community across Sri Lanka and internationally to find the necessary resources to make these developments happen. Sri Lanka organized a hackathon, and results of this and the subsequent online collaboration with local and global DHIS2 experts contributed to produce innovations, such as the ICU Bed Management app and two DHIS2 web apps described above.
In addition, the Ministry, HISP Sri Lanka and the ICT Agency worked closely with the Department of Immigration to integrate with their existing system to streamline health declaration data entry on immigration forms. This effort significantly minimized manual data entry associated with ports of entry. Collaborations with different government offices and the private sector ICT community were also instrumental in producing the suspected person location tracker from telecommunication tower data. This combination of inter-agency collaboration and public-private partnerships greatly benefitted local innovations and effective integrations in Sri Lanka's battle against COVID-19.
The story of Sri Lanka's response to COVID-19 is a great example of how DHIS2 can be quickly adapted and deployed to meet new demands and use cases, especially in countries where it is already deployed at a national scale–and supported by an experienced DHIS2 team. It is also an example of how local learnings and innovations can be rapidly shared, adapted to new contexts, and integrated into the DHIS2 core platform through the collaboration of partners and experts across different government agencies and within the DHIS2 community.
While the DHIS2 core team and the HISP network continue to prioritize COVID-19 response to help stop the pandemic's spread, we are simultaneously committed to building local capacity and strengthening national health systems in general, so that all of us are better equipped to handle both this challenge and future challenges to come.
Read more about HISP Sri Lanka's DHIS2 for COVID-19 surveillance implementation and relationship tracing app on the DHIS2 Community of Practice.