Using DHIS2 for COVID-19 Point of Entry Screening and Travel Pass Printing in Uganda
HISP Uganda innovation extends the DHIS2 COVID-19 surveillance package for a robust traveler screening and tracking program

Rapidly adapting Uganda's eIDSR Tracker to control COVID-19 spread
Since 2013, Uganda has worked closely with DHIS2 Tracker developers to configure and test Tracker to support case investigation and lab linkage of notifiable diseases. With the onset of the COVID-19 pandemic, COVID-19 case investigation data needs were added to Uganda's eIDSR system.
Uganda confirmed its first COVID-19 case on 21st March 2020. This was after Rwanda, Kenya and Tanzania had already registered their first cases, leaving only Burundi and South Sudan without confirmed cases in the East African region. Additional cases were confirmed barely a week later, making it necessary for Uganda to take drastic measures to control importation and community spread of the disease. Uganda's international airport was closed on 26th March 2020 and a partial lockdown (allowing movement of only essential COVID-19 response personnel and food and agriculture vehicles) was also introduced. As of 20th April 2020, Uganda had a cumulative number of 55 confirmed cases, 38 cases recovered and no deaths due to COVID-19.
Local needs for Port of Entry screening lead to DHIS2 innovation
As a landlocked country, Uganda depends on trade routes via Kenya-Mombasa and Tanzania-Dar es Salaam for most of its international imports, including petroleum products. Uganda also serves as a gateway for imports into Rwanda, DRC and South Sudan. Due to COVID-19, these routes were closed to entering and departing passengers, and activity at the country's 60 borders crossings were strictly limited, allowing only truck drivers ferrying essential Ugandan products and commodities, plus those destined to neighbouring countries, to enter and exit.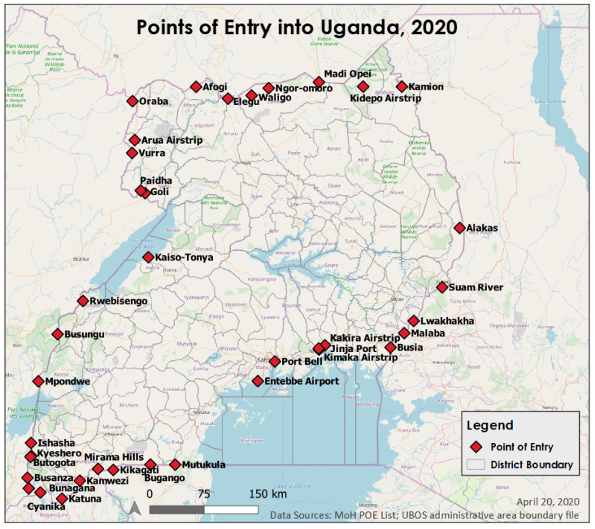 To help prevent the import of new cases of the disease, there was a need to strengthen border screening and tracking of truck drivers who were still allowed to enter and exit through Ugandan borders. HISP Uganda supported the configuration of DHIS2 Tracker and the DHIS2 Android Capture App for real-time data capture and printing of traveler's passes for drivers and truck occupants who were cleared for entry. A DHIS2 traveler's pass printing app was also added to facilitate the process of printing approval and tracking passes.
Implementing a traveler screening and tracking program at national scale
With the surveillance shifting more to Points of Entry (POE), an additional module to support screening and clearance for travel was also added to eIDSR. An additional mobile app fully integrated with POE data capture in eIDSR was added to track travelers at different checkpoints within the country after clearance at point of entry. The system was built to address four case management criteria:
1. On arrival at the port of entry, truck drivers and occupants are all subjected to a mandatory COVID-19 screening and specimen collection before they are screened and cleared to enter the country.
2. Using the DHIS2 Android Capture App, traveler details (Bio data, Identification, Photo ID, country of departures and travels in the last 14 days, destination and address in Uganda, information on whether samples were collected or the driver was put in isolation, and clearance for travel among other data points).
3. A color paper pass is printed for the travelers bearing their photo, QR code and some of the details above, to be presented at different checkpoints for QR scanning and updating POE systems on their location at a given date and time.
4. If cleared to travel, the traveler carries their travel pass with them and is required to present it at the different checkpoints within the country. At these checkpoints, we capture the date, time, and GPS location, so if COVID-19 test results for that traveler are returned as positive, Ugandan health authorities can identify the traveler's last checkpoint and intended destination, and either locate the traveler or alert the next checkpoint to stop him/her.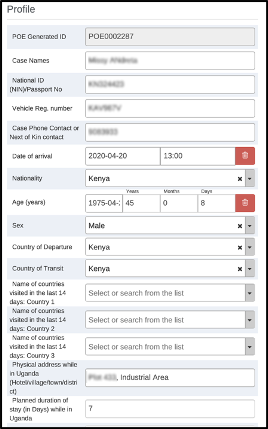 After launch, this system was further enhanced by linking it to Uganda's lab information management system, so that both systems could exchange data. This allows the Port of Entry tracker to incorporate up-to-date information on test status and results in a specific traveler's travel pass.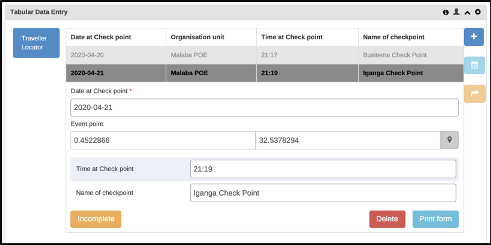 Coordinating with the DHIS2 core team and sharing best practices with the global DHIS2 community
In the course of developing and deploying their Port of Entry screening program, HISP Uganda worked with the core DHIS software development and Android development teams at the University of Oslo to identify and prioritize new features and improvements — such as support for QR codes in the Android Capture App — that were essential to making this implementation a success. These and other improvements were released for the entire DHIS2 community as part of the DHIS 2.34 and Android Capture App 2.1 releases in April 2020.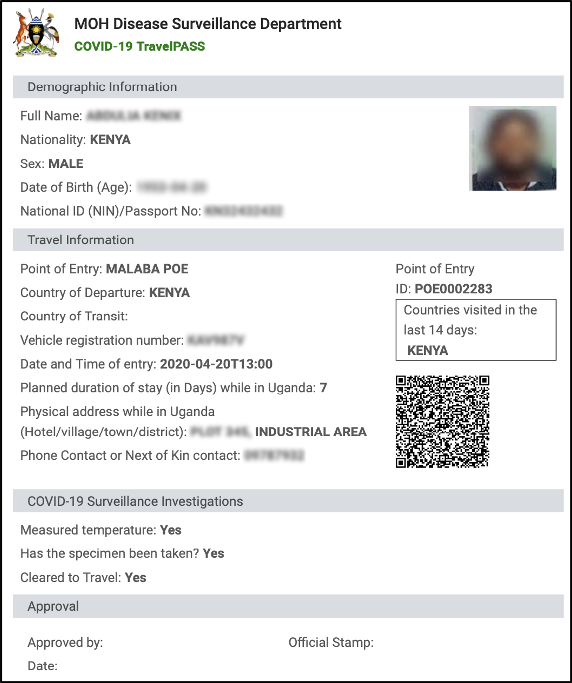 HISP Uganda is also very active on the DHIS2 Community of Practice, and shared the details of the implementation of their COVID-19 Port of Entry Screening and Traveller Pass management program there so that other countries and organizations could benefit from their work. This kind of collaboration and sharing of best practices and local innovations has been the key to the rapid deployment of the DHIS2 platform for COVID-19 response, and continues to feed back into planning and development of updates and improvements of the standardized COVID-19 Surveillance digital data packages, and potential future software updates.
Read HISP Uganda's report on this COVID-19 implementation on the DHIS2 Community of Practice