Combating malnutrition in Yemen through effective surveillance and data-guided interventions
DHIS2 data helped WHO, UNICEF and HISP reduce severe acute malnutrition (SAM) in Yemen by 8% in two years among children and achieve a 95% recovery rate in vulnerable populations through life-saving nutrition intervention programs
The civil war in Yemen, which has been going on since 2014, has had devastating effects on the safety and health of its people. Among the most severe consequences of the conflict is acute malnutrition, which has reached alarming levels. According to the United Nations, over 2 million children under the age of 5 in Yemen are acutely malnourished, and more than 400,000 of them suffer from severe acute malnutrition (SAM). The situation, which was already challenging before the onset of the conflict, has been exacerbated by a lack of access to food and medical care, as well as limited humanitarian aid.
The WHO-led Health Cluster, comprised of a coalition of partners including the two health authorities from the warring factions, UNICEF, HISP groups and others, has come together to address this urgent problem, working across battle lines in this divided country on a variety of initiatives, including the implementation of DHIS2 for community-based management of acute nutrition programs. While the conflict persists, these efforts have already shown a positive health impact for the people of Yemen: the prevalence of acute malnutrition among children under the age of 5 has decreased from 29% in 2018 to 21.4% in 2020. Likewise, the country has achieved a SAM recovery rate of 95% and death rate of 1%, significantly surpassing the respective national targets of 75% and 10%.
"The (DHIS2) system helped us improve the timeliness and quality of data. It also helped us with calculations which were very difficult with the manual method."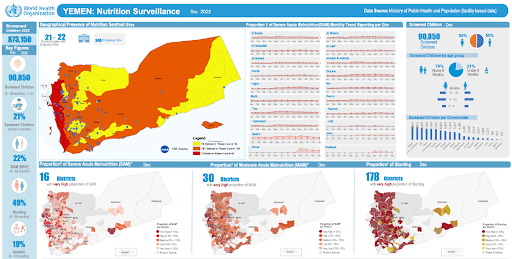 Tackling malnutrition amidst conflict through multi-party cooperation: The WHO-led Health Cluster initiative
Before the onset of the civil war, Yemen already faced significant challenges in its health sector, including a lack of a comprehensive national health information system and a shortage of health professionals. The conflict has further weakened the health system, with health facilities being destroyed or damaged and many health workers fleeing the country. The country's Ministry of Public Health and Population (MOPHP) became fragmented due to the civil war, resulting in two separate health administrative systems for different parts of the country. This situation made healthcare monitoring and management efforts difficult, especially in the case of malnutrition which affects children across the political divide. Additionally, the conflict has limited access to parts of the country, making it difficult for humanitarian organizations to provide much-needed aid and medical assistance to the affected populations. These challenges have all contributed to the current health crisis in Yemen, which requires urgent and sustained attention from all stakeholders.
The Nutrition Cluster led by UNICEF and co-chaired by the MOPHP in Yemen is a subset of the WHO-led Health Cluster. As of October 2020, there were 42 active Nutrition Cluster implementing partners including 17 national non-governmental organizations (NGOs), 20 international NGOs, 4 United Nations (UN) agencies and one government agency, with HISP India providing technical assistance on DHIS2 implementation. This Cluster has taken steps to tackle severe acute malnutrition in the country. One of the key initiatives was the establishment of a comprehensive surveillance system to track cases of malnutrition, including SAM, at the community level. The system uses DHIS2 Tracker to collect and analyze data from local health facilities, community health workers, and other sources. To complement this, the cluster established Therapeutic Feeding Centers (TFCs) and Complication Treatment Centers (CTC) to address associated health challenges arising from complications due to malnutrition.
Improved data quality and use through case-based surveillance systems using Tracker
With a high prevalence of SAM cases in Yemen, the health leadership recognized the need for a more effective approach to detect and manage these cases. Consequently, the Ministries of Health partnered with the WHO and HISP India to implement a case-based surveillance system in Tracker and developed dashboards to track individual malnutrition cases across the country. Nutrition Sentinel Sites (NSS), where children's weight, height, age, and other measurements are used to establish and classify malnutrition, were established in 300 health facilities throughout Yemen. Data collected from the NSS in Tracker helps the Health Cluster monitor each malnourished child from the point of enrollment in a health facility or a feeding center to when they are discharged. In December 2022, 90,850 people were screened at the NSS all over the country with about 20% of them infants under the age of 6 months. Out of this number, 22% were suffering from wasting and were referred to the appropriate nutrition programs while 46% were underweight. Data from the surveillance system feed into the monthly nutrition surveillance reports, dashboards, and infographics published by the WHO to guide concerted intervention plans.
To further support the surveillance system, the Nutrition Cluster also provided training to healthcare professionals on the management of malnutrition, including screening, diagnosis, and treatment. This included training in the use of the World Health Organization's protocol for the management of severe acute malnutrition, which emphasizes the use of ready-to-use therapeutic food for the treatment of malnourished children. With the help of these initiatives, Yemeni health workers have been able to identify and treat a large number of cases of severe acute malnutrition, providing much-needed support to the country's most vulnerable populations. However, the ongoing conflict and its impact on the health system continue to pose significant challenges to these efforts.
Therapeutic Feeding Centers: A nutritional intervention initiative for improved child health
Another measure that has been adopted to ameliorate the effects of malnutrition in Yemen is the establishment of Therapeutic Feeding Centers (TFCs) in 154 health facilities throughout the country implemented as part of the Community Management of Acute Malnutrition (CMAM) program. In general, TFCs provide Ready-to-Use Therapeutic Food (RUTF), which is a high-energy and nutrient-dense paste made from peanuts, milk powder, vegetable oil, sugar, and vitamins and minerals. RUTF is designed to provide a complete and balanced diet for children who are too weak to eat regular food or have difficulty digesting them.
In addition to RUTF, TFCs may also provide other types of therapeutic foods, such as ready-to-use supplementary foods, fortified blended foods and micronutrient powders, depending on the child's specific nutritional needs. TFCs also provide medical care, including treatment for infections and other health complications that may arise from malnutrition. These centers are supported by UNICEF, WHO and other non-governmental organizations and have been instrumental in saving the lives of thousands of children in Yemen by providing them with the care they need to recover. Throughout 2021, the TFCs provided integrated nutrition services to over 415,000 children aged 6-59 months, and more than 178,000 children with severe acute malnutrition were admitted for treatment.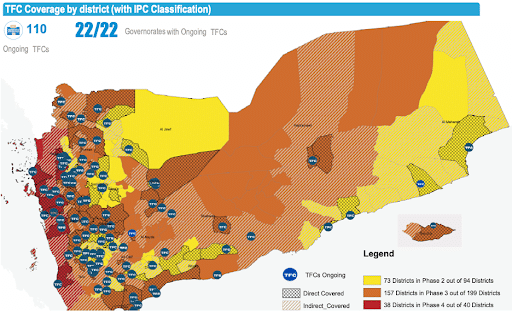 Data from all the TFCs are collected using Tracker and made available in custom dashboards accessible by the program management teams. The dashboard keeps track of the number of malnourished children who have been cured through the TFC intervention as well as those who defaulted or died while the intervention is ongoing. These are measured in the various regions of the country against established national targets, thereby providing necessary data-backed guidelines for program management. For example, data generated through Tracker from all the facilities throughout Yemen in 2022 shows that the Health Cluster has consistently exceeded its target to ensure that at least 75% of all malnourished individuals who have been enrolled into the TFCs are cured. The monthly report also indicates successes in other areas such as an average default rate of 3.5%, against the target maximum of 15%.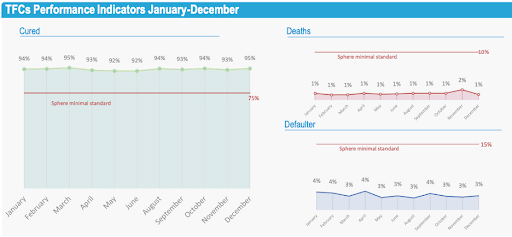 DHIS2 also facilitates subnational data use by disaggregating the TFC program performance to lower levels of the health system. This helps to coordinate targeted interventions where necessary and also serves for peer review by the TFC implementation teams at the sub-national units, thereby strengthening the overall performance.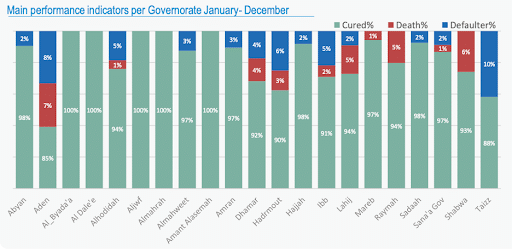 While severe acute malnutrition remains a significant challenge in Yemen, there have been some improvements as a result of the work on the Nutrition Cluster. According to a joint report by UNICEF and WHO, the prevalence of acute undernutrition among children under the age of 5 has decreased from 29% in 2018 to 21.4% in 2020. Likewise, these efforts have resulted in SAM recovery and death rates of 95% and 1% respectively, significantly surpassing the national targets of a 75% recovery rate and 10% death rate. This improvement is attributed to a combination of factors, including increased humanitarian assistance, the establishment of community-based management of acute malnutrition programs using DHIS2, and the expansion of health services. DHIS2 has improved data submission timelines from health facilities, dramatically increased data quality and simplified statistical calculations and analyses. It also supports prompt responses by program teams by providing alerts and notifications when reported cases surpass set thresholds.
The Nutrition Cluster initiative in Yemen is a positive example of cross-political cooperation for humane purposes even in the middle of an armed conflict, and the technical and programmatic support provided by HISP India on implementing DHIS2 systems has contributed to the success achieved in curtailing severe acute malnutrition in Yemen.
To learn more about this project, watch the video presentation by the WHO team at the 2022 HISP Asia Hub Conference: