DHIS2 News: DHIS2 Stands Out for "Maturity, Flexibility, and Large-Scale Deployment" in JHU Report
In July 2020, Johns Hopkins University Global mHealth Initiative found DHIS2 Tracker to be one of two leading digital solutions for COVID-19 response
In July 2020, Johns Hopkins University Global mHealth Initiative published a report summarizing the findings of their assessment (carried out at the request of the Bill & Melinda Gates Foundation) of digital platforms that have an established presence in low- and middle-income countries, and could be rapidly reconfigured to address COVID-19 related case management and contact tracing needs.
They concluded that DHIS2 Tracker is one of two platforms that "stand out for their maturity, flexibility, and large-scale deployment."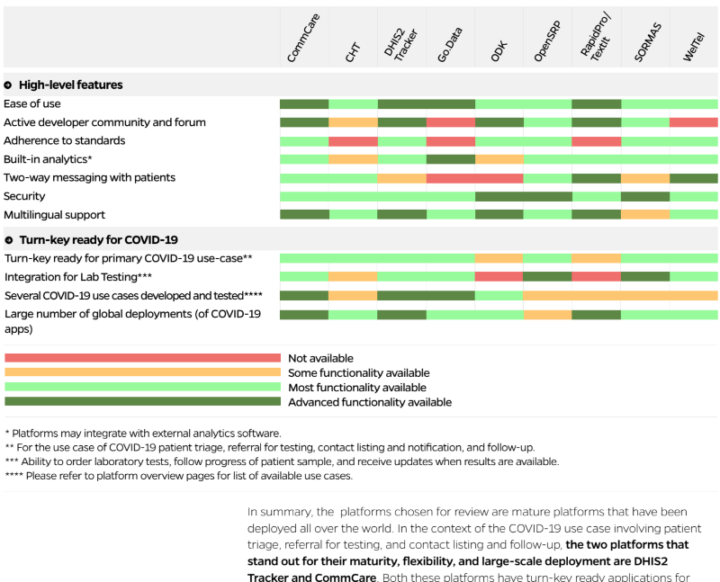 We are very pleased with the results of this assessment, and are grateful to the core DHIS2 team, the HISP network and the global DHIS2 community for helping to develop, deploy, and provide valuable feedback on the DHIS2 COVID-19 digital data packages, as well as the core software and applications that make these packages possible.
The JHU report also gave special recognition to DHIS2's "large active global community of implementers with experience in customization." You can see this community in action–and join the conversation–on the DHIS2 Community of Practice.
In addition to the report published by JHU, several other organizations have cataloged the available digital COVID-19 solutions. For example, the U.S. Center for Disease Control and Prevention (CDC) has prepared an online Guide to Global Digital Tools for COVID-19 Response, and Digital Square has produced a COVID-19 Resources List. These resources give a good understanding of the features and capabilities of the DHIS2 platform in comparison to other available solutions.