DHIS2 as a Data Warehouse in Afghanistan
Since 2016, DHIS2 has been used by the Ministry of Health in Afghanistan to combine and analyze data from a variety of systems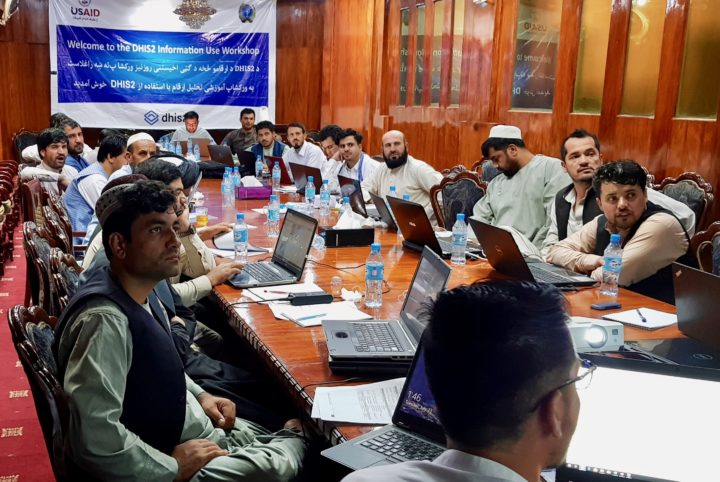 Building a Data Warehouse from the Ground Up
After years of conflict and reconstruction, the Government of Afghanistan was going digital. The Ministry of Public Health (MoPH) enthusiastically joined the digitalization drive, and by 2015 had accumulated a massive amount of data. The problem was that years of running different surveys, disconnected systems, and numerous freestanding programs funded by different donors meant this information was stored (often redundantly in duplicate or triplicate) in separate silos that made data access and analysis extremely cumbersome. To address this, the Ministry decided to create a unified data warehouse, and DHIS2 was chosen as the solution. The USAID-funded Health Sector Resiliency (HSR) project in Afghanistan—a health system strengthening project—played a critical role in making available the required technical, financial, and capacity development support to the MoPH to enable them to realize their vision.
From their pilot onward, the HMIS team gained valuable insight through DHIS2 training and leveraged the expertise of the online DHIS2 community to solve problems and incorporate best practices shared by implementers from around the world as they successfully built their new system from the ground up, empowering the Ministry to make data-driven decisions.
For their pilot phase, the HMIS team decided to try to bring together data from four different sources: HR, HMIS (EPI, TB, DDR, Blood-Bank), EMIS (Expenditure Management Information System) and Pharmaceutical. In addition to being stored in different systems, these data were also of different types: aggregate, individual, and transactional. This diversity of data allowed them to test the limits of their data warehouse model, getting as close to a "real world" scenario as possible. They faced various challenges, such as data mapping issues and discrepancies, poorly defined requirements, and inadequate user capacity—not to mention the challenge of building the local expertise necessary to plan, implement, and maintain a complex DHIS2 implementation at a national scale.
Training and Support from the International Community
With support from international donors, the team was able to quickly build their capacity through targeted trainings. Six members of the team attended the regional DHIS2 Level 1 Academy on Design & Customization held in Dar es Salaam in 2016, which provided the required skills to set up their DHIS2 instance. In 2018 and 2019 they invited experts from HISP India to come to Afghanistan to deliver national Academies on Analytics Tools, Tracker, and Data Quality. The group was sent as a delegation by the Ministry of Health to the 2019 DHIS2 Annual Conference in Oslo where they presented their work. Most recently, they traveled to Sri Lanka for an advanced Level 2 Academy on DHIS2 Android App Development and Implementation. And as technical challenges and questions arose along the way—such customizing their system to use Afghanistan's solar calendar, how to structure an eScorecard, or using the Android App in disease surveillance programs—they turned to the DHIS2 community for resources and ideas.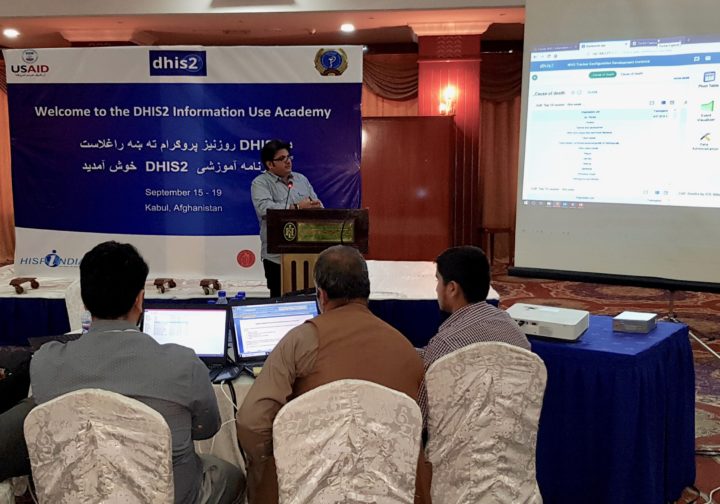 Improving Decision-Making in Afghanistan & Contributing to the Global Good
The end result of their work is a robust system that allows for triangulation and comparison of data across sources, systems, and programs. Some of their findings have been surprising. For example, by comparing HR and immunization data, they discovered that low-level health facilities (sub-health-centers), which as a rule do not have vaccinators assigned to them, frequently use extra funding in their budgets to hire vaccinators anyway, and that on average they outperform larger health facilities that have dedicated vaccinators on staff in vaccination rates. Further analysis revealed that centers with female vaccinators did the best.
The team has worked closely with various groups within the Ministry at different levels to produce data analysis tools to support decision-making—the Ministers have their own custom DHIS2 dashboards—and DHIS2 is now built in to the management of the national health system in many ways: Payment for healthcare providers is performance-based (using 11 performance indicators defined in DHIS2 and tracked through DHIS2 dashboards), and the standard contract for NGOs working in the health sector specifies that they must use DHIS2 to collect their data. Other organizations have taken notice—including the National Information and Statistics Authority—and there is interest in expanding the use of DHIS2 beyond the Ministry of Health.
The HMIS team is ready for the challenge. Through their work building Afghanistan's data warehouse, the 5 original members of the core team have become true DHIS2 experts, and HMIS has doubled the team's size to 10 people for better sustainability. The team actively participates on the Community of Practice, where they share their knowledge, discuss bugs and feature requests with developers, and give back to the community that supported them—a global village sustaining a global good.
Read more about the Afghanistan team's work on the DHIS2 Community of Practice.