Combating hypertension in Nigeria with decentralized testing, real-time data analytics and a standardized patient-centered treatment protocol
The Nigerian Ministry of Health collaborates with the WHO and other partners to develop, implement and manage an initiative to reduce hypertension and associated morbidities.
Hypertension is one of the leading risk factors for cardiovascular disease (CVD) worldwide. While the prevalence of hypertension has continued to decline in the more developed countries, low and middle-income countries (LMICs), including Nigeria, still grapple with higher prevalence rates and a relatively higher number of cases. Efforts to reverse the trend in LMICs are hampered by limited awareness, inadequate treatment and slow control rates.
In Nigeria, it is estimated that 1 in 3 persons have hypertension, which is the most important risk factor among patients diagnosed with CVD in the country. Hypertension-related complications account for up to 25% of emergency admissions in urban hospitals. This underscores the high impact of hypertension on the rising trend of non-communicable diseases which cause 27% of all mortality in Nigeria.
In a bid to reverse the increasing contribution of hypertension to mortality in Nigeria, the Federal Ministry of Health (FMoH), working with the National Primary Health Care Development Agency (NPHCDA) launched a pilot program of the National Hypertension Control Initiative (NHCI) in 2020, with the support of the WHO. The initiative aims to expand blood pressure screening and facilitate early detection and treatment of uncomplicated hypertension in Nigeria's Primary health care Centers (PHCs). Resolve To Save Lives (RTSL), with the support of the WHO and HISP Nigeria, provided technical assistance for the initiative which includes developing and managing a data collection, analytics and visualization platform using DHIS2. The initial pilot in two states has helped reduce the time used in performing and recording hypertension checks from several minutes to a matter of seconds. It has also provided an electronic patient record that can be reviewed and updated over time, improving efficiency and helping promote early detection and control of hypertension in Nigeria.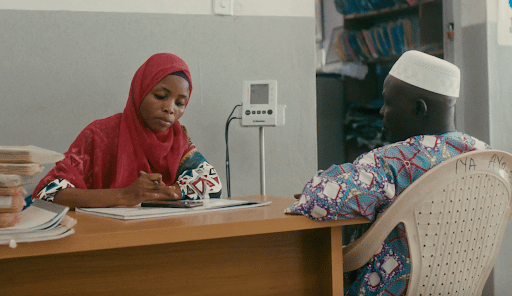 Decentralization of access to routine blood pressure checks in underserved communities for effective management of hypertension
Uncontrolled hypertension typically contributes to degenerative non-communicable diseases such as heart attack and heart diseases, kidney damage, strokes, and brain problems. In many cases, these complications occur seemingly out of the blue, as hypertension can go unnoticed for a long time, resulting in sudden onset of morbidity. This is why hypertension is referred to as the "silent killer." The most effective means of detecting hypertension is a routine check by qualified personnel. In Nigeria, this often means a long and sometimes expensive trip to medical facilities for many, particularly in semi-urban and rural settlements.
The NHCI is a program to facilitate increased access to regular blood pressure checks in PHCs which are closer to the underserved communities where healthcare access is generally poor. The program was initiated in 12 facilities in a few Local government areas in Ogun and Kano states but has been scaled up to 104 facilities across more Local government areas following initial successes. The initiative has accelerated early detection of elevated blood pressure, particularly in unsuspecting patients, thereby helping doctors and other healthcare workers provide prompt and necessary treatment to control hypertension and preserve the health of many patients. In its second year, the number of diagnosed patients has grown by over 50% compared to the data recorded in the first year of the program.
Standardized simple treatment protocols: Encoding access to quality, patient-centered care and affordable medications
Early detection of hypertension significantly improves the chances of effective control and management when proper treatment is provided to the patient. Treatment for hypertension usually involves diet/lifestyle changes and appropriate medication with drug combinations and dosages tweaked differently for each patient by the prescribing physician to achieve effectiveness. This makes the management of hypertension in low-resource settings a delicate process that requires careful planning. To avoid ambiguity and ensure quality standards of care across the board, the FMoH developed a standard hypertension treatment protocol to guide healthcare staff across the country. The protocol contains specific medications, dosages and action steps for managing blood pressure, arranged in a cascading manner for ease of reference. This will likely streamline the quality of care and improve adherence. Furthermore, it is based on cost-effective and readily available medication options to achieve affordability and accessibility.
The treatment protocol made available in all PHCs also contains important information for the safe treatment of hypertension in pregnancy as well as a list of non–medical lifestyle changes necessary to prevent and control hypertension.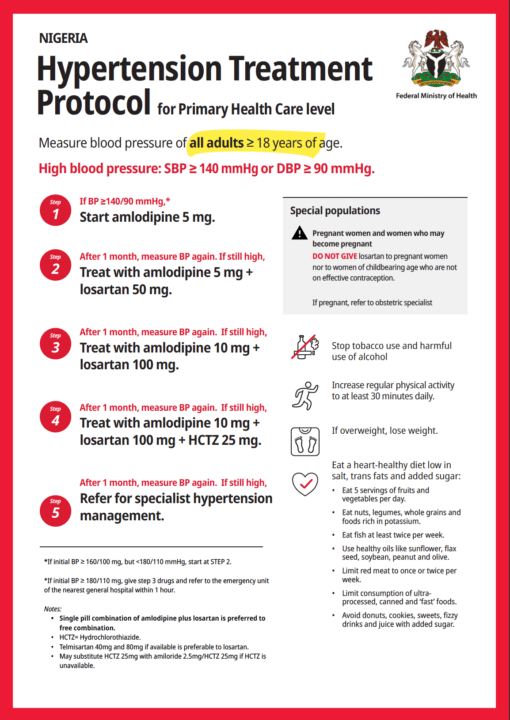 Improving service delivery quality by using a custom, low-cost information system based on DHIS2
Prior to the NHCI program, Primary health care centers that did not have resident doctors were not allowed to manage hypertensive patients. HCWs could only screen patients and then refer suspected cases to tertiary hospitals and longitudinal hypertensive patient records were not available in any of these facilities. The NHCI introduced a task-shifting policy that enabled Community Health Extension Workers (CHEWs) to be able to administer medication and treat cases of uncomplicated hypertension. The program was also implemented using a hybrid system of paper-based and digital data management systems. This entails that patients' records are collected both on paper registers in line with existing regulations and in DHIS2. The NHCI intends to pilot the use of DHIS2 alone in 10 facilities. DHIS2 was adopted for its many useful features, one of which is its offline-first capability. Patient records are captured using the DHIS2 Android Capture app which is installed on personal mobile devices belonging to healthcare staff involved in the program. In turn, a monthly stipend is given to participating healthcare workers for internet connectivity subscriptions. This approach helps program managers reduce costs by eliminating the need to procure and distribute new mobile devices to the staff of all the PHCs with associated maintenance costs. An SOP on data safety also helps maintain data quality in the program.
Most patients love the new system because when they come to the hospitals, they are attended to in seconds.
The mobile app used in the NHCI was designed to collect minimal required data about each patient, thereby simplifying tasks for healthcare workers who are largely overburdened with patients. During patient visits, blood pressure measurements, records of medications and schedules of follow-up visits are collected and managed in the app. The records are synced with a central DHIS2 Tracker database and also available on the local device for offline use, from which they are speedily accessed during subsequent patient visits, reducing waiting time for follow-up visits to under 30 seconds and improving the service experience for both the patient and practitioners.
Healthcare managers have also been able to use the DHIS2 dashboard to get actionable data. For instance, in Kano state, one of the key indicators showed a high rate of loss-to-follow-up patients. With this information, measures were put in place to ensure health care workers in each facility made phone calls to patients who had missed their visits and encouraged them to return to the facilities. A list of 1,767 overdue patients was generated from DHIS2 and after being contacted, 1,222 of those patients returned to care thereby reducing the number of patients in the loss-to-follow-up chart.
Global sharing of local innovations: DHIS2 metadata package for hypertension control
One of the key features of DHIS2 as a platform is its extensive adaptability to user needs through the collaborative efforts of a vast user base spread across the world. Inputs from HISP groups and users help the development team at HISP UiO identify critical user needs, improve user experiences and support greater productivity for different domains. As part of the NHCI in Nigeria, the local HISP group worked with WHO, RTSL and government agencies to design simplified patient-focused tools to track hypertension. These were translated into DHIS2 configuration to support frontline health care worker workflows and produce the required indicators for program monitoring, achieving significant successes. Subsequently, the global team at UiO worked with HISP Nigeria, RTSL and WHO to make a generic reference configuration publicly available with design and adaptation guidance as part of the DHIS2 package for hypertension control.
This hypertension control package provides a set of tools to accelerate progress in other countries seeking to set up DHIS2 to support large-scale hypertension control programs, incorporating design strategies for capturing patient data in high-volume facilities. The design also supports the native use of the DHIS2 Android Capture mobile app, which can be used effectively offline and in low-connectivity settings. Benefits of this decision include the offline data collection capability of the Android app which further improves reliability since data can be collected without the internet and synced with the repository when internet connectivity becomes available.