DHIS 2.26 Overview
Explore DHIS2 version 2.26, which includes many new features, apps, improvements, and bug fixes. On this page you can find information on this software version, including feature descriptions, links to technical documentation, and more
Jump to a section on this page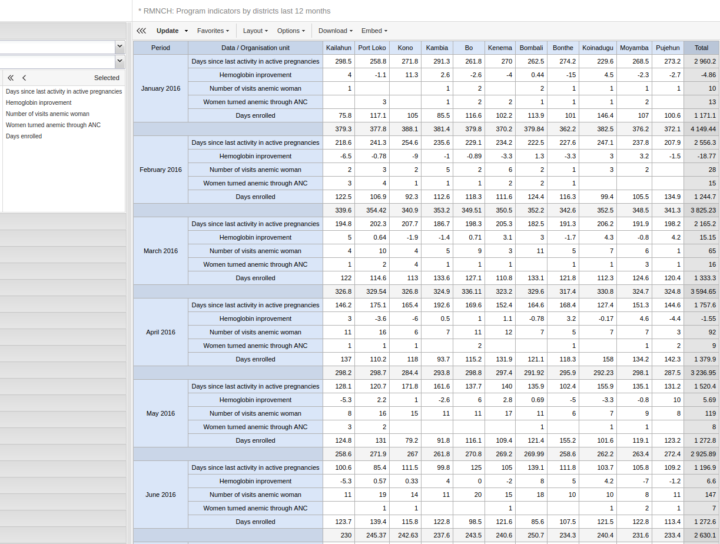 Enrollment analytics
Program indicators can now utilize a new aspect of the analytics engine for program enrollments. This implies that you can compare data values and dates from different stages and events within an enrollment. This allows for calculation of indicators such as "average inpatient bed days" and "hemoglobin improvement since first visit".
[ Demo ] [ Screenshot ] [Documentation ]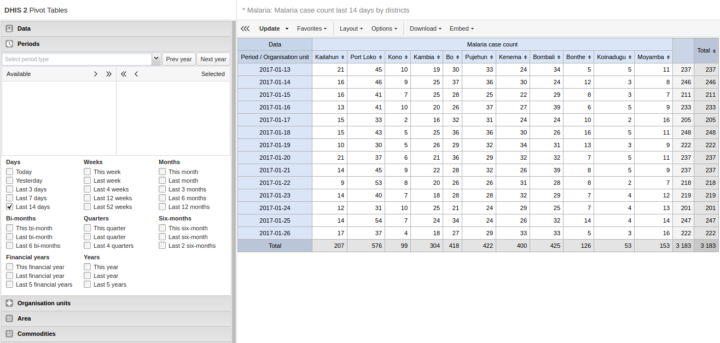 Daily relative periods
You can now push data analysis in the form of reports, charts and maps to your users via email. This helps improve awareness and visibility of your data, and can encourage people to more actively look at analysis. Push analysis is based on dashboards, and can be set up, run and scheduled from the Maintenance app. You can also run this immediately and preview from the the context menu.
[ Screenshot] [Demo 1 | 2 ]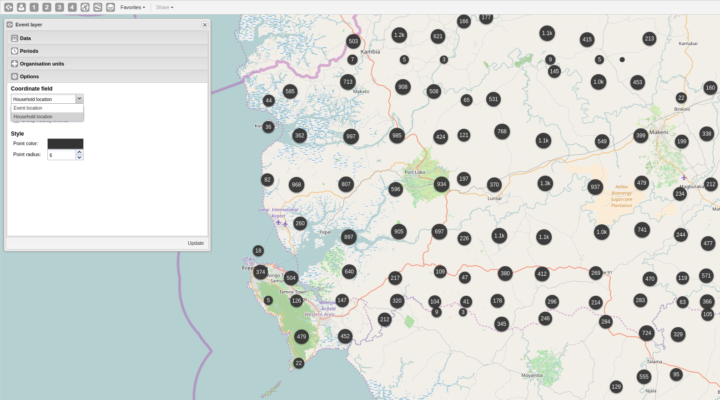 Data element event clustering in GIS
Using the event layer in the GIS app, you can now specify which data element or attribute to use as basis for event analytics and clustering. The data item must be of value type coordinate. As an example, for a malaria case program, you can have data elements of type coordinate for place of infection and household location, and visualize those locations on the map for the malaria cases.
[ Screenshot] [Docs ]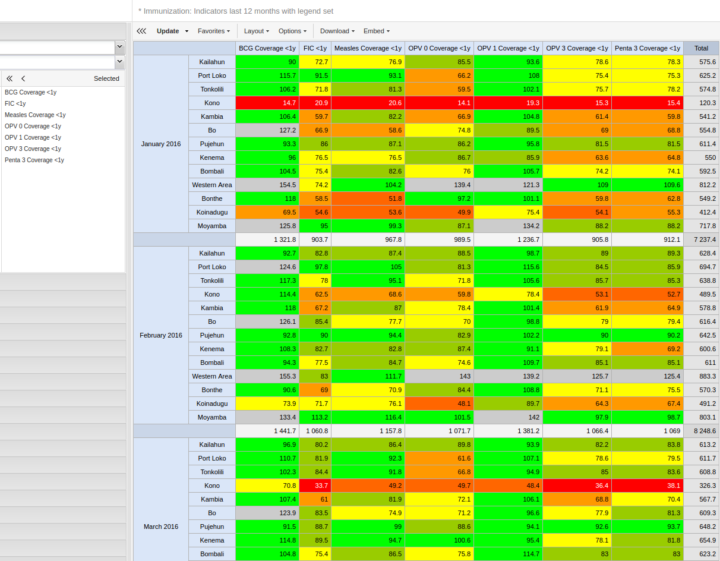 Pivot table cell background coloring
You can now specify whether to color the cell text or cell background of pivot tables based on legend sets. This allows e.g. for creating scorecards, where high and low values easily can be identified. Go to Pivot table > Options > Legend display style.
[ Screenshot] [Docs ]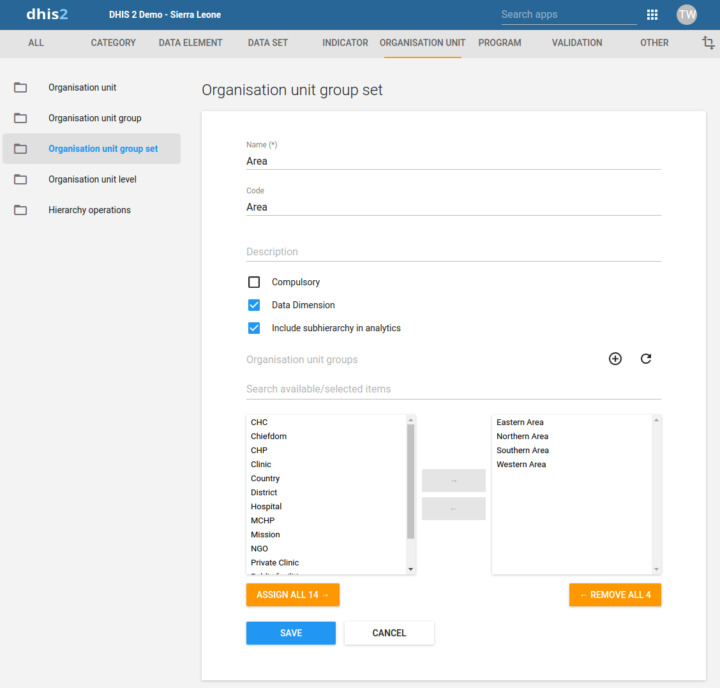 Analytics group sub-hierarchy inclusion
Org unit group sets have a new option for including the sub-hierarchy of organisation units in groups when aggregating data in analytics apps. This can simplify org unit management when there are many org units at the bottom of the hierarchy which should all belong to an org unit higher up in the hierarchy. As an example, you can create additional hierarchies by grouping all facilities in multiple districts together in a group, then assign the new groups to an org unit group set.
[ Screenshot 1 | 2 ] [Docs ]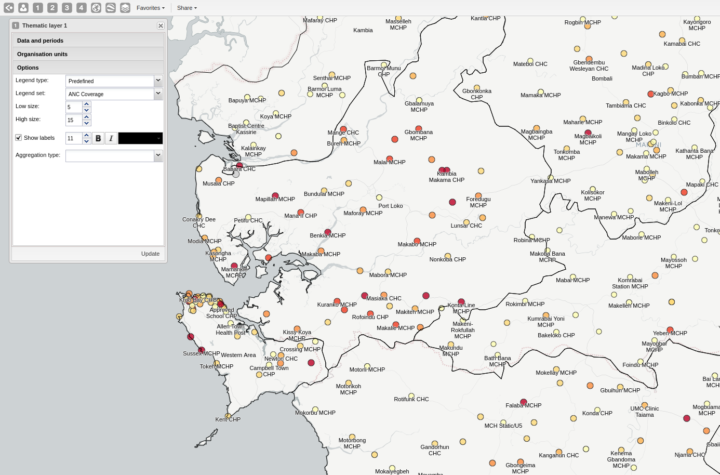 GIS improvements
Labels are positioned smarter on the map to avoid collisions. Interactivity on boundary layer is disabled when combined with thematic layer. Automatic color scales for thematic maps can be flipped (i.e. low to high vs high to low).
[ Screenshot]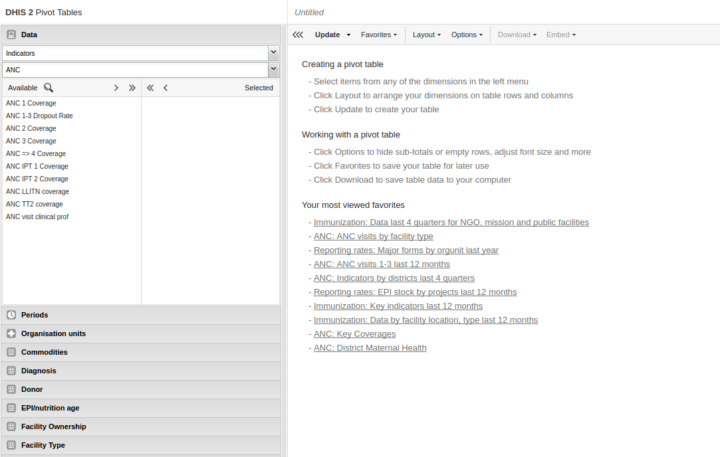 Most viewed favorites
The opening screen of the pivot table apps now displays link to the top 10 most viewed favorites for the current user. This provides you with quick access to your most relevant data.
[ Screenshot ]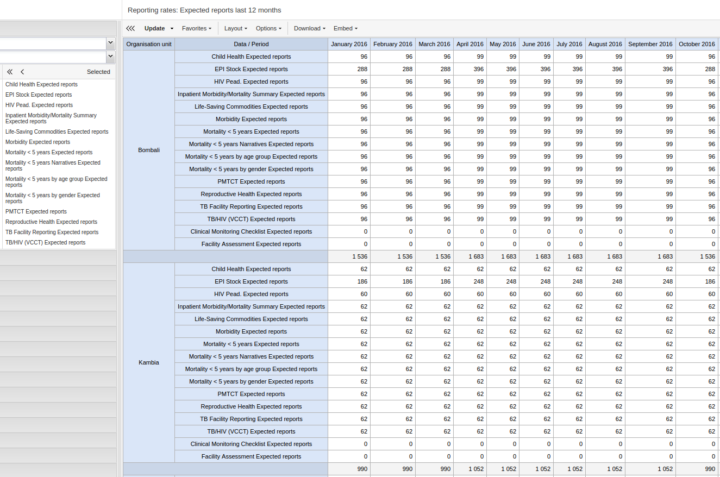 Expected reports in analytics
In reporting rate analytics in pivots and charts, the number of expected reports are always shown even if no completeness registrations exist.
[ Screenshot ]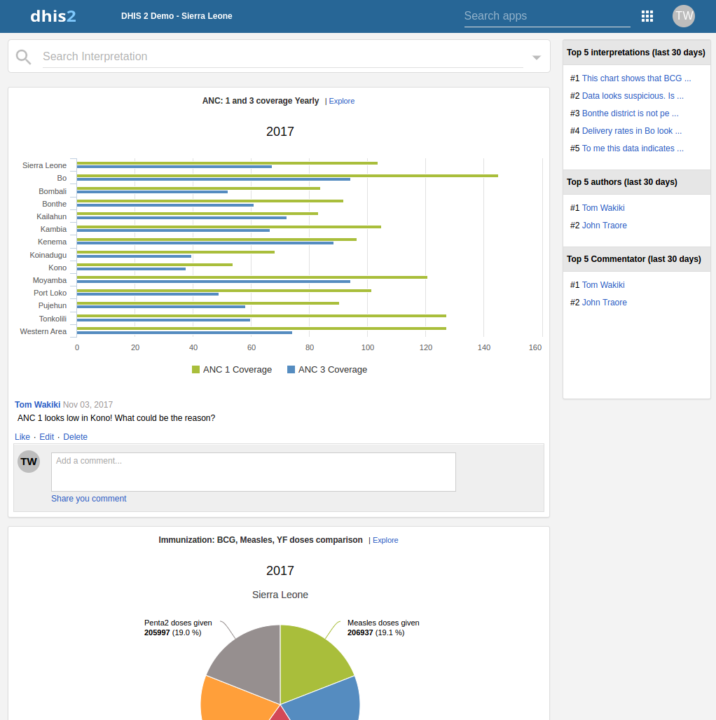 Better interpretations
The interpretations app has been rewritten and now provides support for event reports and event charts, using the dynamic visualization plugins and provides a better commenting solution.
[ Screenshot ]
Analytics performance improvements
Analytics table generation and analytics queries performance has been significantly improved. Depending on the system configuration, the improvement is in the range of 20 to 40%.
Age value type
Data elements and attributes support a new value type: "Age". This renders as a widget in Event/Tracker Capture apps and means you have to enter the age in weeks, months or years. The selected input converts to a date of birth. This simplifies the input of age at points of care, for example.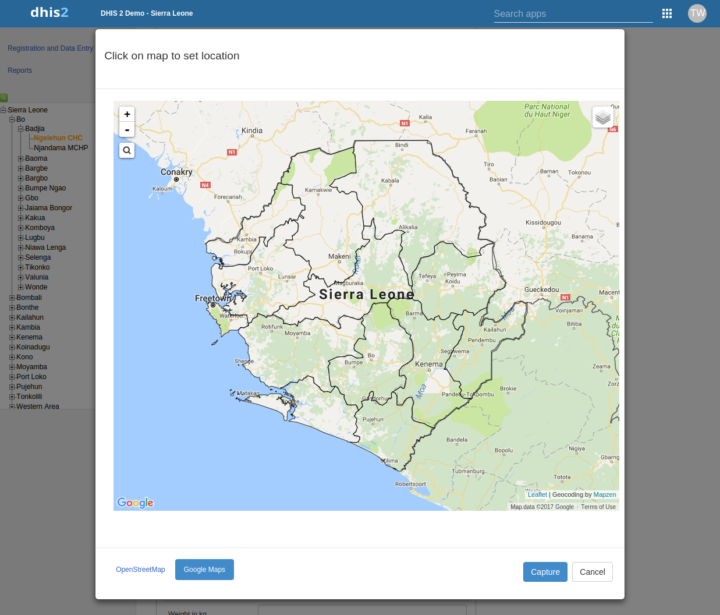 Google base maps for coordinate picker
When capturing coordinates in Event Capture and Tracker Capture, you can now switch between using Google Maps and OpenStreetMap as a base map.
[ Screenshot ]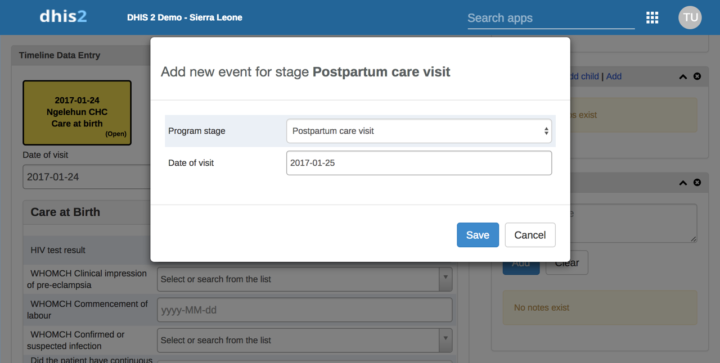 Hide program stage program rule action
Program rules now support an action for hiding program stages. This is useful for disease case investigations, for example, where various stages are relevant only for certain diseases.
[ Screenshot ]
System Administration Features
Release Information
Click on the links in the table below for more information about this software release.