DHIS2 Version 40 Overview
DHIS2 version 40 is out with many new features, improvements and bug fixes. On this page you can find information on this software version, including feature descriptions, links to technical documentation, and more
Jump to a section on this page
On-the-fly custom calculations in Data Visualizer
Now it's even easier to explore your data within DHIS2! With this feature, you can create your own custom calculations directly in the Data Visualizer application for pivot tables. This means you no longer need to have admin access or create new indicators to play around with your own personal data expressions. Plus, the custom calculation is automatically saved to the pivot table in which it was created, without cluttering up your configuration with additional saved indicators. This feature is perfect for things like exploring coverage calculations with various population denominators or making quick and simple sums.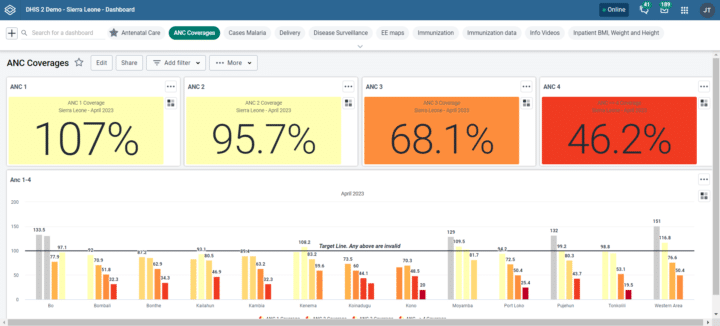 Enhance single value charts with legend colors
Now, legend colors can be applied to the background of a single value chart, making the performance of the value more obvious and visually engaging. This feature helps users quickly understand the significance of the value and its relation to the legend colors.
Legend for stacked column charts
Spice up your data visualizations with a new feature that allows legends to be applied to column charts! This makes it easier to see how indicators are performing at a glance.
Indicator icons for single value charts
Want to add some personality to your data? Now, icons can be shown in single value charts to represent the indicator being used. For example, if you're tracking total malaria cases, you can choose a mosquito icon to visually communicate what the value represents. This feature will also be added for data elements in the near future.
Linelists on dashboards
Keep track of all your data in one place with line lists now available on dashboards! This feature has also been added to the latest releases of 2.39 and 2.38.
Multiple event coordinate types in maps
Visualize geographical data in new ways with multiple event coordinate types now available for use in maps. Choose to view location by event coordinate, enrollment coordinate, tracked entity coordinate, program stage data elements of type coordinates, or program tracked entity attributes of type coordinate. For example, easily see the household location for women who delivered last week at the health facility for outreach services.
Display values in thematic layers
Make your maps even more informative with the option to show values directly on the map in thematic layers. This addition complements the legend and provides a more complete picture of the data being presented.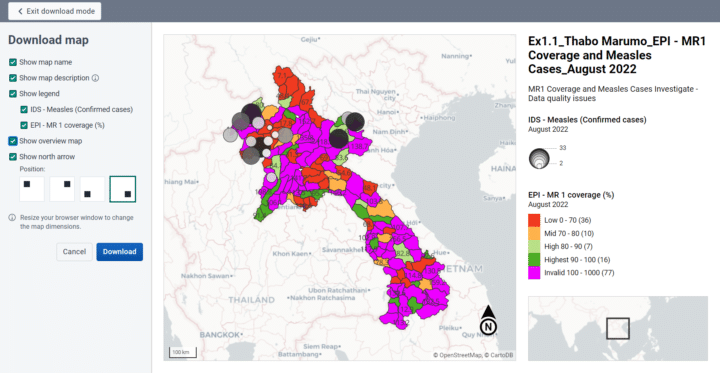 Improved maps download
Get all of the key information you need when you download a map. In version 40 you can now show the map title, description, legend(s), north arrow, and overview map all in one easy to use image when you download a map.
Tracker and Event Features
Release Information
Click on the links in the table below for more information about this software release and to access an interactive demo. You can also add comments or ask questions about this release on the DHIS2 Community of Practice.