DHIS2 tracker e-Registry in Palestine
Developed from WHO's guidelines for Reproductive, Maternal, Newborn and Child Health (RMNCH), the DHIS2 Tracker e-Registry collects, analyzes and tracks case-based data for maternal and child health.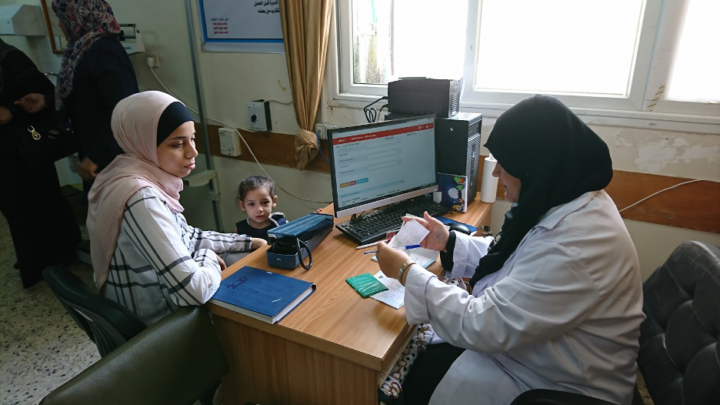 Identifying a need to improve healthcare delivery
Primary health care was at a particularly low level for expectant women due to the volatile context within Palestine. The DHIS2 Tracker e-Registry was introduced in an attempt to improve the delivery of quality healthcare. The e-Registry captures essential health data through simple processes and a series of outcome indicators covering domains of quality of care. It also serves the dual purpose of patient management and public health monitoring. The project is led by the Norwegian Institute of Public Health, with the involvement of the Palestinian National Institute of Public Health and the Ministry of Health in Palestine.
The benefits of creating an e-Registry using DHIS2 Tracker
Tracker has provided national guidelines and support for clinicians when following individual cases. For example, if a clinician enters a lab result for a pregnant woman, let's say the hemoglobin value, which indicates anemia, the clinician is alerted to the patient's degree of anemia and will be prompted to take action accordingly. This information is powered by a powerful rule engine, and is based on WHO guidance about
what actions to take in certain health situations.
The Tracker user interface is a checklist, which also provides decision support tools. The clinician goes through the dynamic data entry form while seeing the patient. Each section and question represents a point in the checklist that needs to be completed during the visit. The Tracker also focuses on task consistency and completeness. Furthermore, aggregate data is used for public health decision making at the national level.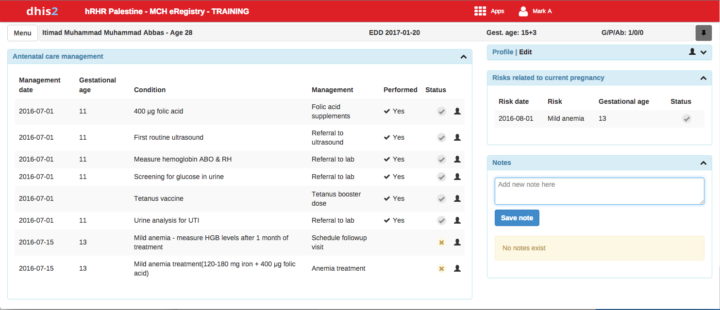 Early successes and long-term results
In the early stages of roll-out, the team hundred cases registered so far with Tracker in the West Bank. However, even in that short time the team was able to identify a series of recommendations that may be useful for future DHIS2 Tracker implementations. In the years since, the implementation has grown dramatically. For example, since its introduction in 2016, Palestine's Maternal and Child Health (MCH) eRegistry has been used in more than 50,000 maternal health visits across 220 clinics in the West Bank and Gaza. The success of this eRegistry has led the Ministry of Health to adopt DHIS2 for routine reporting and disease surveillance as well.
The Palestine team reports that incorporating DHIS2 Tracker was a positive experience. Using a rule-based workflow that is modifiable to match treatment guidelines helped immensely. The process of implementing the system also involved achieving consensus on national standard treatment guidelines and developing proper governance, which are areas they recommend others considering a similar Tracker program focus on. They also found a collaborative sysyem design process that incorporated user feedback and the ability to make their UI customizable within Tracker to be of great value. Finally, they found that reviewing existing systems and making efforts to integrate with and support them can bring long-term benefits.
Local Tracker experience builds capacity to respond in crisis
Some benefits of building local capacity with Tracker became apparent several years after the initial implementation of Palestine's e-Registry system, when the Palestine team was able to respond quickly to deploy DHIS2 Tracker Covid-19 surveillance programs in response to the coronavirus pandemic. You can read the full story of their response to that global crisis on the COVID-19 Success Stories page.