Going paperless for COVID-19 testing in Rwanda with DHIS2 Android Capture App
Rwanda's Ministry of Health uses DHIS2 on tablet and mobile devices to make their COVID-19 sample collection, reception and results distribution process entirely paperless from start to finish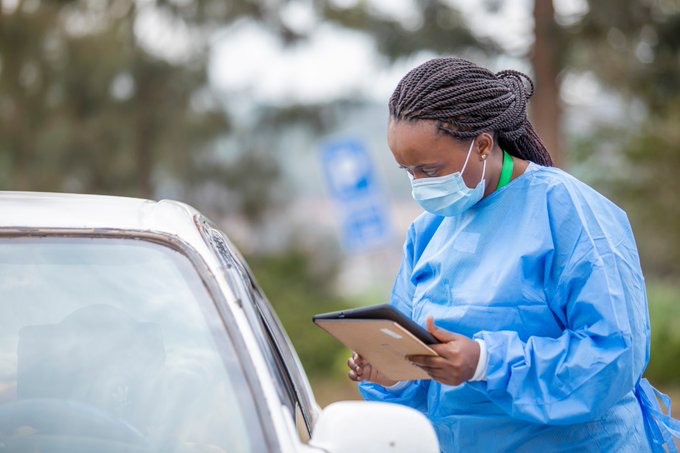 As the COVID-19 pandemic approached Africa, Rwanda convened a task force to plan and coordinate the country's response. This group included subject matter experts from various ministries and other stakeholders. Together, they developed a COVID-19 response plan featuring several local innovations, including an entirely paperless process for screening and testing suspected cases and sharing the subsequent test results. By employing tablets for the collection of patient data at the point of testing, Rwanda has been able to set up mobile testing centers that can be deployed to key sites around the country.
Decades of DHIS2 experience are the basis for effective COVID-19 response
DHIS2 has been used as Rwanda's Health Management Information System at a national scale since 2012, and HISP Rwanda serves a key role in supporting and expanding the Rwandan DHIS2 system, and in building capacity both locally and throughout the East and Southern Africa region. In addition to hosting regional DHIS2 Academies, HISP Rwanda also helps coordinate training for Rwanda's DHIS2 users.
Rwanda also has years of experience using DHIS2 for disease surveillance–their TB Surveillance system has been operational since 2013–and they have used DHIS2 Tracker to collect patient-level data since 2016. Because of this, they were well positioned to respond quickly and effectively to COVID-19 on a national scale. From the beginning of the country's lockdown in March 2020, they deployed a customized DHIS2 Tracker module to collect data from all health centers and hospitals, both public and private, which feed information upward to the district and national level.
Going paperless: Using tablets to make processes faster, safer, and more efficient
One issue that Rwanda's COVID-19 task force needed to address quickly was how to minimize the risk of infection among health personnel involved in screening, testing, and caring for patients with suspected or confirmed coronavirus infections while also reducing the time from sample collection to results distribution. Among the vectors they discussed were the paper forms that were used to record data on individual cases, and particularly paperwork related to sample collection and processing, which passes through the hands of lab professionals at several stages from sample collection to lab testing and to results reporting. The solution they arrived at was to use the DHIS2 Android Capture App, replacing the physical forms with an entirely electronic data collection system.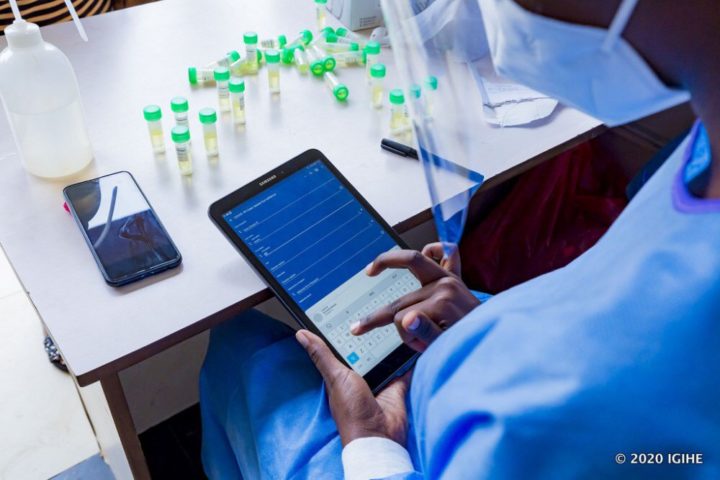 The field sample collection program uses more than 300 Android tablets, which were distributed to sample collectors, quarantine sites, and health facilities around the country. Using these tablets and the DHIS2 Android Capture App, the system allows them to work offline as the health workers enter data directly into custom forms, and the date entered immediately syncs with the national HMIS database whenever internet is available. The national laboratory system was also set up with DHIS2 on their workstations for sample reception, processing and results return. DHIS2 generates a unique ID which is assigned to each sample at the point of collection, and which is used as sample ID for testing and sample identification. Once the tests are processed, results are automatically sent out by DHIS2 via SMS.
The benefits of this system have been immediately apparent. For example, in addition to using the data to support existing testing and reporting workflows, the lab facilities also use DHIS2 through monitoring screens to track the quantity of incoming data samples, so that they can adjust their staffing accordingly in advance, ensuring that they have appropriate testing capacity based on expected test volume. Because the system is now decentralized, with DHIS2 used for each step of the process, the overall time from sample collection to processing to results reporting has decreased significantly, and the testing system has become more efficient. In May 2020, as many as 2,800 samples were collected and input into the DHIS2 system in one day. In July, Rwanda launched a program of mobile testing centers, through which medical personnel equipped with the DHIS2 Android Capture App on mobile devices could deploy to potential pandemic hotspots around the country for rapid data collection and pandemic response.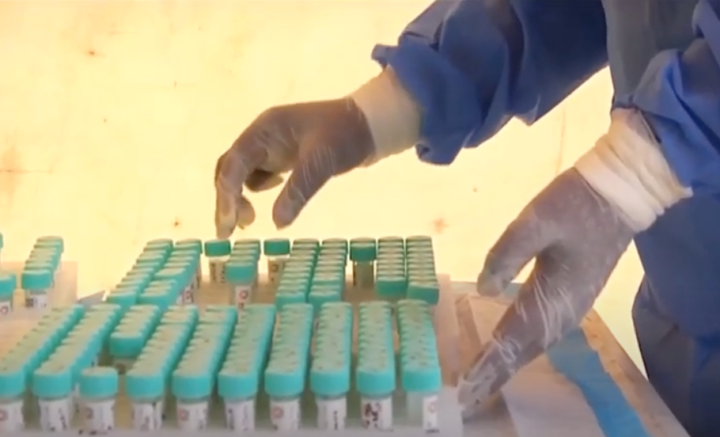 Support from HISP Rwanda, DHIS2 developers, and the global network
HISP Rwanda has years of experience supporting DHIS2 deployment in Rwanda. This was especially crucial as the COVID-19 program was Rwanda's first large-scale deployment of DHIS2 on mobile and tablet devices, where configuration and testing of the DHIS2 Android Capture App was a key step. They also established a national monitoring room, where local DHIS2 experts ensure that data from all mobile devices is properly synchronized with the central database, and intervening as needed in the rare cases where technical issues arise. They have also been in direct contact with DHIS2 Android developer team throughout the process, giving feedback that has led to bug fixes and enhancements in app patch releases that were released on a rapid cycle to support COVID-19 implementations.
HISP Rwanda has also collaborated with partner groups in the HISP network, and they have provided implementation support to health authorities in other countries in the region–both alone and in partnership with HISP Tanzania and HISP Uganda–such as Sudan and Madagascar.
Watch a video from CNBC Africa to learn more about Rwanda's use of technology to combat COVID-19, including mobile data entry with the DHIS2 Android Capture App: