Combining DHIS2 and innovative apps for COVID-19 screening and vaccination in Tanzania
Tanzania uses a custom app to manage traveler testing that is integrated with lab and payment systems, and has implemented DHIS2 metadata packages for COVID vaccination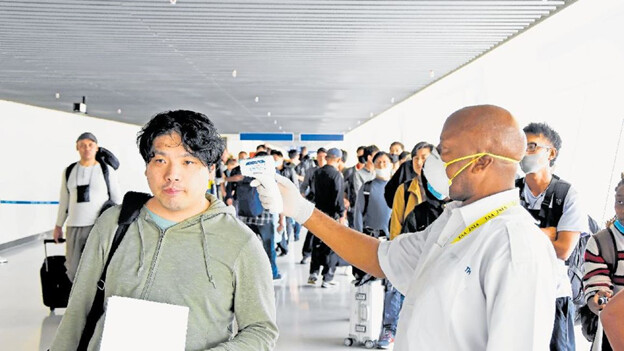 Following the outbreak of the global COVID-19 pandemic, Tanzania joined many other countries in imposing sweeping measures to control the spread of the disease, including restrictions on travel and large public gatherings. As the country began to reopen its air, sea and land borders, authorities implemented a requirement, based on WHO guidance, for all travelers to take a COVID-19 test and receive a negative test result certificate immediately before beginning their journey. At that time, the only location where travelers could be tested was at the National Public Health Laboratory (NPHL) in Dar es Salaam. There, they received a printed control number for payments, test results were physically collected at the NPHL, and physical COVID-19 certificates were printed and issued to travelers. At Ports of Entry (PoEs), such as airports, health officers inspected the certificates and permitted passengers with negative COVID-19 certificates to travel abroad.
However, this process posed several challenges to both travelers and authorities. For example, travelers from other regions across the country had to travel to the NPHL to provide samples and collect their certificates, which added a significant time and cost burden to the traveler, and increased the potential for the spread of COVID-19 across Tanzania. In addition, the government noted an emerging problem of forged COVID-19 certificates in the community.
To address these issues, a digital solution was proposed. The Information Communication and Technology (ICT) unit within the Ministry of Health, Community Development, Gender, Elderly and Children (MoHCDGEC) partnered with the e-Government authority and the Department of the Computer Science and Engineering at the University of Dar es Salaam (UDSM) and HISP Tanzania to develop PimaCovid. This custom application was developed within the existing national Health Management Information System (HMIS) platform, DHIS2, which is owned and managed by the MoHCDGEC, with technical support provided by UDSM and HISP Tanzania.
Local innovation: Using a custom DHIS2 application to facilitate local traveler testing and online payments
The PimaCovid application allows travelers to book sample collection appointments for COVID-19 testing from more than 60 facilities across the 26 regions in Tanzania mainland. The record for the traveler is stored in a DHIS2 Tracker database, where it can be accessed and updated by the different teams involved in the testing and screening process. Once their appointment is confirmed, each traveler receives a notification via SMS and email. The notification includes details of their booking and a control number generated from the Government electronic Payment Gateway (GePG), which was configured by the eGovernment authority and linked to the PimaCovid system, and allows for payment through mobile payment, mobile money agent, or bank transfer. When payments are made, GePG communicates automatically with DHIS2 via PimaCovid, allowing health workers at sample collection facilities to collect the traveler samples, process them and transfer them to the NPHL for COVID-19 testing.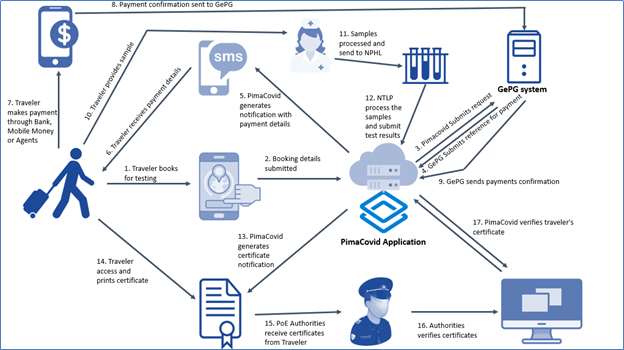 Once the samples are processed, NPHL can share test results with travelers electronically by simply uploading their results into DHIS2 via PimaCovid. The system then automatically sends an SMS or email notification to travelers with a link to their test results. Thanks to this electronic system, travelers now receive their test results within 24 to 48 hours of sample collection (depending on where the sample was taken). Those with negative results receive a digital COVID-19 certificate and can continue with their travel plans wherever they are. Health officers at the PoE verify travelers' certificates by accessing the PimaCovid application using computers or tablets. Passengers with positive or inconclusive results receive a message encouraging them to follow the health protocols stipulated by the MoHCDGEC.
Connecting lab testing systems to accounting and payment processes, and using dashboard for analysis and resource allocation
Apart from handling laboratory information and traveler screening processes, PimaCovid also supports the financial and accounting processes related to COVID-19 testing. Payments for testing fees use different channels and banking systems and require reconciliation at the end of the day to verify the total payment amount received. PimaCoviD produces reconciliation reports based on the booking information received and bank account statements, helping the financial officers by providing them with reliable information on total payments made towards COVID-19 testing.
Because PimaCovid is developed on top of DHIS2, the app utilizes the powerful built-in features of the DHIS2 platform. In addition to the Tracker application, which allows for capture and monitoring of individual-level information (such as client records), this includes extensive analytics tools, such as dashboards for the presentation and analysis of information, which can be customized to meet the needs of different levels, sections, and organizations within a national system.
In Tanzania, these dashboards support planning and decision making at the NPHL and Ministry of Health. DHIS2 dashboards display aggregate information on the booking, testing and certification data, disaggregated by testing sites, gender and age groups. Data managers are now more informed of the tests conducted at different sites and certification provided, and can use this information to make informed decisions based on how to distribute resources to coordinate with the health workers at the sample collection facilities and ensure sample collection kits are adequately distributed based on demand.
Supporting digitalization and decentralization of government services, and strengthening pandemic response
The implementation of PimaCovid with DHIS2 has facilitated the government's plans for decentralizing sample collection centers, enabling travelers to easily book and provide samples from every corner of the country. This has reduced the need for internal travel and helped balance workload across testing centers, reducing crowds at the NPHL. As of mid-2021, the system registered around 6,000 bookings per week from 60 facilities. Through integration with the GePG, the system makes it possible for clients to pay for testing services with a range of options, while also facilitating management of financial processes and laboratory resource management. In addition, it allows travelers to access their certificates anywhere from their phone or computer, and provides a simple and secure way for health officers to verify travelers' test results at any Port of Entry, reducing the risk of fraudulent certificates and supporting global efforts to curb the spread of COVID-19.
Deploying DHIS2 metadata packages for COVID-19 vaccination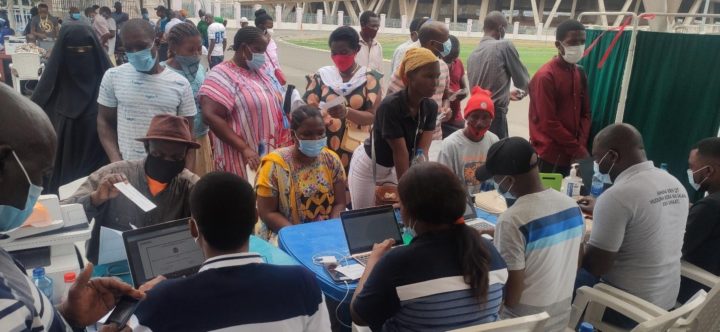 As the first vaccines against COVID-19 progressed through clinical approvals in late 2020 and early 2021, the core DHIS2 team at HISP UiO worked to develop a digital COVID-19 vaccine delivery toolkit to assist countries in using existing capacity and technology to manage their vaccination campaigns. The toolkit includes configurations for both aggregate and Tracker data based on WHO guidance that can be freely downloaded in the form of metadata packages, and further customized to meet local needs and requirements. HISP Tanzania worked with Tanzania's MoHCDGEC and other health authorities to adapt the DHIS2 COVID-19 Electronic Immunization Registry (EIR), design a web portal for self-registration of vaccine appointments, and implement a custom solution for electronic COVID-19 vaccine certificates.
This system has been operational since July 2021, and builds off the collaboration between HISP Tanzania and their local partners in developing the PimaCovid application, local DHIS2 capacity that has been built up over years of using DHIS2 as Tanzania's HMIS, and tools and resources shared through the global DHIS2 community.
Read more and share your thoughts about HISP Tanzania's work on PimaCovid and on COVID vaccine delivery on the DHIS2 Community of Practice.
Watch a presentation on this project from the 2021 DHIS2 Annual Conference: