Linking school-based and national COVID-19 surveillance in Uganda
HISP Uganda has supported a pilot project linking coronavirus screening data between the education and health sectors using DHIS2
The COVID-19 pandemic has greatly affected the education sector in Uganda. The initial lockdown that was instituted in March 2020 saw over 15 million learners kept out of school for over 5 months. Despite government interventions that included distribution of self-study materials and use of online, televised and radio classes, most learners — especially in rural areas — could not access these learning alternatives due to limited availability of power and internet connectivity, as well engagement of learners in domestic work during school hours.
In July 2020, Uganda's learning institutions were re-opened in a phased manner starting with the candidate classes. Reopening of schools was tied to the establishment of and strict adherence to standard operating procedures in schools for preventing the spread of COVID-19, such as social distancing, mandatory wearing of masks, and hand washing. However, it became clear that a gap existed in how information on suspected and confirmed COVID-19 could be shared: How could schools carry out routine school surveillance, reporting and referral of suspected cases to the nearest facility, given that the systems in place in the education and health sectors were not linked to each other?
Leveraging existing capacity to link COVID-19 surveillance data between education and health with DHIS2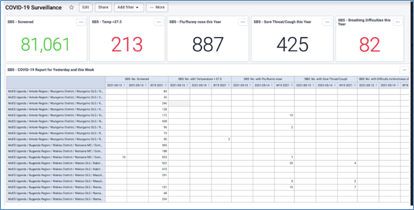 Building on the experience of implementing the DHIS2 electronic Integrated Disease Surveillance and Response (eIDSR) system for COVID-19 surveillance in the health sector and the DHIS2 for Education system (known locally as DEMIS) in the school sector, HISP Uganda and Save the Children Uganda worked din partnership with the Ministries of Health and Education to pilot the use of DHIS2 for school-based surveillance in Wakiso and Ntungamo districts.
The schools, on a daily basis, were able to screen learners and staff for COVID-19 related signs and symptoms and send aggregated numbers using the short-coded SMS to a toll-free number to facilitate data submission into DHIS2 in areas with limited internet access. A dashboard was created in the DHIS2-DEMIS and accessed by the COVID-19 surveillance teams at district and central level. The surveillance teams then followed up on suspected cases with school administrators for referral of cases to the nearest facility for further screening and management.

In addition to data reported directly into the DHIS2 system, data from those schools that used an alternate school-based system (called XULDIME) was integrated into the DHIS2 for Education and visualized on the school surveillance dashboards to give a more complete picture. By the end of June 2021, two additional districts of Gulu and Mayuge were include in the pilot and trained on school surveillance reporting.
Planning national scale deployment based on pilot results
The pilot of DHIS2 for school-based COVID-19 surveillance was limited to primary schools in four districts in Uganda. Findings from this pilot were shared with the different working groups at the Ministry of Health and Ministry of Education and Sports. Based on these results, the ministries tasked the team with developing a national scale-up plan to inform expansion of DHIS2 school-based surveillance to all learning institutions across the country and further guide re-opening of these institutions starting September 2021.
Want to know more? You can ask questions and add comments about this project on the DHIS2 Community of Practice, read a post by the team on the GPE KIX website, and watch a presentation by HISP Uganda from the 2021 DHIS2 Symposium.