Android Capture App v2.7 Overview
DHIS2 Android Capture App version 2.7 is out with many improvements and bug fixes. On this page you can find information on this software version, including feature descriptions, links to technical documentation, and more
Jump to a section on this page
Feature Demo Videos
Discover some highlights of new features in this DHIS2 release with feature demonstrations by DHIS2 experts.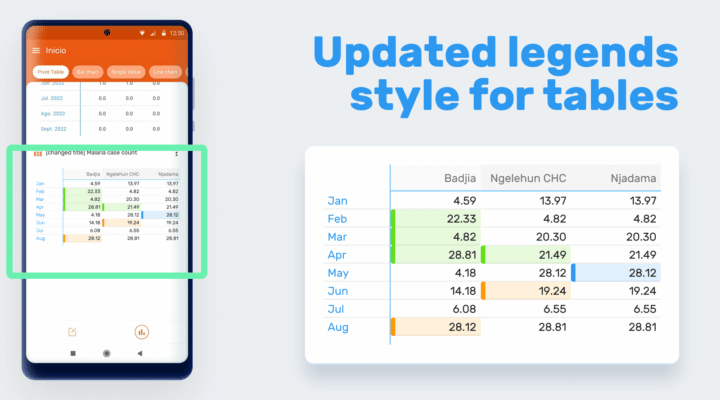 New legend style on tables
The style for legends in tables has a new design which ensures good contrast and visibility independently from the selected color for the legend.
Video | Jira | Screenshot | Documentation
Implement missing aggregation functions
The following aggregation functions are supported now in local analytics: LAST, FIRST, AVERAGE_SUM_ORG_UNIT, LAST_AVERAGE_ORG_UNIT, LAST_IN_PERIOD, LAST_IN_PERIOD_AVERAGE_ORG_UNIT, FIRST_AVERAGE_ORG_UNIT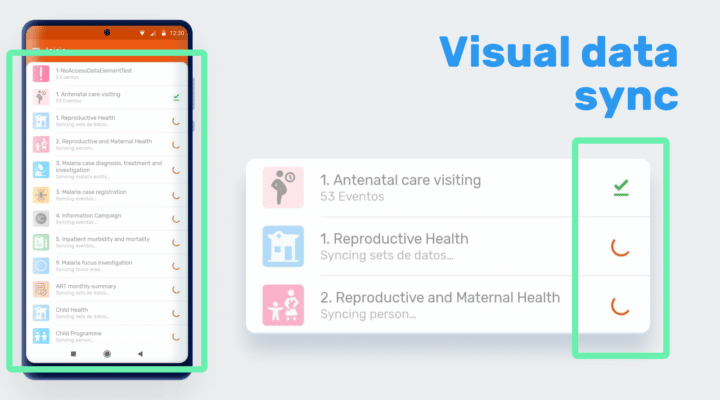 Open home after syncing metadata
When a user logs in to the Android App for the first time, the App needs to download all the metadata and data, including the file resources. Depending on the server and user configuration, on the server resources and on the internet connection, this process can be very long. Until this version, this process happened on the splash screen and the user had to wait the entire time on the same screen. We cannot change the process or waiting time, however we can make it more interactive and informative. In this new version, the app will remain in the splash screen during the metadata download and will open the home screen once the metadata is in the device. In the home screen, the app will inform with a loading spinner on each program when the data is downloading and when is ready. The user will be able to see how many programs are downloading data, or completed, making the waiting process more transparent and informative about its progress.
Do not make full sync when opening the App
Before this version, every time a user opened the DHIS2 Capture App, the application would launch a sync process for data and metadata, to ensure the app was in sync with the server. In most cases and locations this process was very slow. In order to facilitate the work in the most difficult cases, we have removed that sync process. When the user opens the app, even if s/he logs out and logs in again, the app will open without performing a full sync. Users have the option to sync with the server through the Refresh button any time they wish.
Video | Jira | Documentation
Manage ownership in permanent referrals
Since 2.7, when a user makes a permanent referral of a TEI, the ownership will be updated accordingly.
Mobile Implementation Support
Upload SMS APK
From this version, the app available in Google Play includes the SMS functionality. In previous versions, this functionality was only available on an APK available in Github.
Quality, Performance & Stability
DHIS2 Core Compatibility
Android Capture App version 2.7 is fully compatible with DHIS2 version 2.39 and backward to version 2.30.
Release Info & Demo
Click on the links in the table below for more information about this software release and to access an interactive demo. You can also add comments or ask questions about this release on the DHIS2 Community of Practice.