Bangladesh uses DHIS2 to manage immunization of 35+ million children in their MR mass campaign
The Government of Bangladesh and UNICEF exceeded vaccination targets and streamlined processes using DHIS2 for planning, monitoring, and follow-up
Bangladesh began December 2020 with an ambitious goal: to conduct a Measles-Rubella (MR) mass vaccination campaign for more than 35 million children in just seven weeks. A campaign of this scale is a massive and complex undertaking at the best of times, but conducting it during the COVID-19 pandemic involved a number of additional challenges, including the need for infection prevention measures and use of alternate vaccination sites due to pandemic-related school closure. This required an innovative way of approaching normally routine activities, and a rigorous system for monitoring and responding to the real-world situation as the campaign progressed. With the support of UNICEF, the Ministry of Health (MoH) deployed DHIS2 for immunization campaign management, replacing paper-based processes with a digital solution that included more than 20,000 users equipped with the DHIS2 Android Capture App on mobile devices, making this campaign the largest Android deployment in DHIS2 history, as well as the first purely digital immunization campaign in Bangladesh.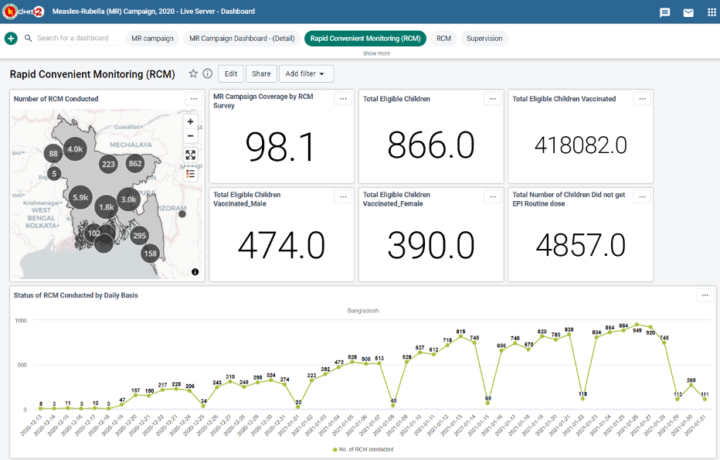 Deploying innovative digital solutions built on established platforms
The guiding principle of Bangladesh's mass immunization campaign was that the MR vaccine is every child's right. With that in mind, the MoH set out to vaccinate all children between the ages of 9 months to 10 years old. With a target coverage rate of greater than 95%, this meant vaccination more than 35 million children spread out across a diverse set of urban and rural locations in Bangladesh, with more than 400,000 vaccination sites in total. To achieve such an ambitious goal in a short time, the team decided to innovate, turning a formerly paper-based planning and monitoring process into digital one. Bangladesh's MoH has used DHIS2 as the primary platform for their Health Management Information System (HMIS) since 2010. This high level of local DHIS2 capacity, combined with the expertise of the UNICEF team, made DHIS2 a clear choice for managing this campaign.
There were six key areas of innovation in the planning and management of this all-digital campaign through DHIS2:
Online micro-plan
Daily vaccine and logistics requirement and distribution plan
Daily reporting
Supervision through Android mobile devices
Household visits conducted with Android
Rapid Convenience Monitoring (RCM) with Android
Taken together, these innovations greatly helped the team to plan the campaign down to the smallest detail, to monitor campaign progress and take follow-up actions as needed, to manage supplies and logistics, and verify that the campaign successfully reached its goal.
Effective campaign management through detailed logistics planning and daily reporting, plus real-time supervision with DHIS2 Android
Using DHIS2 for digital micro-planning was a key element of the MR campaign. Each of the more than 400,000 vaccination sites were entered as organisation units in DHIS2, and information on the number of children, plus specific vaccinators, volunteers, supervisors and porters was entered for each session. This digital micro-plan process greatly helped the teams to identify hard-to-reach areas and give a head count of the children eligible for immunization, and provided detailed, standardized information for local teams: All across Bangladesh, vaccinators and health workers went to their vaccination sites equipped with a complete data chart and tally sheet printed from DHIS2.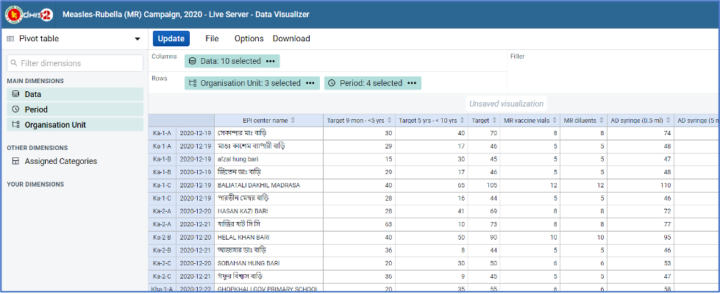 For the logistics and distribution of vaccines, processes that were previously done by with pen and paper were now carried out through DHIS2. For example, the required number of vaccine vials and syringes for each center and logistics management plans needed to manage stock levels and delivery were prepared automatically based on micro-plan session data. Using DHIS2 pivot tables, EPI personnel prepared the daily vaccine and logistics distribution plan for each session and distributed the required supplies (vaccine does, syringes, etc.) to each team. Logistics plans were then adjusted on a daily basis using information entered into DHIS2. Daily vaccination reporting also followed the same procedure: At the end of each day, health workers uploaded key information from their session's target tally form. Once entered into DHIS2, these data were immediately available for review, analysis, and planning of follow-up actions using DHIS2's built-in analytics tools.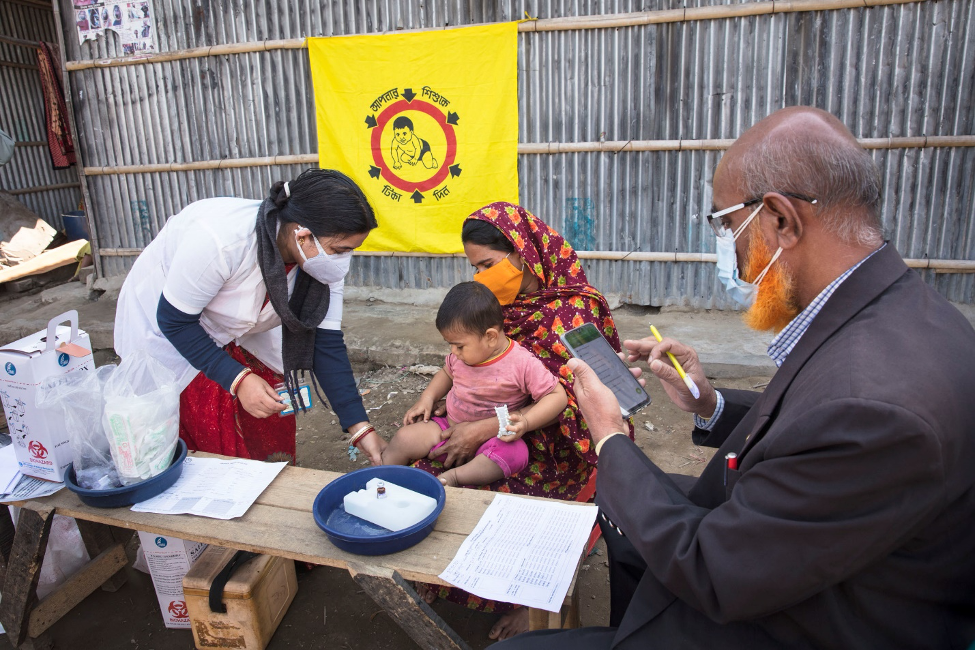 The DHIS2 Android Capture App was used to carry out three levels of supervisory activities for this campaign. During the sessions, first- and second-line supervisors used the app on mobile devices to capture geolocation data and qualitative feedback (such as verifying the accuracy of the vaccination tally, monitoring session attendance, and managing waste, AEFI, cold chain, and logistics information) to provide real-time data on campaign performance. The day after each session, supervisors conducted household visits using Android to make sure that all target children in a catchment area received the vaccine. When they discovered a child that had been left out, the DHIS2 app generated an alert that was visible to the health manager and EPI supervisors so they could prepare a mop-up vaccination plan. Finally, Rapid Convenience Monitoring (RCM) was also carried out using the DHIS2 Android app, providing more detailed monitoring information to higher-level managers, doctors, and campaign partners within UNICEF and WHO, helping identify areas with lower than 95% vaccination coverage for prompt targeted action. Thanks to the Android app's offline functionality, this could also be done in hard-to-reach areas with limited or no internet coverage.
"I have been working in this field for more than 10 years and have immunized thousands of children. However, with this year's digital micro-plan, our reporting, supervision, data entry and most importantly our accountability has increased multiple times. With the digital system we can get the picture of entire Bangladesh by sitting in our offices."

Mr. Saiful Islam — Medical Technologist EPI,
Saturia Upazila, Manikganj, Bangladesh
In addition to campaign managers, other stakeholders — such as policy makers and independent observers — could also keep track of campaign progress through the external dashboard populated daily with data extracted from the DHIS2 API, which allowed for greater transparency and accountability for the MR campaign.
Building capacity for data use and decision making down to the community level helps support national campaign success
While technological innovations offer opportunities to improve processes, success in using them depends on people. In Bangladesh, where health authorities have more than a decade of experience using DHIS2 as their HMIS, facility-based users were already skilled in reporting aggregate, Tracker and Event data in DHIS2. The MR campaign, however, required data entry down to the community level, where users had not previously received much training. So, to increase local capacity, DHIS2 training was carried out in March 2020 to all facility- and community-level users who would be involved in the campaign, more than 50,000 users in total. Field tests of the various campaign components were also carried out, followed by training of trainers courses on online micro-planning, reporting, dashboard use and the supervision and RCM apps — training that was then cascaded down to the division, district, sub-district and city level.
In total, it took almost six months from the planning, development, field testing, review, and finalization of these tools to the completion of user training at all levels. Since the campaign was then delayed by the COVID-19 pandemic, refresher training was necessary before campaign could be launched in December 2020. Training focused on reporting and analysis of daily data to help monitor campaign performance and enhance local decision making, such as planning mop-up campaigns.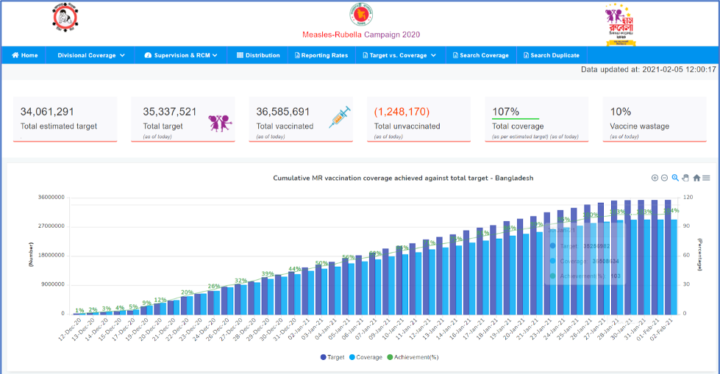 Bangladesh's MR campaign aimed to "leave no child behind." By the time the campaign concluded at the end of January 2021, the Government of Bangladesh and UNICEF were proud to announce that the results exceeded the initial goal. According to RCM data, 98.1% of children age 9 months to 10 years in Bangladesh were vaccinated — 36.5 million children in total — beating the campaign's 95% target. This exceptional performance was thanks to detailed planning, thorough training, coordinated action, effective supervision and monitoring and rapid follow up, all supported by a locally owned digital platform for information management, collection, and analysis built with DHIS2.
Read the full report on this project by Jahid Shahed of UNICEF on the DHIS2 Community of Practice, and watch a presentation by Unicef, MoH Bangladesh, and HISP UiO at a webinar hosted by Gavi: