Improving cervical cancer screening and patient follow-up in low-resource settings using DHIS2 Tracker
The SUCCESS project collaborated with the Ministries of Health in Burkina Faso and Côte d'Ivoire to screen nearly 60,000 women for HPV and reduce losses to follow-up through customized routine notifications using Tracker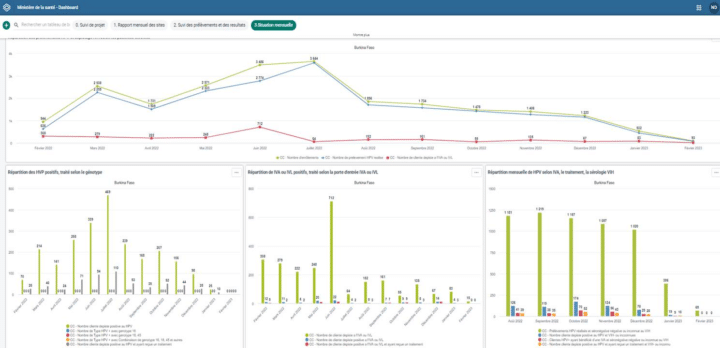 The Scale Up Cervical Cancer Elimination with Secondary Prevention Strategy (SUCCESS) project is a cervical cancer prevention initiative funded by Unitaid and implemented by Expertise France in partnership with Jhpiego and the Union for International Cancer Control (UICC). The project aims at facilitating cervical cancer elimination in low-resource countries by implementing technology-driven systems to improve cancer screening, treatment access and patient follow-up. The SUCCESS project is currently implemented in Burkina Faso, Côte d'Ivoire, the Philippines and Guatemala, and aims to scale up cervical cancer elimination efforts by supporting the screening of 175,000 women for cervical cancer in line with the WHO strategies for cervical cancer elimination.
In 2021, the project implementers adopted DHIS2 Tracker as the digital health platform to create a unified cervical cancer secondary prevention client tracking application in Burkina Faso and Côte d'Ivoire for Human Papillomavirus (HPV) testing as the screening approach. Since its implementation, Tracker has helped reduce patient losses​​ to follow-up by providing custom and routine notifications to women in SMS formats with relevant information, including clinical and screening appointments as well as the availability of test results. Data from Tracker also feeds into visualization dashboards in existing DHIS2 systems already used as national Health Management Information Systems (HMIS) in both countries, thereby integrating essential cancer screenin
The SUCCESS project collaborated with the Ministries of Health in Burkina Faso and Côte d'Ivoire to screen about 60,000 women for Human Papilloma Virus (HPV) and reduce losses to follow-up through customized routine notifications using Tracker.
g and management data into the general healthcare information systems for better planning and policy guidance. Since June 2021 when the project began screening, a total of 59,283 women have undergone HPV testing in Côte d'Ivoire and Burkina Faso, out of which 11,522 (19.4%), are women who are living with HIV (WLHIV).
Tailoring the global cervical cancer elimination strategy to promote efficiency in low-resource countries
Cervical cancer is a significant public health concern worldwide, with a disproportionate burden in low- and middle-income countries (LMICs), which account for up to 90% of cervical cancer-related deaths each year. In 2020, 604,127 cases were diagnosed globally, leading to the deaths of 341,831 women (Source: Globocan 2020). This highlights the need for concerted efforts to reduce cervical cancer cases, especially given the high chance of cervical cancer prevention through vaccination, and the high survival rate when detected early and treated appropriately. Women Living with HIV (WLHIV) have six times more risk than women who are HIV negative to develop cervical cancer, and at a younger age, due to persistent HPV infection. Similarly, women with persistent HPV infection are more likely to contract HIV.
In 2020, the World Health Organization (WHO) published the Global Strategy to Accelerate the Elimination of Cervical Cancer as a Public Health Problem through a prevention strategy that focuses on vaccination, screening, and treatment. The strategy aims at providing HPV vaccination coverage for 90% of girls by 15 years of age; cervical cancer screening for, at least, 70% of women at 35 years and again at 45 years. Finally, the strategy targets the treatment of up to 90% of all women with diagnosed cervical cancer. These objectives require good-quality data to support decision-making.

The WHO set a threshold for the number of women who must be reached globally every year with testing and treatment services at four per 100,000 women in order for cervical cancer to no longer be considered a public health problem. This threshold translates to about 1 million women per year globally and up to 92,000 women in Sub-Saharan Africa.
The SUCCESS project in partnership with Ministries and Departments of Health supports the four countries of implementation to achieve cervical cancer elimination. Building on the existing experiences in the four project countries where their health services have been offering screening by visual inspection with acetic acid (VIA) and treatment of precancerous lesions with cryotherapy, SUCCESS introduced HPV testing as the primary screening method as recommended by WHO guidelines for screening and treatment of cervical pre-cancer lesions for cervical cancer prevention (2021) and treatment for precancerous lesions with thermal ablation, recommended by WHO since 2019.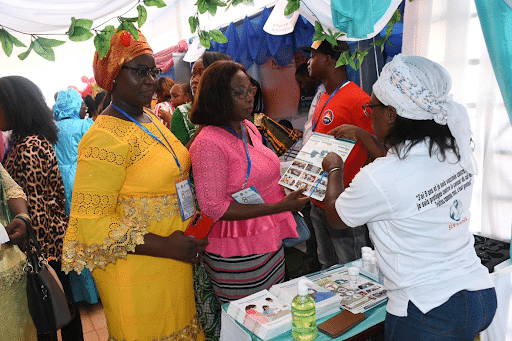 Improving patient monitoring and communication to reduce losses to follow-up using Tracker
One of the objectives of the SUCCESS project model is to use innovative technologies to minimize the number of patients who do not return for results and/or treatment ("lost to follow-up"). While paper-based registries are still widely used in the four countries of the project's current operation, the project is introducing digital tools that allow for a single patient record that clinicians can refer to during consultation as well as laboratory technicians during the analysis of screening tests. Hence integrating multiple components associated with data tracking and evaluation becomes necessary. So far, the project has supported the development and deployment of DHIS2 Tracker in Côte d'Ivoire and Burkina Faso to register and manage patient data. This solution is adapted to the different national systems already in place to ensure interoperability, a crucial factor for sustainability.
The DHIS2 platform has been in use in both countries for many years as the digital backbone of their national HMIS systems. This choice of Tracker as the digital health tool for the SUCCESS project, therefore, leverages years of experience by a large number of healthcare providers, reducing the learning curve and facilitating seamless integration of cervical cancer screening data to existing systems. The system is deployed on tablets installed with the DHIS2 Android Capture mobile app to collect individual HPV screening data of all enrolled candidates and is used to monitor their attendance at clinics during clinical appointments. Furthermore, Tracker has been implemented to send essential communication to the patients by SMS, reminding them of upcoming appointments and notifying them about their laboratory test results, thereby improving adherence to treatment and reducing losses to follow-up. Tracker also provides updated contact information with which community health workers can track a woman with missed appointments either by telephone or a physical visit where practicable.
Finally, the Tracker system is integrated with existing DHIS2 systems managed by the Ministry of Health, thereby providing real-time cancer screening and treatment data to the national HMIS platforms. This enables healthcare managers in the countries to monitor cervical cancer services and programs, measure indicators and evaluate performance against national targets as well as the global WHO targets for cervical cancer elimination. These are further enhanced by automated periodic reports generated in DHIS2 using screening and treatment data entered in Tracker. Visualizations and dashboards created in DHIS2 provide easy-to-understand reports that drive efficient decision-making toward cervical cancer elimination in these countries. The database created by this integration can also serve as a unique national data source for research and policymaking on cervical cancer in West Africa.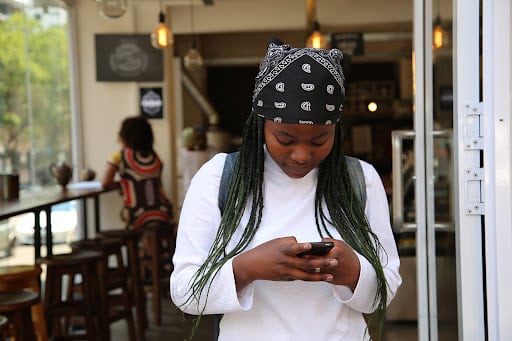 Strengthening collaboration in cervical cancer management – benefits of the interoperability features of DHIS2
Over the years, DHIS2 has become a preferred digital tool for the implementation of national HMIS, particularly in LMICs. In two of the four countries where the SUCCESS project is currently ongoing, DHIS2 has been used as the platform for national digital HMIS, which includes multiple specific health programs. The adoption of Tracker as the digital health solution by the SUCCESS project strengthens collaboration among health departments and other stakeholders who use DHIS2 for data management. Cross-sectoral and multi-organizational cooperation is thus fostered by their use of a common platform that promotes extensive interoperability and data-sharing features.
The SUCCESS model supports and depends upon energized collaboration between health stakeholders in different sub-domains within each country to promote the integration and implementation of screening services across the range of services, settings and traditional disease areas. Ongoing technical assistance support in partnership with countries has resulted in the consolidation of policy and regulatory frameworks for cervical cancer prevention. The establishment or strengthening of national technical working groups on this topic is leading to better coordination of the various actions of stakeholders and a stronger collaborative dynamic.
Read more about this project and share comments and questions for the SUCCESS team on the DHIS2 Community of Practice.