Integrating laboratory COVID-19 testing results with Tracker in Rwanda
HISP Rwanda developed a custom web layer to allow for bulk upload of sample and test data, improving efficiency and reducing time from sample collection to results dissemination
Rwanda was one of the first countries to adopt DHIS2 for COVID-19 surveillance in 2020, and developed several custom innovations, including implementation of a paperless system for COVID-19 testing using Tracker and the DHIS2 Android Capture App.
With the spike of COVID-19 cases in late 2021 and early 2022, the national reference laboratory data entry team in Rwanda was becoming overwhelmed, and as result the turnaround time from sample collection to result dissemination increased. To tackle this challenge, the Rwanda Ministry of Health tasked the Digital Health team in collaboration with HISP Rwanda to find a quick solution that would restore the standard turnaround time.
The digital health team and HISP Rwanda approached the lab teams to evaluate the challenges causing the delay. The primary challenges identified were delays at sample reception caused by manual sample checking and delays due to manual data entry of test results.
To address these challenges, the team decided to develop a web-based interoperability layer between the testing machines and DHIS2 that uses the DHIS2 API to interact with Rwanda's existing DHIS2 COVID-19 Surveillance instance. This integrated platform allows for:
Sample reception process bulk upload
Lab codes checks
Error warning for mismatch codes (Red)
Lab request auto check
Error warning for missing lab request (Red)
Date checks
Sample reception data entry
Results bulk upload
Code checks
Date check
Bulk import of results
Sends SMS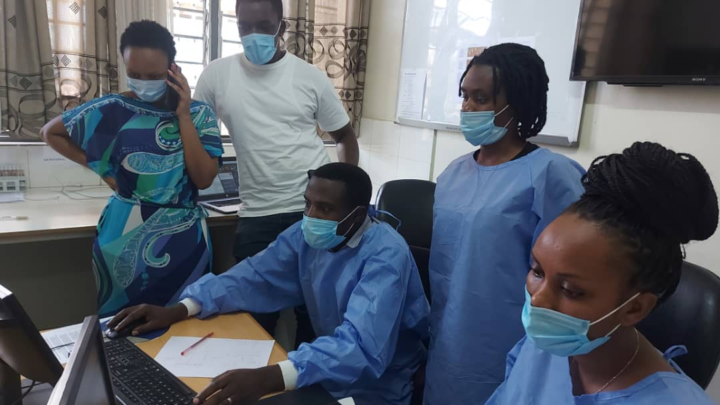 The implementation of the Covid Lab Automation Platform in Rwanda significantly reduced the result turnaround time for COVID-19 test. In particular, once laboratory users got fully acquainted with the features of the system, the turnaround time at specific stages that the lab teams had identified as bottlenecks was much improved. This is thanks to the simplified reception of samples using built-in controls, quick and exact matching of sample IDs and a layer that allows validation of results before importing unmatched samples.
Interested in learning more or sharing feedback? Add questions or comments for HISP Rwanda on the DHIS2 Community of Practice.