Innovative management of COVID-19 vaccine delivery in Sri Lanka
Sri Lanka uses DHIS2 to track immunizations, monitor stocks, and produce verifiable vaccination certificates through integration with DIVOC
Sri Lanka was the first country in the world to deploy DHIS2 for surveillance of COVID-19 in January 2020. Almost exactly a year later, this island nation was ready to begin vaccinating its population against the coronavirus pandemic. To help manage and monitor this effort, health authorities worked with HISP Sri Lanka and the WHO country office to design and configure a system for COVID-19 vaccine delivery using DHIS2. The system uses Tracker for an immunization registry based on individual-level data, aggregate data for vaccine stock management, and dashboards that combine data from both programs to facilitate better decision making.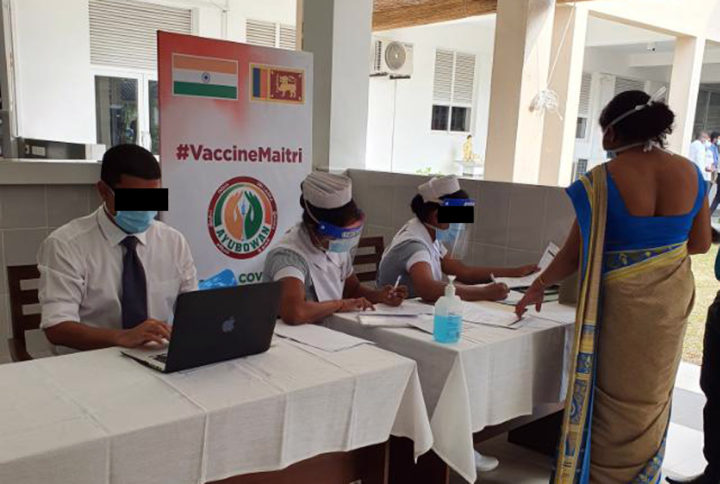 COVID-19 immunization tracking and vaccine stock management — built on existing information systems
The Ministry of Health Sri Lanka deployed its COVID-19 vaccine tracker based on the DHIS2 platform on 28 January 2021. This was integrated as a new module within their health information system alongside the COVID-19 surveillance module, which has been operational since 29 January 2020. Sri Lanka's configuration of DHIS2 for COVID-19 surveillance served as the basis for the global DHIS2 COVID-19 Surveillance packages.
Sri Lanka's vaccine delivery information system consists of two core modules, plus dashboards for combined analysis:
Electronic Immunization Registry (EIR): This module uses Tracker to register individuals who can be tracked over time, including preconfigured program stages for two vaccine doses and an optional third stage for capturing potential adverse events following immunization (AEFI). Registration includes sociodemographic factors, comorbidities, and allergies, while the stages include vaccine-specific information. The module enables tracking individuals through completion of the multi-dose vaccine regimen.
Stock monitoring: This module uses aggregate data to capture stock received, issued and utilized at national, regional, and vaccine center levels. It utilized predictors to calculate indicators across time periods — a built-in DHIS2 functionality for advanced analytics.
Dashboards: Data from both immunization and stock modules are combined into dashboards for analysis and monitoring for stakeholders at all levels of the health system.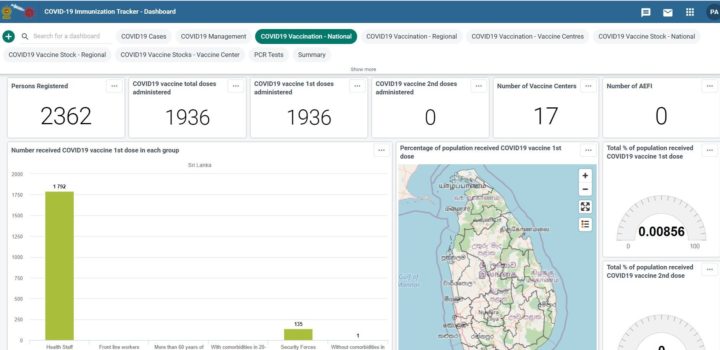 Custom Development of Vaccination Certificates in DHIS2 & integration with DIVOC
In addition to tracking immunizations for campaign planning and monitoring purposes, the ability to certify and verify individual vaccination records has emerged as an important requirement in some countries. To meet this need, HISP Sri Lanka used DHIS2's built-in SMS functionality and their skills with DHIS2 customization to add a widget to the Tracker Capture application to produce personal digital vaccine certificates. This module is assisted by a service running parallel to DHIS2 for QR code and PDF certificate generation. The certificates are associated with an individual person's vaccine record from the DHIS2-based immunization registry, include a QR code for verification, and can be printed or downloaded or remotely accessed by public health authorities or other authorized parties. The system is configured to send SMS notifications to individuals when their vaccination certificate is available.
Building on this initial solution, HISP Sri Lanka then worked to integrate DHIS2 with DIVOC, an open-source digital platform for large-scale digital vaccination credentialing programs developed as parts of India's Co-WIN platform for COVID-19 response. This integration produces cryptographically verifiable secure certificates that are required for any Sri Lankan citizen traveling abroad to confirm their vaccination status. The DHIS2-DIVOC integration builds on the team's earlier customization of Tracker to provide a custom widget to facilitate generation, reissue and sending of the certificate through SMS or email. This modified Tracker app is linked to DIVOC through a custom backend application developed by HISP Sri Lanka. Integration of DIVOC with DHIS2 was a joint effort by HISP Sri Lanka and the ICT Agency of Sri Lanka. Citizens are also provided with a public portal to request vaccination certificates, and an online portal to verify the vaccination certificate is available globally for verification by any interested entity, including departments of immigration and border control authorities at airports.
Rapid development and effective deployment thanks to local expertise
Sri Lanka's COVID-19 vaccine delivery system was ready by the time the country received the first stock of COVISHIELD vaccine on 29 January 2021. The system was deployed at all vaccination centers around the country, including those run by the security forces. Sri Lanka's vaccination plan includes two phases. The first phase focused on health care workers, and uses the web version of DHIS2 for data capture. The second phase will focus on immunization of the general public, and will likely involve use of the DHIS2 Android Capture App on mobile devices at the vaccination center level, plus integration with the national population database to reduce data entry required at the time of vaccination.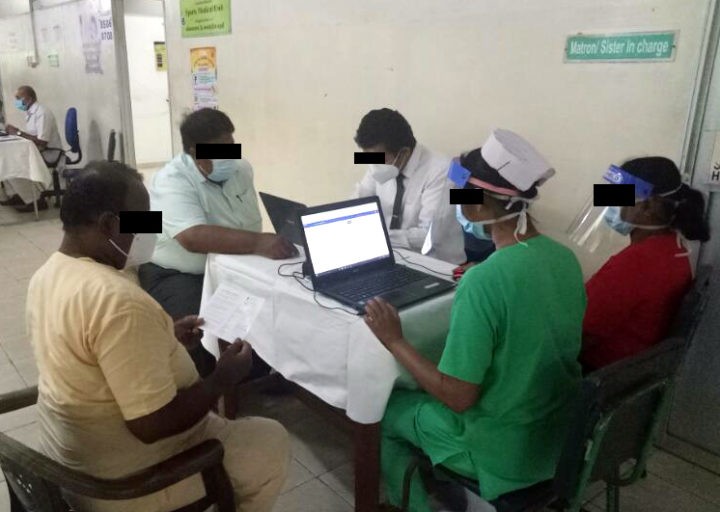 HISP Sri Lanka was involved not only in the design of the vaccine delivery system, but also in training of end users (which was conducted remotely) and in helping to provide end-user support once the system went live. This group's years of experience working with DHIS2 and supporting Sri Lanka's Ministry of Health were a key factor in the speed with which the system was developed, the ability to find solutions to local needs using existing software tools, and the effectiveness with which users could be trained to put the system into use.
Read more and ask questions about this use case from Dr. Pamod Amarakoon of HISP Sri Lanka on the DHIS2 Community of Practice.