Combining DHIS2 with custom apps for efficient COVID-19 surveillance and vaccination in Laos
With support from HISP Vietnam, Lao PDR has deployed digital solutions for tracking treatment of coronavirus patients, self-registration for COVID-19 vaccines, and secure vaccine status verification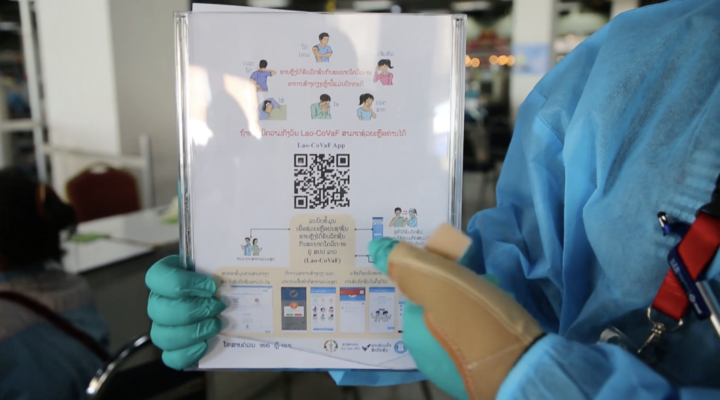 When the coronavirus pandemic was declared in early 2020, Laos (Lao PDR) was among the first countries in the world to deploy the DHIS2 COVID-19 surveillance metadata package to monitor the spread of this new disease. Since supporting the initial launch of the platform, HISP Vietnam has worked with the Laos Ministry of Health (MoH) to refine and expand the system, including the development of custom applications for monitoring treatment of coronavirus patients and carrying out contact tracing.
As vaccines became available in 2021, HISP Vietnam also supported Laos in deploying the DHIS2 COVID-19 vaccine delivery package, which they then customized to include apps for self-registration for vaccination appointments and streamlined data entry at vaccination centers, as well as generation of secure QR codes within Tracker that can be used to produce verifiable vaccination certificates. By mid-2021, Laos had used this DHIS2 system to plan and register almost two million COVID-19 vaccine doses, and continues to use DHIS2 to track new infections, trace contacts, and monitor treatment of coronavirus patients.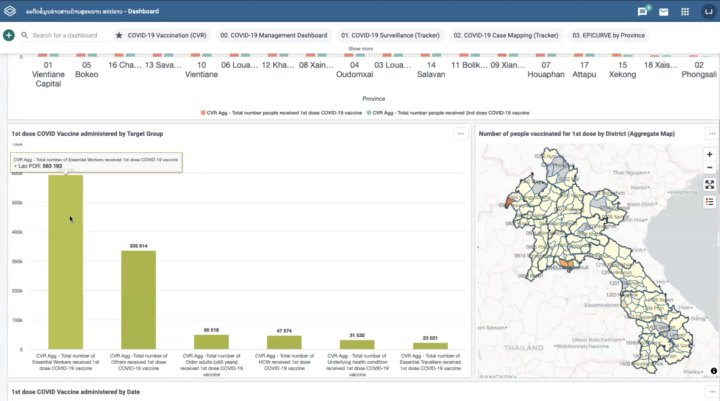 Expanding on standard COVID-19 packages for contact tracing, patient monitoring and ICU bed management
The DHIS2 system deployed by Laos at the start of the COVID-19 pandemic was based on the standard WHO surveillance package, translated into Lao and adjusted to fit the local context. As additional needs and requirements arose, HISP Vietnam worked with the Laos MoH and WHO LAO team members to identify and design solutions. One immediate need was contact tracing. HISP Vietnam developed a custom app in DHIS2 for contact tracing that made it easier to link positive cases registered in Tracker with their contacts (who were entered in a separate Tracker program and linked using attributes). Additionally a custom dashboard allowed health workers to visualize their contact tracing activities, including through a case surveillance map.
At health centers and hospitals, healthcare workers providing treatment to coronavirus patients benefited from a custom web app developed by HISP Vietnam that streamlined and simplified their data entry process. By using a tablet to scan a unique QR code generated in Tracker for each patient, they could immediately access the patient record and update the information based on daily treatment activities and health outcomes, such as transfer to another facility or discharge. Because this app's design was based on the workflow for health workers in Laos — and omits any information from the standard Tracker interface that is not required for their work — it allows them to record their daily observations in 10 seconds per patient or less. All updates made in this app are synced with the Tracker system, allowing for real-time monitoring at the district and national level.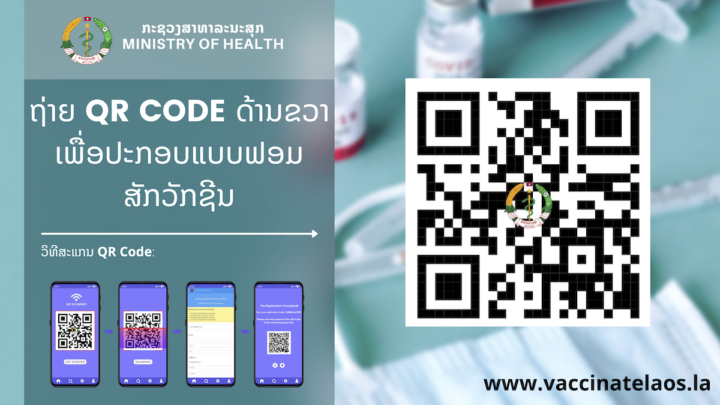 In addition to tracking treatment outcomes, Laos health authorities also requested additional tools for planning and monitoring health system capacity for treating coronavirus patients. To support this, HISP Vietnam added an aggregate data set to DHIS2 for ICU bed availability where each hospital could enter daily numbers for occupied and available beds, providing MoH officials with up-to-date information on health system capacity and helping health managers determine where to send new patients for treatment.
Using Tracker for COVID-19 vaccination campaign planning, plus mobile-friendly web app for self-registration for vaccine appointments
As with COVID-19 surveillance, Laos began their implementation of DHIS2 for COVID-19 vaccine delivery with the standard DHIS2 metadata package based on WHO guidance. Given limited vaccine supply, health authorities in Laos decided to divide the first phase of their vaccination campaign into priority groups, such as health workers, people over 60 years of age, people with underlying medical conditions, among others. HISP Vietnam helped modify the Tracker module in DHIS2 to include these categories and configured dashboards to show the vaccination status of each group in real time, and added a daily aggregate report that could supplement the Tracker data as needed.
As public awareness increased and the vaccination campaign got underway, it became clear that the data entry burden on health workers at vaccination centers was too large, as they needed to fill out the personal details of each patient in Tracker for each appointment. To address this, HISP Vietnam designed a public web portal where people can select from a list of health facilities with available vaccine appointments, register for an appointment at a specific time, and receive a QR code with their appointment confirmation. With the web portal, HISP Vietnam can set custom logic according to MoH and WHO recommendation to reserve the limited vaccine appointments only for the priority groups first. This helps to reduce the crowds that are not on the target list at vaccination sites.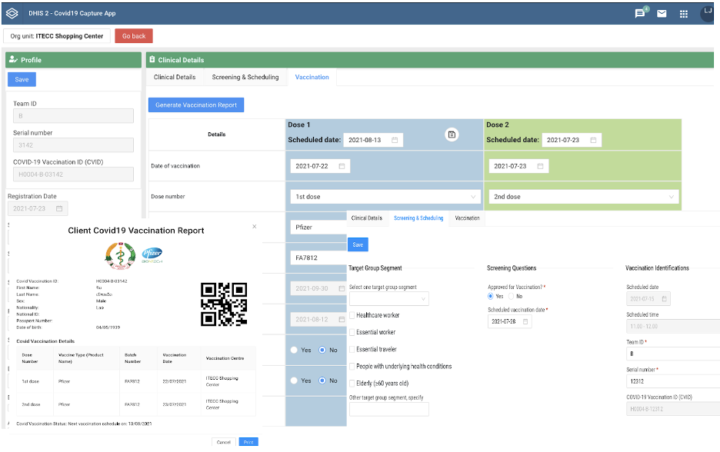 When they arrive at the vaccination center, the health worker scans the QR code which opens the patient's record in a custom vaccination app, where the health worker verifies that the patient information is correct, and updates the record with the specific type of vaccine dose given. These innovations have greatly streamlined the workflow at vaccination centers, which helped individual centers deliver more than 2,000 vaccines per day at the high point of the campaign, and increased the flexibility and transparency of the process for the public.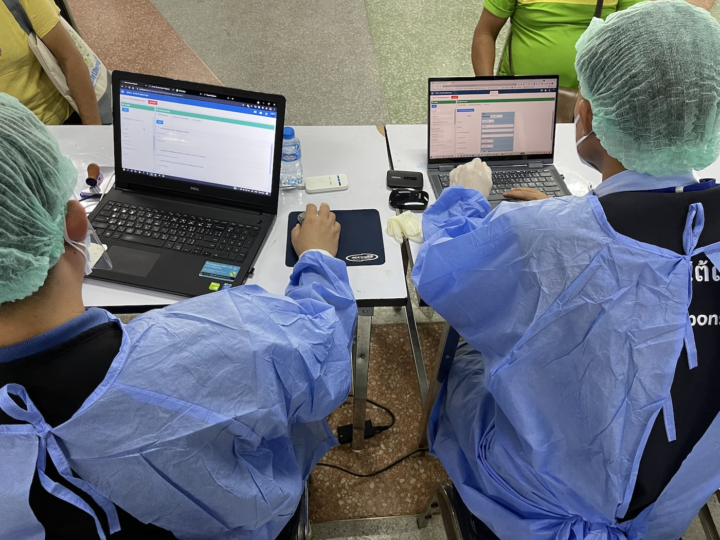 Both of these custom apps were designed by HISP Vietnam as progressive web applications on top of DHIS2 Tracker. This means that no additional database is required on the back-end: All of the information displayed and recorded by both the self-registration and vaccination apps is stored directly in DHIS2 — the patient's vaccine status and appointment details are linked to their individual record in Tracker, while vaccine appointment availability is maintained in a daily aggregate data set for each vaccine center that allows them to specify the number of appointments available by priority category and vaccine type.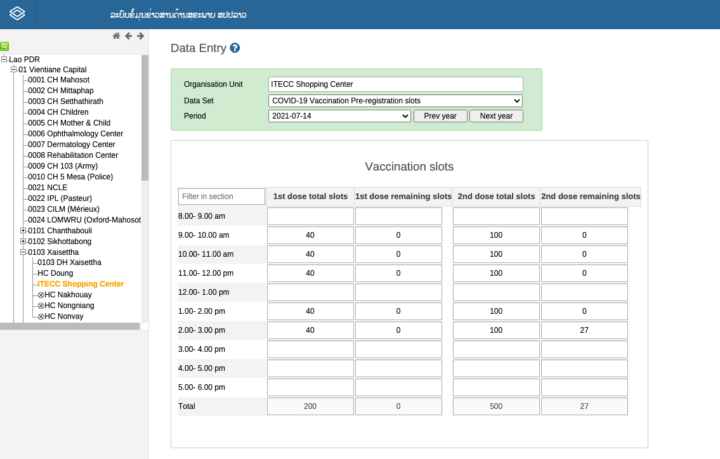 In addition to being more efficient, this also makes these applications more secure, as both apps take advantage of DHIS2's built-in features for data security and privacy. Having one master record for each patient in DHIS2, where it can be securely accessed by different teams across the MoH, also makes it easier to perform follow up activities, such as recording and investigating potential Adverse Events Following Immunization (AEFI), and allows the patients to check their current status directly through the public web portal.
Using DHIS2 to generate secure QR codes for vaccine status, designed for potential linkage to vaccine passports and other digital certificate solutions
By the end of July 2021, the MoH had made significant progress in vaccinating the population of Laos, with more than one million people vaccinated with one dose, of which 800,000 had already received their second dose. To provide authorities in Laos with a secure means for verifying the vaccination status of the country's population, HISP Vietnam configured a solution within Tracker, adding a new program stage to generate a QR code that can act as a vaccine certificate. While other countries have already implemented similar solutions using DHIS2, what is unique about HISP Vietnam's work is that it was designed from the start to meet the requirements and encoding standards as the EU Digital COVID Certificate (DCC), also known as the Digital Green Certificate, which facilitates potential integration with that solution, as well as others like the CommonPass application from the United States that operate on open standards.
With societies around the world beginning to open up again, including some regions loosening travel restrictions for vaccinated travelers, this innovation from HISP Vietnam is one that many countries using DHIS2 for their COVID-19 Electronic Immunization Registry (EIR) could benefit from. While this QR code technology is only being used internally in Laos at the moment, HISP Vietnam is working on pilot deployments of digital COVID certificates using the same technology in other countries where they provide DHIS2 implementation support, such as Vanuatu and the Solomon Islands.
Successful deployment rests on prior DHIS2 experience and regional expertise, and lays the groundwork for future improvements
Laos's success in deploying DHIS2 for COVID-19 response was due to a combination of local capacity and experience and support from the HISP network. Laos has used DHIS2 as their national-level Health Management Information System (HMIS) since 2015. In recent years, the Lao MoH has also deployed DHIS2 for key health programs — including HIV, Malaria, Tuberculosis — using standardized DHIS2 metadata packages developed by HISP UiO in collaboration with the WHO. HISP Vietnam has supported Laos with the implementation of these systems, assisted in customizing them to the local context, and provided capacity building training for MoH personnel. This prior experience and history of collaboration, as well as the availability to share the Lao organisation unit hierarchy and other key data from the HMIS to the new COVID system, meant that health authorities in Laos and HISP Vietnam could quickly deploy DHIS2 to help address the COVID-19 crisis.
Meanwhile, the experience that Laos has gained during the COVID-19 response can be leveraged for information system improvements beyond the pandemic. For example, the national immunization team in Laos had previously used aggregate and event data in DHIS2 for immunization program management. Following the successful use of Tracker for COVID-19 vaccination, they are now planning to deploy Tracker for case-based management of other vaccine programs, and can take the lessons learned and innovations from the coronavirus and apply them to future vaccination campaigns.
Watch a video tour of a COVID-19 vaccination site in Laos to see the DHIS2 Tracker system in action.