DHIS2 News: Tracker featured as RMNCAH case study in the Digital Health Compendium
The compendium now includes a detailed report on Palestine's use of DHIS2 Tracker as an electronic health record for antenatal care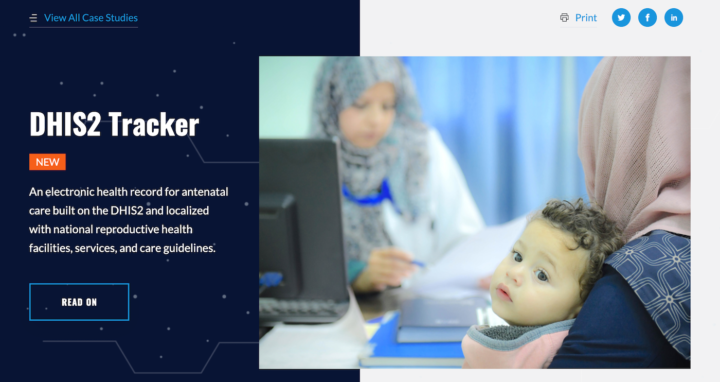 The Digital Health Compendium is an online resource that enables users to explore case studies across a range of digital health technologies used to enhance family planning programs in low- and middle-income countries in sub-Saharan Africa and other regions of the world. The goal of the compendium is to advance greater adoption of digital technology in family planning programs by consolidating emerging information and data on applications of digital technology in family planning programs to inform adoption and scale-up of successful approaches.
In December 2021, the compendium was updated to include a case study on the use of DHIS2 for reproductive, maternal, newborn, child and adolescent health (RMNCAH), drawing on Palestine's e-Registry system. Palestine has used the DHIS2 Tracker application as the basis for their Maternal and Child Health (MCH) e-Registry since 2016, as part of a joint project between the Palestinian National Institute of Public Health, the Ministry of Health in Palestine, and the Norwegian Institute of Public Health.
The goal of this system is to improve the delivery of quality healthcare during pregnancy. Through the e-Registry, care providers capture essential patient data at the point of care and respond to real-time clinical decision support notifications, targeted client communication is sent via SMS before each scheduled ANC visit, and critical quality improvement indicators are monitored by clinician-facing dashboards.
Since its introduction in 2016, Palestine's MCH eRegistry has been used in more than 50,000 maternal health visits across 220 clinics in the West Bank and Gaza. The success of this eRegistry has led the Ministry of Health to adopt DHIS2 for routine reporting and disease surveillance as well, which has led to strengthened local capacity to deploy, sustain and use Tracker systems, facilitating Palestine's rapid deployment of DHIS2 for COVID-19 surveillance and response following the start of the coronavirus pandemic in 2020.
As the Digital Health Compendium website states:
"As low- and middle-income countries transition from paper to digital systems, family planning programs can benefit from unprecedented opportunities to improve services. Investments in digital health tools have expanded exponentially, but information on what works—and what does not— remains limited and scattered… (these) case studies give policy and program decision makers insights on real-world applications of digital health, promising practices, challenges, and other lessons that can be applied to current and future programs."
We are happy to see the work of the Palestine and NIPH team featured in this compendium, and hope that this case study serves as a valuable resource for other countries and organizations that are working on digitizing their family planning and reproductive health programs.
Read the complete case study on the Digital Health Compendium website.