Getting students back to the classroom in Uganda using DHIS2 for COVID-19 school-based surveillance
After almost two years of school closure due to the pandemic, the nationwide rollout of DHIS2 for school COVID-19 surveillance by SMS supported Uganda's Safe Schools Reopening strategy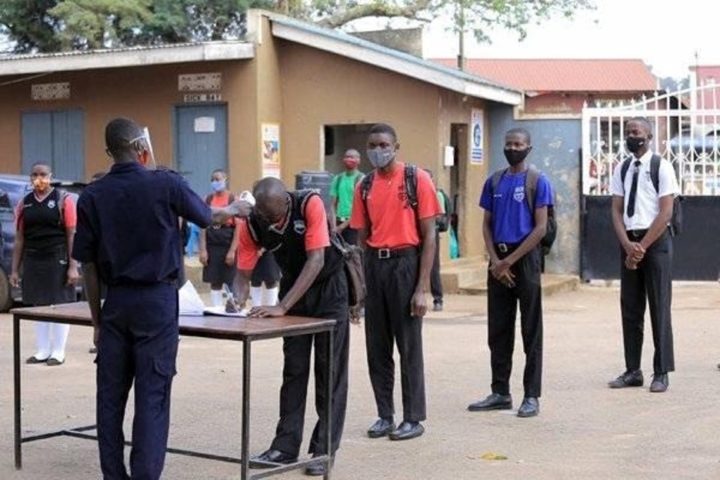 Throughout the COVID-19 pandemic, countries around the world have adopted different strategies for managing the risk of transmission among children and adolescents. In Uganda, government authorities closed schools in March 2020, leaving around 15 million students with limited or no access to education.
HISP Uganda has provided support for DHIS2 systems implementation in both health and education sectors in Uganda for many years. During the pandemic, they have helped implement national COVID-19 screening and tracking systems to support COVID-19 response. In early 2021, they worked in partnership with Save the Children Uganda, the Ministry of Health (MoH) and the Ministry of Education and Sports (MoES) to pilot a system that allowed schools to submit daily COVID-19 status reports by sending SMS messages directly into their DHIS2 for Education system (known as DEMIS). This implementation drew on lessons learned from an existing system for electronic Integrated Disease Surveillance and Response (eIDSR) which has been in use in Uganda since 2012, adapted for the school system and COVID-19 contexts.
While this pilot was successful, a new wave of COVID-19 in July 2021 led the government to impose a strict lockdown, and large-scale testing of students indicated that many had been infected during the brief reopening of some grades. The President of Uganda thus set as a precondition for reopening the schools again that all staff and students over 18 years old be vaccinated, and that all schools adopt a COVID-19 surveillance system to facilitate reporting of and response to new cases.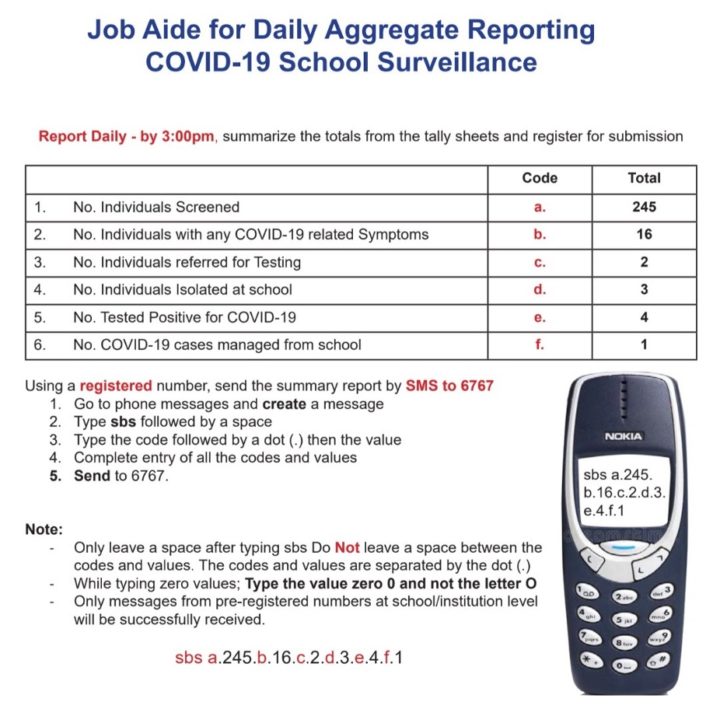 Expanding from a pilot project to national scale with cascade training and online tools
HISP Uganda worked with the MoH, MoES and UNICEF to revise and scale up the mTrac-DHIS2 school-based surveillance system. This required some updates to reporting forms to accommodate revised data needs, and to the national organisation unit hierarchy to reflect school openings and closings since the start of the pandemic. However, the essential functionality of the system remained the same: an aggregate daily reporting dataset was configured to receive data at the school level using the DHIS2 SMS configuration app. The reports consist of a simple sequence of letter codes and numbers, and can be sent from any phone with SMS functionality, facilitating reporting from schools in areas with limited or no internet access. Students or staff who test positive for COVID-19 are also registered in the Tracker-based COVID-19 surveillance system by local health workers, while aggregate data from the DEMIS system is also integrated with the eIDSR (COVID-19 data repository) system at the district level. Finally, dashboards were configured in DHIS2 to support monitoring, decision making and follow up from the school to the national level.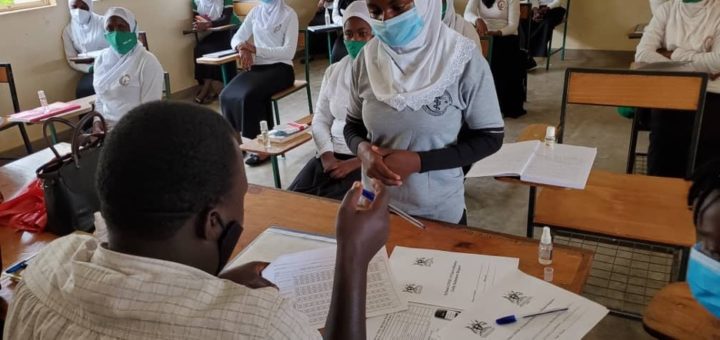 While the pilot system only included primary schools in a few districts, the President's directive required rolling out school surveillance to both private and public schools at both primary and secondary levels in each of Uganda's 146 districts, for a total of more than 51,000 schools. A minimum of two people at each school needed to be trained on data submission, while district-level staff also needed to receive training on reviewing the data in DHIS2. To accomplish this, MoH, MoES, UNICEF, HISP Uganda and partners used a cascade model, with national and regional training of trainers (ToT) courses (in person and online) to build capacity for regional teams to deliver training to the lower levels of the MoES hierarchy. They also worked with stakeholders to ensure that DHIS2 capacity could be shared across ministries, so that biostatisticians from the MoH can support district-level inspectors of schools in DHIS2 use and data analysis.
Uganda's school-based surveillance system was launched in January 2021, almost two years after schools had closed at the start of the COVID-19 pandemic. Both the MoH, MoES and partners were impressed by the speed with which HISP Uganda was able to deploy the system at national scale. As school reopened, daily SMS reports started to come in from a number of schools, though with significant gaps in coverage. HISP Uganda is working to support the system and the MoH and MoES to deliver additional training to improve data quality and increase reporting rates, and to make sure that the authorities are able to use the data they do receive to take appropriate follow-up action, helping control the spread of the pandemic so that schools can remain open.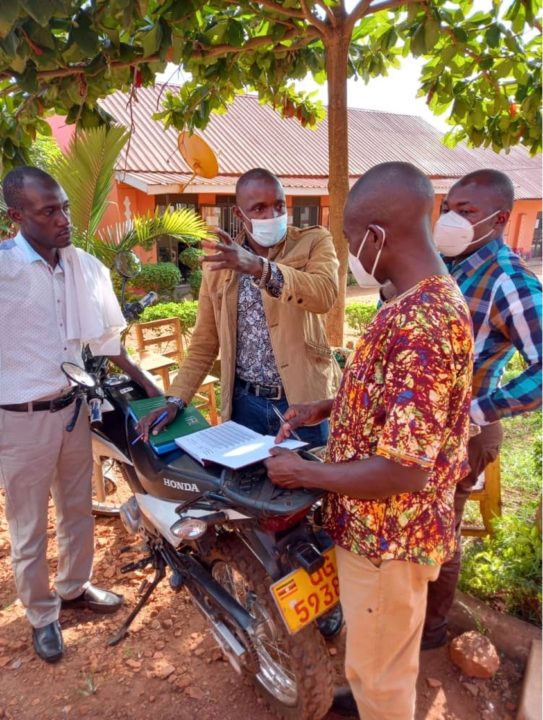 Read more about the initial COVID-19 School-based Surveillance pilot in Uganda on the GPE-KIX website.