Rwanda uses DHIS2 as an interactive system for rapid and paperless COVID-19 vaccination
Rwanda's COVID-19 vaccination management system highlights the importance of local ownership and innovation — and the benefits of digital public goods
Rwanda was one of the first countries in Africa to receive vaccines against COVID-19. Even before the first doses arrived, the national EPI team had reached out to HISP Rwanda to develop a vaccine management system that would help them oversee the logistics of vaccine distribution using DHIS2, an Electronic Immunization Registry (EIR) that used Tracker to capture and maintain patient-level vaccination information, plus a custom application linked to DHIS2 to generate digital vaccine certificates.
During the implementation of the COVID vaccination registry, the team was faced with the choice between competing offers from proprietary software solutions and their locally owned DHIS2 system. Ultimately, the Ministry of Health (MoH) decided to keep DHIS2 as their primary data collection tool for COVID-19 vaccination, because its flexibility allowed it to be adapted to meet the country's needs, and because it could both be implemented quickly and expanded to national scale using local capacity. This meant that when the first batch of COVID-19 vaccines arrived in Rwanda in early February 2021, the MoH and EPI team were ready to begin Phase 1 of their vaccination plan immediately.
Using DHIS2 for a paperless immunization registry, plus automated appointment reminders and vaccine certificate links via SMS
After verifying that it could be adapted to meet local needs, HISP Rwanda supported the MoH in implementing and customizing the EIR package from the DHIS2 COVID-19 Vaccine Delivery toolkit. In the initial phase, which targeted high-risk groups and healthcare staff, the system was deployed at vaccination sites with all data entered directly on tablets and mobile devices using the DHIS2 Android Capture app.
Using DHIS2, Rwanda has made their COVID-19 EIR system efficient, effective and paperless:
A list of eligible clients is imported into DHIS2, and automated SMS reminders are sent to each client with their vaccination date
After dose one, the Tracker application generates a new SMS for each client with a second dose appointment. Each SMS contains a unique code specifically for that client
Clients come to their designated vaccination site and show their unique code
Data entry teams search the client on their tablet or mobile device using the unique code and update the event on the DHIS2 Android app (if the client does not have their code, they can be found using their name or phone number)
Immediately following vaccination, clients get a "thank you" SMS that includes a confidential access code and a link to generate and print their vaccine certificate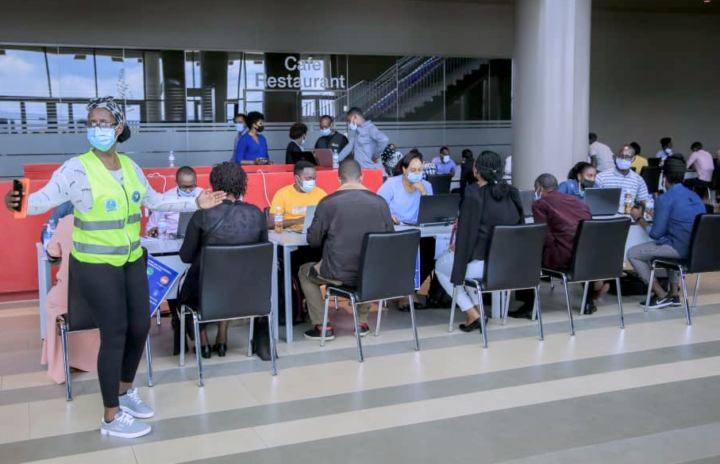 The entire process at the vaccination center takes one minute per client or less. This rapid pace is partially due to the fact that clients come prepared with their unique codes, which simplifies the process of searching for their cases in Tracker. It is also thanks to the skill of Rwanda's experienced health workers and the support of HISP Rwanda — who, in addition to giving remote and in-person training on the system, have even joined the health workers on the frontlines to support data entry and address any issues or questions on the spot. Rwanda's system also benefits from significant performance improvements in Tracker that were introduced in the most recent patch releases for DHIS v2.35 and the Android Capture App v2.3, which greatly sped up searching, accessing and processing patient-level data.
To meet the government's request for vaccination certificates, HISP Rwanda re-purposed the technology they had developed for their COVID-19 case-based surveillance system (which provides digital certification of negative test results) to provide electronic immunization certificates for first and second doses of COVID-19 vaccines. By the beginning of April 2021, Rwanda had begun second-dose vaccination, using the vaccination status web portal developed by HISP Rwanda on a national level.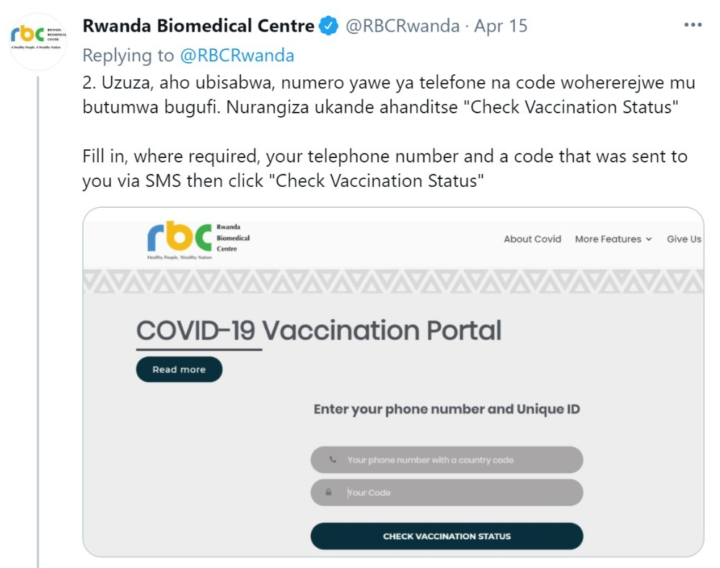 Integrating DHIS2 with Rwanda's National ID system for faster client registration and better data quality
To further develop the EIR, HISP Rwanda worked in collaboration with Rwanda's Ministry of Local government/NIDA, the Ministry of ICT, the Rwanda Information Society Authority, the National Institute of Statistics, the Rwanda Biomedical Center, and the MoH to integrate their DHIS2 COVID-19 EIR with NIDA (the National I.D. Agency). This ensures that during client registration in the vaccination process, each person's information is pulled from the national ID system. This is aligned with the government's digitization strategy and e-health architecture, and it also helps address several specific challenges related to the COVID-19 EIR.
One challenge related to data quality was incorrect data in tracked entity attributes due to errors in data entry from MoH call centers (such as incorrect names, DOB, location, national ID number). Another challenge was the amount of time it took health workers to enter client data into Tracker (filling in more than 10 profile fields per client), despite this data being already present in the national ID registry. The integration of DHIS2 with NIDA has led to several improvements. Since this integration was deployed in August 2021, the time spent on data entry per client at each vaccine center — and the amount of time each person spends at the vaccination site — has decreased by 90%. Faster registration means that queues at the vaccination centers can be handled more effectively. It also means that fewer people need to be allocated to data entry teams, allowing for better use of human resources. Finally, the integration also reduces data quality issues, as key demographic data is imported directly from the national register.

Choosing DHIS2 based on local needs, local capacity and local ownership
Rwanda has used DHIS2 for health information management since 2012, and was one of the first countries to deploy DHIS2 for COVID-19 surveillance and response in 2020. Supported by HISP Rwanda and global partners, the country has developed robust capacity to use, administer, and customize DHIS2 to meet local needs during this time. So, as national health authorities began making plans for COVID-19 vaccination in early 2021, DHIS2 appeared to be the obvious choice for a software platform. However, competing solutions were proposed by different actors — a common phenomenon during large-scale health program implementations — leading to a need for the Ministry of Health to evaluate the different technologies and make an informed choice. The MoH ultimately decided to use DHIS2, based on the following key factors:
DHIS2 is scalable and has web and Android data collection interfaces
DHIS2 supports offline data collection and has built-in analytics tools
Health care providers in all health facilities already have the skills to navigate the DHIS2 system
DHIS2 was already being used as an immunization tracking system for other vaccines
Use of DHIS2 since 2012 has made a big impact on data collection and M&E of health interventions in Rwanda (HMIS, Tuberculosis, IDSR, immunization, COVID-19, etc.)
MoH teams has the technical skills for DHIS2 system sustainability
Limited dependency to system owners in case of interoperability, upgrade, etc.
Global standard DHIS2 modules for COVID-19 vaccine management were already developed, and were easy to adapt to the national context
DHIS2 does not require high speed internet to function
Benefiting from and contributing to a Global Public Good
The Digital Public Goods Alliance (DPGA) is an international organization that promotes the use of digital public goods to create a more equitable world. In April 2021 they released a statement advocating for the use of open-source tools for COVID-19 vaccine delivery, to strengthen digital cooperation and promote equitable distribution of vaccines across the globe.
Rwanda's experience using DHIS2 for COVID-19 vaccine delivery highlights some of the strengths of digital public goods. Rwanda both benefited from innovations that were developed in the larger DHIS2 community — like the global metadata packages that were based in part on innovations from HISP Sri Lanka — and contributed to the community both by sharing information about their own innovations, and by testing and providing valuable feedback on new DHIS2 core and Android software releases, which helped result in a better platform for all. This is a perfect example of how open-source digital public goods facilitate the sharing of knowledge, best practices and innovations directly between countries, and provide opportunities for countries to give back to the greater good.